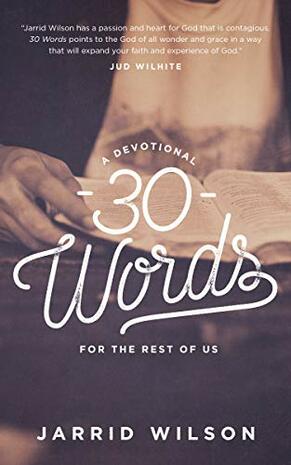 30 Words Daily Devotion
WORD 18 - EXTRAORDINARY
"Embedded in the larger story of redemption is a principle we must not miss: God uses ordinary people to do extraordinary things in the lives of others."
―Paul David Tripp
Have you ever noticed that God uses ordinary people to do extraordinary things?
No, seriously, think about it. All throughout Scripture we see tax collectors, fishermen, and physicians turned into gospel-preaching, truth-sharing world changers. How is this possible? Because the lives of these people have been empowered by the orchestrated truth of Jesus.
No matter who you are, where you've been, or what you've done, the love of Jesus will drastically change your life. I'm not talking about a minor tweak of self-worth and temporary fulfillment. I'm talking about a heart-changing, life-altering experience that you can't find anywhere else. In Ezekiel 36:26, God describes this change: "I will give you a new heart, and I will put a new spirit in you. I will take out your stony, stubborn heart and give you a tender, responsive heart."
You see, once the Holy Spirit comes to dwell inside you, you are no longer "you." Sure, you may look the same on the outside, have the same personality, and the same skills. But instead of being ruled by your own desires and living for yourself, you're ruled by God's desires and you're living for him. The "ordinary you" has been pulled out and replaced with the extraordinary heart of Jesus!
What I'm getting at is this: You aren't just extraordinary because you follow Jesus. You're extraordinary because the Holy Spirit actually lives in you.
One other thought: The gospel of Jesus is not a textbook, but a life-book. It is filled with the innate wisdom, guidance, and beauty of a man who died for our sins so that we may live again. That, too, is extraordinary. It should radically change our perspective on life, the world, and everything in it. That truth should overthrow our whole system for placing value on people and things.
When we value something through the eyes of God, we're able to see the extraordinary in something the world would call ordinary. While our world tries to keep quiet a truth that speaks volumes, our God continues to use "ordinary" people to do extraordinary things.
VERSE OF THE DAY
"For I know the plans I have for you," says the Lord. "They are plans for good and not for disaster, to give you a future and a hope. In those days when you pray, I will listen" (Jeremiah 29:11).
CHALLENGE
Share: "I am a child of God. I am NOT ordinary. I am extraordinary, and I serve an extraordinary God. #30WordsBook"
DISCUSS
What is something that, when viewed through the eyes of God, can be seen as extraordinary?
Why do you think God uses ordinary people to do extraordinary things for his kingdom?
Who in Scripture could be deemed as ordinary, but because of Jesus' calling in their lives were able to do extraordinary things?
Wilson, J. (2016). 30 words: a devotional for the rest of us. (2nd Edition, Ed.) (pp. 104–107). Bellingham, WA: Kirkdale Press.