40 Days to the Cross: A Devotional for Lent
Confession: Psalm 38:10–15
My heart throbs violently, my strength leaves me;
and the light of my eyes, that also is not with me.
My friends and companions stand aloof from my affliction,
and my relatives stand afar off.
Those who seek my life lay snares as well,
and those intent on my harm speak threats.
They also plot deceit all day.
But as for me, like the deaf I cannot hear,
and I am like the mute who cannot open his mouth.
And so I am like a man who hears not,
and in whose mouth there are no retorts.
Rather for you I wait, O Yahweh.
You will answer, O Lord my God.
Reading: Mark 12:13–17
And they sent some of the Pharisees and the Herodians to him so that they could catch him unawares in a statement. And when they came, they said to him, "Teacher, we know that you are truthful and you do not care what anyone thinks, because you do not regard the opinion of people but teach the way of God in truth. Is it permitted to pay taxes to Caesar or not? Should we pay or should we not pay?" But because he knew their hypocrisy, he said to them, "Why are you testing me? Bring me a denarius so that I can look at it!" So they brought one. And he said to them, "Whose image and inscription is this?" And they said to him, "Caesar's." And Jesus said to them, "Give to Caesar the things of Caesar, and to God the things of God!" And they were utterly amazed at him.
Reflection
See their craftiness. They do not say, "Tell us what is good, what is expedient, what is lawful?" but, "What do you think?" They looked to this one object: to betray Him and to set Him at enmity with the rulers. And Mark declaring this—and more plainly discovering their self-will and their murderous disposition—affirms them to have said, "Should we pay [Caesar], or should we not?" (Mark 12:15 NRSV) They were breathing anger and travailing with a plot against Him, yet they feigned respect.
What did He say? "Why are you putting me to the test?" (Matt 22:18 NRSV). He talks with them with more than usual severity. Because their wickedness was now complete and manifest, He cuts deeper. He confounds and silences them by publishing their secret thoughts and making their intent clear to all.
He did these things to repulse their wickedness so that they might not suffer hurt in attempting the same things again. And yet their words were full of respect, for they both called Him Master, and bore witness to His truth and said He was no respecter of persons. Jesus, being God, was not deceived by these things. They also ought to have realized that the rebuke was not the result of conjecture, but a sign of His knowing their secret thoughts.
—JOHN CHRYSOSTOM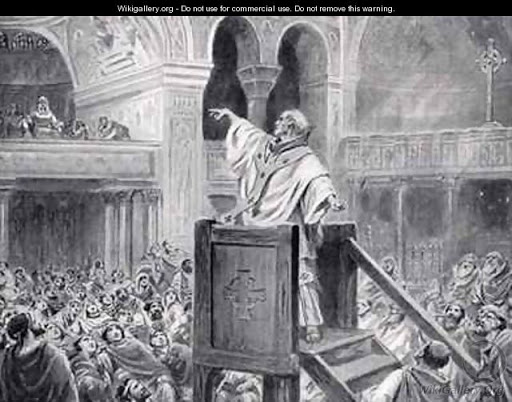 HOMILIES OF ST. JOHN CHRYSOSTOM
Response
God knows all of your secret thoughts. What areas of your life do you need to give over to Him? How can you turn your worship back to Him in these areas?