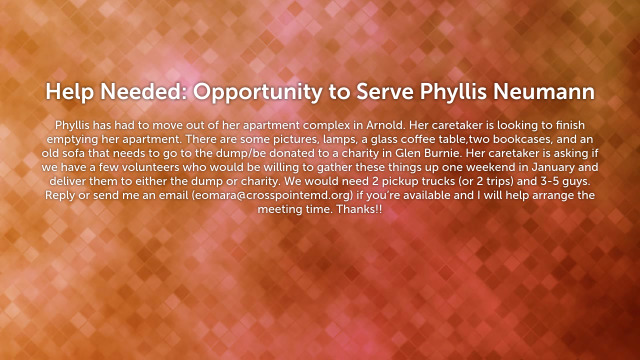 Help Needed: Opportunity to Serve Phyllis Neumann
Phyllis has had to move out of her apartment complex in Arnold. Her caretaker is looking to finish emptying her apartment. There are some pictures, lamps, a glass coffee table,two bookcases, and an old sofa that needs to go to the dump/be donated to a charity in Glen Burnie. Her caretaker is asking if we have a few volunteers who would be willing to gather these things up one weekend in January and deliver them to either the dump or charity. We would need 2 pickup trucks (or 2 trips) and 3-5 guys. Reply or send me an email (eomara@crosspointemd.org) if you're available and I will help arrange the meeting time. Thanks!!
Count me in as I believe I should be open that morning to helping.

Great! Thanks Jeremiah... I sent you guys a calendar invitation and an email so you are all in the loop. Should be a quick project! Thanks again.