Have you ever thought "I need to seek God more… but I just can't find the time"?
If you've ever struggled to find the time to go to bed earlier, to pray, or to do things that you really want to do but can't seem to squeeze them in … you are in good company with the rest of us! It seems ironic that even though we have plenty of technology, time-saving appliances, and more home services than ever before in history… we still can't find the time to do the things that are most important to us!
I don't think my problem or yours is based in lack. I think it may be in having too much.
Too much to do. Too much to have. Not enough room.
In February this year I had the opportunity to visit the Magnolia Silos in Waco, Texas. It was a refreshing trip I was blessed to go on. While I was there I got to try the most delicious cupcakes I have ever had. They were so tasty I wanted to eat more and more. After two cupcakes though I realized… I couldn't eat anything more! I was so full! The thought of eating another almost made me sick… even though they were delicious. The problem wasn't with the cupcake. I was just too full.
"She wrapped Him in swaddling cloths, and laid Him in a manger, because there was no room for them in the inn" Luke 2:7.
When Jesus was born, there wasn't room. It wasn't that they didn't want to host Him or his parents. They didn't willfully reject him. They were just too busy to notice. They simply had no room. Is it possible for us to be like the Inn keepers? So busy and content with things that we can't seem to find room for the most important?
There was no place for Jesus.
Perhaps we don't more. We need less. We need to feel hungry again. We need to have room.
A definition of minimalism says that Minimalism is the "intentional promotion of the things we most value and the removal of anything that distracts us from them" (Becker, The More of Less).
If minimalism with our belongings means that we intentionally promote those things we most value and remove anything that is a distraction, how do we do that in our lives? It may not be that we need to do more for God or add more to do's to our schedule. Maybe, it's something else that needs to be demoted. As I think about this, the question comes to my mind:
What do I need to take out of my life that doesn't really matter?
Maybe fasting from social media, pinterest, or television… what is one thing that takes your time and doesn't really matter? Another question to think on:
How can I intentionally promote those things that I most value?
If I want to promote those things that really matter, they can't compete with those that truly don't.
There were so many beautiful things to look at in all the shops at Magnolia Silos. But there was one place where everyone who entered stopped looking for what they were going to buy. Instead of walking around, they would look for a bench, sit down, and sit in silence. I did the same. It was the Chapel.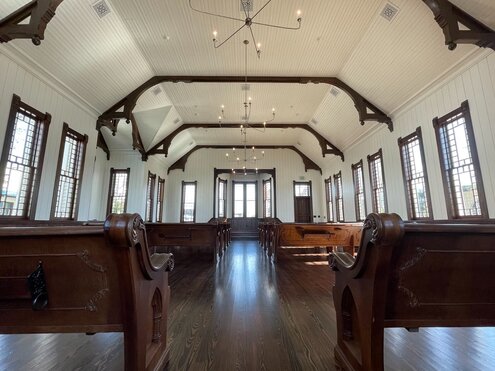 As we sat there, we all looked up. There was nothing to be said and nothing to be bought. There was silence. Peace. Connection with God. It was empty on purpose.
It is not about adding more and it is not what You DO FOR God that matters. It is who you ARE IN Him that does.
"The main measure of your devotion to God is not your devotional life. It is simply your life" (Ortberg, The Me I Want to Be). God wants to fill you and satisfy you. Because He made us and fashioned us for Himself… no matter what we may have in this life… He alone will satisfy our souls.
"You're blessed when you've worked up a good appetite for God. He's food and drink in the best meal you'll ever eat" (Matt. 5:6, MSG).
Of all the ways you enjoy seeking God every day, can I add a couple more ways?
Press the "Pause Button": When you are feeling disconnected from God or worried about something, pause and invite His presence to fill you.
Find an activity you enjoy doing, and invite God along with you to do it together.
Go on a walk with God, tell Him what is on your mind.
God, we pray that you would help us make room for you in our lives and hunger for you in our souls. Give us this day our daily bread… the bread of your presence.
"You have made us for yourself, and our hearts are restless, until they can find rest in you" (Saint Augustine).