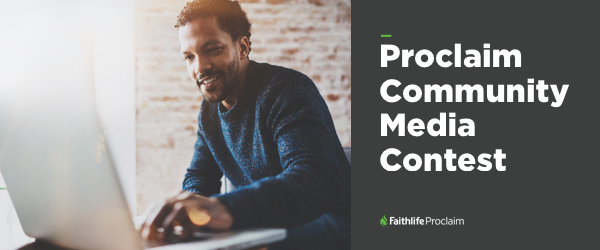 Win Free Months of Proclaim
You could win up to five free months of Proclaim! Simply design media using Box Fill Justification or Shapes and share Smart Media with the Proclaim community, and you could win.
Here's how it works.
From March 26 - April 22, whoever's custom-made media gets the most use On Air throughout the month will win one of three prizes:
1st place: 5 free months of Proclaim
2nd place: 2 free months of Proclaim
3rd place: 1 free month of Proclaim
To enter, simply make a Smart Media template in Proclaim, make it beautiful with Box Fill Justification or Shapes, add "Box Fill" and/or "Shapes", whichever you use as a tag, and make it available to the community. (Learn how to do all that here.)
There's no limit to how many templates you can create. The more media you make, the more it gets used, and the more likely you are to win.
How will I know if I won?
Throughout the contest, we'll update the Faithlife Proclaim group weekly to say who's in the lead, and we'll announce the winners there at the end of April. The three winners will also be contacted via email within that week.
How can I make media others will want to use?
First, remember the season. People will be looking for Easter-, and spring-themed pieces, so your media will get more use if it's on-theme.
Second, check out these quick tips for making pro-level media others want to use. No design experience? No worries. Anybody can follow these simple, clear guidelines.
That's it! Launch Proclaim now to get started, because the sooner you upload your media, the better your chances. And if you don't have Proclaim, start your free trial today to get started.
Happy designing,
The Proclaim Team
Terms and conditions apply. See the full contest guidelines here.
Join the Proclaim community to get product support from our product specialists and developers!
Our address is: 1313 Commercial St, Bellingham, WA 98225, USA