CHURCH CAPITAL CAMPAIGNS
What to Know to Raise More
---
---
The Faith-Raising Power of a Capital Campaign
Giving campaigns are big and scary for church leaders. You can't get around that. They take time—likely at least one to three years once you launch them. They're enormous leadership challenges that require you to harness the collective action of the church toward your goal.

But capital campaigns are about much more than raising capital for a new building or paying off debt. They can be some of the most important opportunities for spiritual growth and ministry clarity you'll ever experience in your church.

Not only will your congregation dig deep into their pockets to support what God is calling you to do, but their faith will grow as they learn to give sacrificially to God's work through your ministry.

Idols will fall. Relationships will grow stronger. Vision will become clearer.

So, if you're planning a capital campaign, buckle up. Hard days are coming. You may have a long night or two on the horizon. But God will show up.

To better prepare for your upcoming capital campaign (or determine whether a church capital campaign is right for you), let's discuss the following:


Key Terms to Know

Capital Campaign
A rigorous effort to raise money for a specific goal (or series of goals) over a set period of time.

Giving Pledge
A commitment to give a certain amount of money over a specific amount of time.

Feasibility Study
A review done as you prepare for a capital campaign that helps to determine your church's capacity for giving.

God is far more interested in building disciples than raising funds. At Saddleback, we always begin our giving campaigns by clarifying that we're about building people, not buildings.
—Rick Warren, founding pastor of Saddleback Church in Lake Forest, California
---
5 Myths about Capital Campaigns
Don't let these common myths steer you in the wrong direction.
---
1. Church capital campaigns can't fail.

Unfortunately, capital campaigns can fail at any part of the process. You're asking people to give resources to support a ministry vision. God doesn't give us any guarantees that you'll raise all the funds you believe you need. (But you can rest assured that he provides resources for anything he has called your church to do.)

That said, progress is still progress! If more people start giving to support your church and taking an active role in your church's mission, that's still something to celebrate and encourage—even if the campaign itself fails to meet your financial goal.

---

2. The ultimate goal of a capital campaign is to raise money.

Although you'll certainly set a monetary goal for your campaign, that's not your ultimate aim. Your goal isn't even what the funds will purchase. Your goal is to grow the faith and generosity of your church family.

This isn't just semantics. Jesus tells us, "For where your treasure is, there your heart will be also" (Matt 6:21 CSB). Jesus wants the hearts of the people in your church far more than he wants their money.

If you focus your attention on cooperating with God as he molds the hearts in your church, he'll take care of the rest.

---

3. Giving to the general fund will decline during a capital campaign.

This only makes sense, right? If people are giving to your capital campaign, they won't have money leftover for their regular tithes and offerings. Even if you ask people to give above and beyond their regular giving, people only have so much money to give.

Actually, the opposite is true. According to a study by Arbor Research on church-wide capital campaigns, "In almost every case, when conducting a capital campaign, giving to the general budget doesn't decrease, but, in fact, giving to the general budget usually increases."

When you aim to grow people's faith and help increase their generosity toward God's work, your efforts have ripple effects that provide necessary funding long after the capital campaign concludes.

---

4. Your success depends on the generosity of your givers.

It's tempting to look at your church—particularly socio-economic background and general giving patterns—to make a blanket statement about whether or not a capital campaign would even work. Of course, in a feasibility study at the beginning of your capital campaign, you'll consider some of those factors.

But you shouldn't expect that a giving campaign is only about your givers. Just as God wants to teach donors about his faithfulness, he wants to teach your church about his faithfulness as well. Your church's ability to succeed in raising the capital you need is totally dependent upon God. Your job as a leadership team is to seek God's vision for the future of your church, settle on an appropriate goal, present it boldly to your congregation, teach what the Bible says about generosity, make it easy for people to give as an act of worship, and trust God for the results.

---

5. People give because you have good-looking campaign collateral.

You always want to present yourself as well as possible, but your marketing materials won't make up for inadequate teaching on stewardship, a less-than-compelling vision, or a slipshod plan.

In fact, it's far more important that your campaign collateral is simple and clear than how flashy it is. Your givers get all kinds of messages every single day. They won't have patience for a complicated or overly slick pitch.
Discover firsthand how digital giving can help you disciple new givers.
Get Faithlife Giving today
Faithlife Giving is available in the United States only.
No credit card required.
---
3 Kinds of Church Capital Campaigns
As mentioned earlier, capital campaigns are simply a rigorous effort to raise money for a specific goal (or series of goals) over a set period of time. We tend to think of capital campaigns as efforts to raise funds for buildings, but churches can raise money for a variety of activities outside of their normal church budgets.

Still, church capital campaigns generally fall into three broad categories. Each has their own advantages and challenges.
Building Campaigns
These are the most familiar capital campaigns because most churches, at some point, face a need for a permanent location or larger facilities to accommodate growth. Campaigns that focus on buying land, developing land, and church renovations fit into this broad category.

Advantages of Building Campaigns
People are giving to something tangible they can see. You may be building already throughout the campaign. Usually, you'll at least be able to display plans or blueprints of the project. And at the end of the campaign or building project (whichever comes first), you can point to something physical and tell your givers, "Here's what your giving made possible."
You develop something that will benefit everyone in the church and that people will be excited to support. Whether it's a building or land, your congregation knows they'll one day sit in the pews, park in the lot, and send their children to the classrooms. You'll probably start hearing things like, "When we have our new building . . . " that show anticipation mounting.
Building campaigns are a visible sign of growth. Declining churches typically don't do building campaigns. If your church is building for the first time, it will mark an important stage in the life of your church. If you're expanding on a building or property you already have, you're likely doing so because you're outgrowing your current situation. These are exciting developments for any church.
Disadvantages of a Building Campaign
You'll need to raise a larger amount of money. Buildings and land are not cheap, and sometimes costs can rise during the campaign. It's not uncommon for churches to need an ever-growing amount to purchase property. Because these campaigns seek to raise a large amount of money (which takes a significant amount of effort), they can tend to suck all of the available energy from anything else happening in the church.
They can be complicated. Most church staff have little experience with commercial buildings and land purchases—it's very different than buying a home or residential land. These campaigns can also be complicated to explain to the church. This is one reason churches often need to budget for the help of outside consultants who have done this many times.
Debt-Reduction Campaigns
Debt has become a regular part of the financial life of many churches these days. While different churches and denominations have varying opinions on the role of debt in ministry, lowering (or eliminating) debt can open doors of ministry.

Advantages of Debt-Reduction Campaigns
The people in the pews can identify with the need. According to Pew Charitable Trusts, 80% of Americans have debt of some kind. Many people understand how debt can prevent them from achieving their personal goals, and that understanding easily translates to a church's budget.
Debt reduction can open up opportunities. The best part of debt-reduction campaigns is what happens next. Once debt is trimmed, churches can more easily enter into new seasons of ministry—whether that's through hiring new staff members, supporting new missions, or buying or renovating a building. While some churches will see an immediate benefit to debt reduction (like decreased monthly payments), the biggest benefit is usually seen over an extended period of time (15–30 years). When you add up decades of interest, the figures are often quite stark—and they motivate your givers to help knock down debt.
Disadvantages of Debt-Reduction Campaigns
It can be hard to get people excited about debt reduction. With building and missions campaigns, you can see the impact at the end of a period of sacrifice. At the end of a debt-reduction campaign, you simply have no debt. Unless you can lay out a vision for what's next and why you're asking people to give, you'll struggle to build momentum.
It can be challenging to communicate where the giving is going. While nearly everyone has debt, church debt can look different than personal debt. To really show the impact of the debt on your church's mission, you'll need to be particularly clear and bring in impactful visuals.
Debt can be a reminder of bad decisions. Not all debt comes from bad financial decisions, but some of it does. If you're trying to reduce debt that has come from regrettable decisions or previous church leaders, you may dredge up bad memories with the campaign.
It's often hard to come up with creative fundraising ideas. You're often limited to traditional giving pledges. It's not likely that you'll be able to host bake sales or car washes to help pay off the church debt.
Missions/Ministry Campaigns
These campaigns can be particularly fun because they focus on compelling projects that look beyond the walls of the church. These campaigns fund larger projects that might not normally fit within the general budget. Sometimes they are also annual campaigns that fund denominational ministry initiatives or specific local partnerships.

Advantages of Missions/Ministry Campaigns
You have an opportunity to share powerful stories. People love to give to projects with stories attached to them. If you can share a story of someone whom these gifts will impact (or someone who's been impacted in the past), people will be more likely to support the campaign generously. Ministry and missions offer a nearly unlimited supply of stories as you introduce donors to people who will be impacted by their gifts.
These campaigns tend to center around the church's mission. One reason these campaigns can be so exciting is that you're funding ministries that demonstrate exactly why you exist. You're not only giving to a great cause, but you'll get to reaffirm and reunite everyone around your mission.
A missions/ministry campaign shows your community what you're about. Many churches feel a bit apprehensive about how guests will feel about requests to give. Not only are these campaigns less likely to repel guests, they often can draw them in as they see your church's generosity on full display.
These campaigns are typically short. While most building campaigns take around three years, many of these are less than a year—and perhaps even just a few months.
Disadvantages of Missions/Ministry Campaigns
You have lots of worthy ministries/missions to give toward. You can only effectively do so many capital campaigns. Many thriving churches have an abundance of ministries that could benefit from an infusion of resources. You may need to either make a hard choice or dilute the momentum by splitting up beneficiaries.
Because these are shorter, you may be tempted to shortchange the preparation. Though these campaigns are typically less than a year, they take significant preparation. Make sure you follow all of the relevant steps, including sending fundraising letters and thank-you letters for donation money.
---
Bonus Resources about Online Giving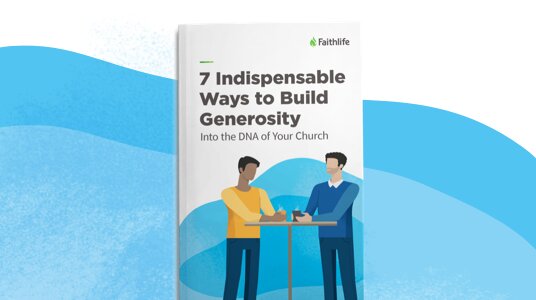 GUIDE
7 Ways to Build Generosity into the DNA of Your Church
What are the adjectives people use to describe your church? Is generous one of them?
Get it now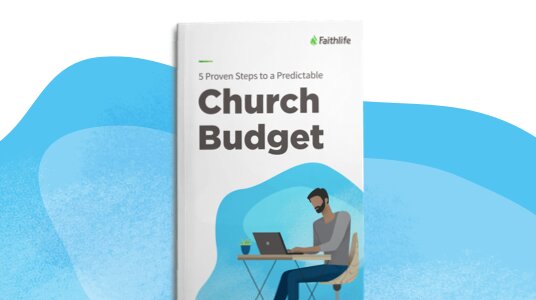 GUIDE
5 Provable Steps to a Predictable Church Budget
Your annual budget doesn't have to be a guessing game. These five steps can help.
Get it now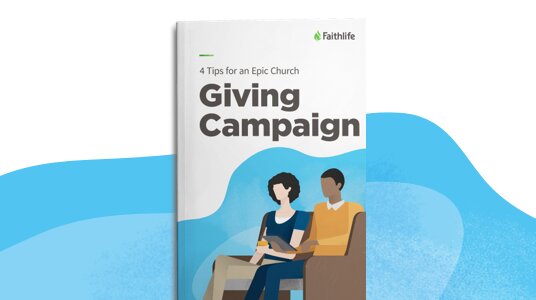 GUIDE
4 Steps for Your Church Capital Campaign
Inspiring people to give to your church capital campaign might be easier than you think.
Get it now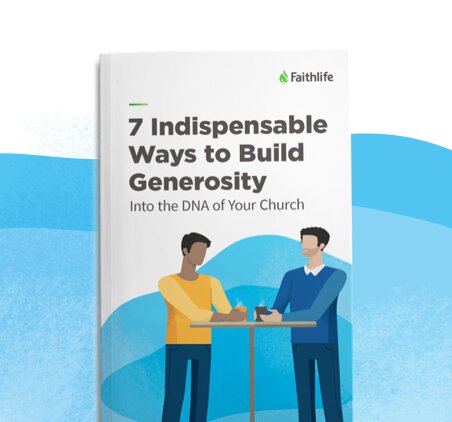 GUIDE
7 Ways to Build Generosity into the DNA of Your Church
What are the adjectives people use to describe your church? Is generous one of them?
Get it now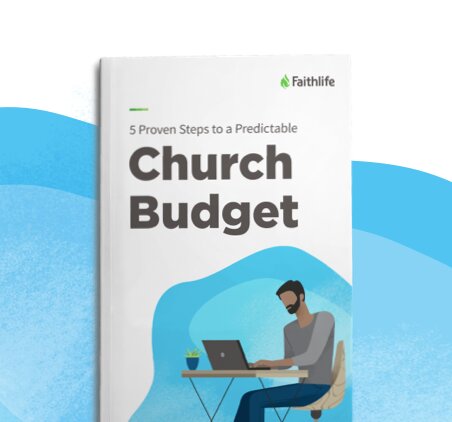 GUIDE
5 Provable Steps to a Predictable Church Budget
Your annual budget doesn't have to be a guessing game. These five steps can help.
Get it now
GUIDE
4 Steps for Your Church Capital Campaign
Inspiring people to give to your church capital campaign might be easier than you think.
Get it now
---
Products Related to Generosity
Dig in to resources that can help your congregation discover the joy of giving.
---
Stages of an Effective Capital Campaign

Understanding Why

Finding Leaders

Studying Feasibility

Getting Volunteers

Going public

Getting Commitments

Gathering Pledges

Celebrating Wins
---

Phase 1: Understanding Why
Most timelines for capital giving campaigns skip right through this part. But you skip the why at your church's own peril. It's not enough to know how much you want to raise and what you're raising the money for. You need to be clear about how it fits into your church's mission. If you and other church leaders don't understand how the project fits your vision, you can guarantee no one else will.

Phase 2: Finding Leaders
You'll need many people to make a capital campaign work, but your first step is to set up a leadership team for the campaign. Deciding on these leaders will likely depend upon your church's governance. Some of your leaders may be from your staff, while others might be volunteers. Regardless, you'll want to recruit dedicated individuals for the following roles:


Project leader: You'll want someone well-respected to oversee the whole project. Depending upon your church polity, this could be your lead pastor or an executive pastor. Choosing a key lay leader who works well with your church staff is likely the best option.
Communications leader: Because a big part of any fundraising project is communicating with potential givers, this position is absolutely critical. If you have someone in your congregation with marketing experience, this is a great spot for them. If you've hired an outside firm, they may help with some of this work, but you'll want someone who knows your church culture to be a part of the effort.
Finance leader: You'll obviously want someone who can help to manage some of the financial issues that will come up. This person will ensure the process of managing pledges is transparent and secure.


You may want a few other teams as well, but these are a good start. You will fill out these teams a bit later, but you need to pick your leaders early on.

Phase 3: Studying Feasibility
Not every church will do a feasibility study, but it can be helpful to get an outside perspective on the giving capacity of your church. Some denominations will even require (or strongly recommend) that you do such a study before undergoing a campaign.

You don't want to let a feasibility study limit the vision God has given you, but it's great to let it inform how you'll do it. Whether you go through an outside feasibility study partner or not, you'll need to answer the following questions:
How much money can we realistically raise during our campaign? (A general principle: over three years, you may be able to raise 1.5–2x last year's annual giving.)
Who are potential volunteers that can help us throughout this process?
How long does our campaign need to be to raise the money we need?
How long do we need to prepare for this campaign?
Do we need outside help? (This could be a marketing agency, a printing company, graphic designer, videographer, or other positions.)

70% of churches that participate in a capital campaign say their ministry effectiveness increased because of a capital campaign.
—Arbor Research Group

Phase 4: Getting Volunteers
You'll need more than leaders for an effective capital campaign. During this phase, you'll begin to enlist other volunteers for the effort. For your most trusted positions, you'll want to ask potential volunteers personally to make sure they have capacity, interest, and buy-in. After all, lay leaders and volunteers are a great place to start talking through your message. From there, you can empower those leaders and volunteers to recruit more people to serve—and connect them with others who have expressed interest in midweek or administrative help.

If you have lay people in your church with experience in nonprofit giving or capital campaigns, pull them in early and often. They can provide fundraising ideas and help you avoid common mistakes.

Phase 5: Going Public
By the time you reach this point, it's probably been at least six months from the time you first began considering a church giving campaign. Once all the planning is in place, it's time to engage the entire church with it. Depending on how much you're trying to raise and other factors unearthed in the feasibility study, this phase should last three to eight weeks.

During phase 5, your focus will be to lay out a compelling vision for how this capital campaign fits within the vision of the church. Why? People give to vision. Your donors want to know that God is giving them an opportunity to be a part of something special. Your church leaders (i.e., your senior pastor) need to show them their part in that vision.

Without a doubt, the most important part of this stage is to challenge your congregation to grow in their faith in God. If you believe God is calling your church forward in this vision, then God has a place in the effort for everyone in your church. Show them what the Bible says about generosity and challenge them to take a step of faith, not so your church can reach your goal, but so that your givers can become more like Jesus.

Ideally, everything in your church will align with the campaign during this period, including sermons and small groups. The more elements competing for the attention of your church, the more difficult it will be for your congregation to focus on your capital campaign.

Phase 6: Getting Commitments
This comes at the end of the public phase of your campaign. You'll culminate your public campaign by asking people to take a step of faith and commit to give to the project. Although you'll likely ask for giving pledges throughout the entire public phase (and beyond), your Commitment Sunday is an event you lead toward throughout the campaign.

If you've set the groundwork throughout the rest of the public phase, this should be a natural next step. Your donors will be ready to give generously toward what God is collectively calling your church to do. Your church culture will help to decide how you do this—whether givers mark a card and drop it an offering plate, text in their pledge amount, or make the decision in a public way during the service.

If you can provide a giving calculator among your online giving tools, you'll help people make informed decisions about their generosity and empower them to set personal giving goals.

Phase 7: Gathering Pledges
This is the longest part of the process (usually one to three years), where you'll follow up on pledges and collect the promised gifts. One of the challenges of this period is to keep the momentum going once the public period has ended. The capital campaign will need to take a back seat to other priorities in the church, but you'll still need to maintain the attention of the congregation. You'll likely have new people join your church family who may want to be a part of the effort, and you'll want to remind givers of the commitments they've made.

Depending on the type of campaign you're hosting, you may have the opportunity to show the church some of the results of their giving. If it's a building project, make a big deal of breaking ground or new structures appearing. For a mission or ministry project, you may want to make a pre-service slide that updates itself with your campaign's giving totals. Always tie what people are seeing to the faithfulness of God and the generosity of your church family.

Church Development recommends an effective five-part follow-up process that keeps the campaign and its goals in front of your donors.
Say thank you to givers, potentially with a handwritten thank-you letter for donation money. Also, say thank you regularly to your volunteers. Keeping them engaged throughout this period is crucial.
Report progress on both your giving goal and the ministry effort you're raising funds for. Make this as visual as possible. Consider a highly visible graphic that shows progress toward the goal (such as a fundraising thermometer).
Remind those who have made a giving pledge. We all need reminders. You can do this through quarterly giving statements, emails, a fundraising letter, your mobile app, etc.
Encourage donors as they trust God in their generosity. Giving isn't easy, especially when it's above and beyond regular gifts. Hebrews 10:24 says, "Let us consider how to stir up one another to love and good works" (ESV). You'll want to do this consistently throughout this phase of the campaign.
Continue to solicit new pledges. Like mentioned earlier, you'll hopefully have new people join your church. Continue to invite people to participate in the campaign. Even people who were in your church during the earlier stages may decide to join the effort after the public phase closes.

Phase 8: Celebrating Wins
The final part of your capital campaign is an important way to bring it full circle. Celebration is part of one of the most significant "capital campaigns" in the Bible as Solomon led Israel to celebrate the temple's completion in 2 Chronicles 5–7. Celebrating the completion of the project is an essential part of the journey.
---
Your Next Steps in Starting a Capital Campaign
So what do you do now? A capital campaign can be a long and winding process, but your first steps don't need to be confusing. These first few steps will set you up for future success:
Pray.
A capital giving campaign has to start by seeking God's heart in humility. Ask him to clarify your goal and work in the lives of the congregation. Gather a team to begin praying for this important endeavor.
Start laying a foundation for biblical generosity.
You've likely been teaching biblical generosity all along, but take this time to audit how you're doing. Make sure stewardship education makes its way into your weekend messages, small groups, and other educational ministries of your church. Jesus talked about it often, so it shouldn't be taboo for you.
Ensure you have a robust online giving solution.
You'll need a strong giving solution for an effective giving campaign. Begin taking a hard look at your current system and evaluate other options. Have an in-depth conversation with your accounting team to see what they believe you will need before launching a campaign.

Check out Faithlife Giving for a full-featured online giving platform that can handle everything you need for your capital giving campaign.