Online Giving for Church Admins
Church Operations without the Frustrations
Become a smooth operator with Faithlife Giving, a simple tithing solution with
time-saving

automation for busy church administrators.

---
Online Giving Tools Should Make Your Life Easier, Not Harder
Sadly, that's rarely the case. Apps and websites made for businesses don't understand the unique needs of churches. Worse, when you cobble together different solutions for giving, email, church management, and other key areas, you end up spending more time getting them to work than actually getting work done.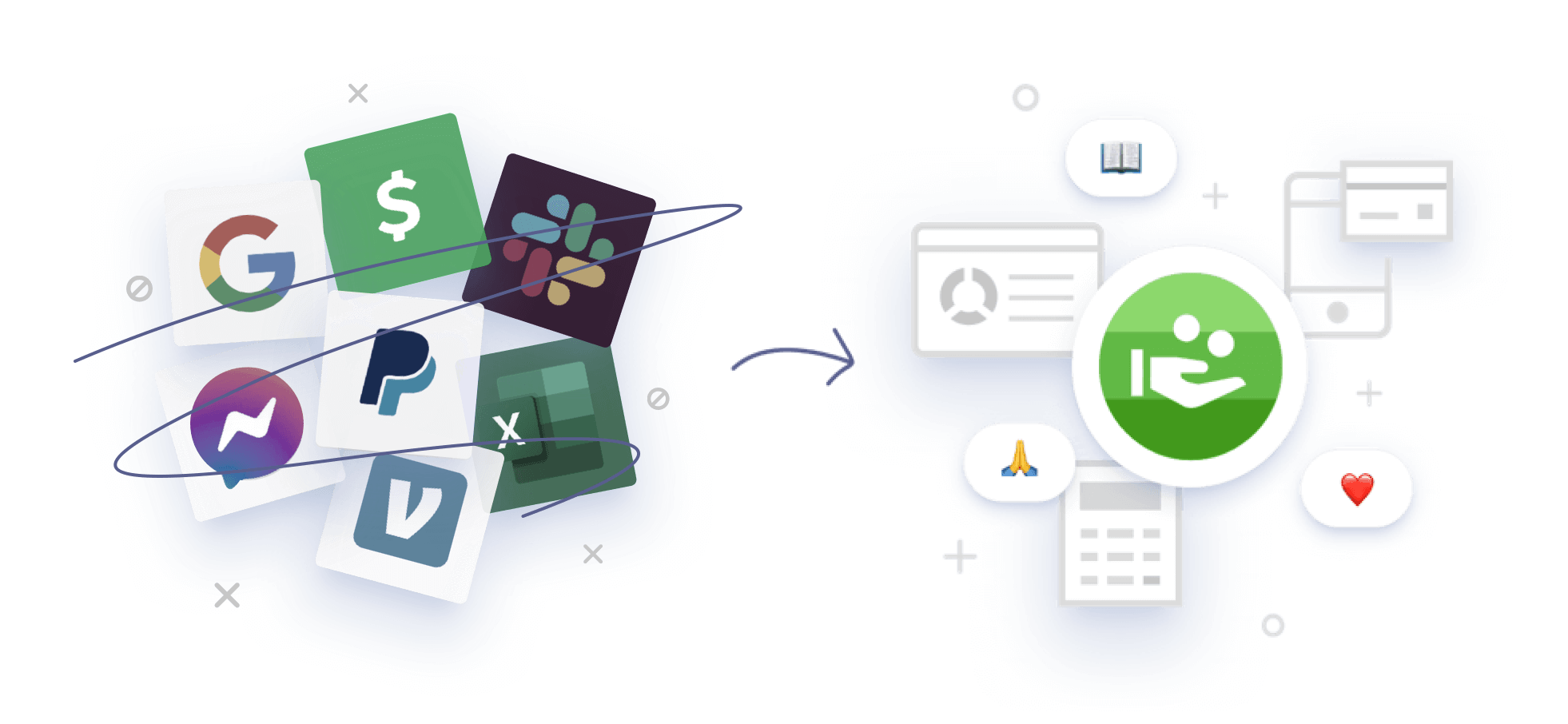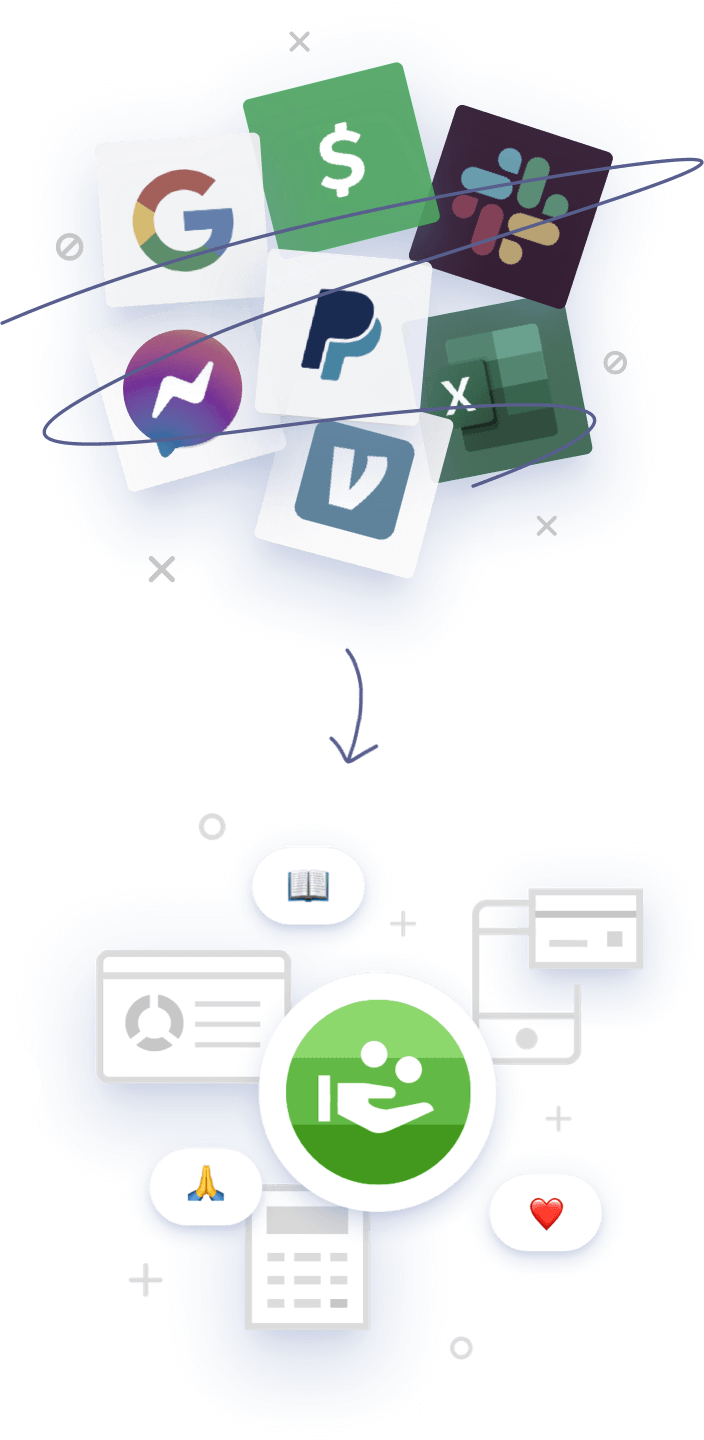 That's Why Church Admins Are Falling in Love with Faithlife Giving
With Faithlife Giving, you don't just get the security and functionality you expect from a world-class giving solution. You access an integrated ministry platform that consolidates your church tech in one system and automates common tasks—freeing you to get much more done in far less time.
Integrated Ministry Platform
So Much More Than a Giving Tool
Because Faithlife Giving is part of an integrated ministry platform, you'll get tools to manage the full scope of your church's operations at no extra cost:
Church management: Add contacts, schedule follow-ups, take private notes, and more.
Communication: Send emails, newsletters, texts, and more.
Church app: Customize our app to fit your church's look.
Online calendar: Share upcoming church events.
Website: Create a free website that auto-updates based on your calendar.
Storage: Store unlimited files with privacy settings.
Schedule demo to see it in action.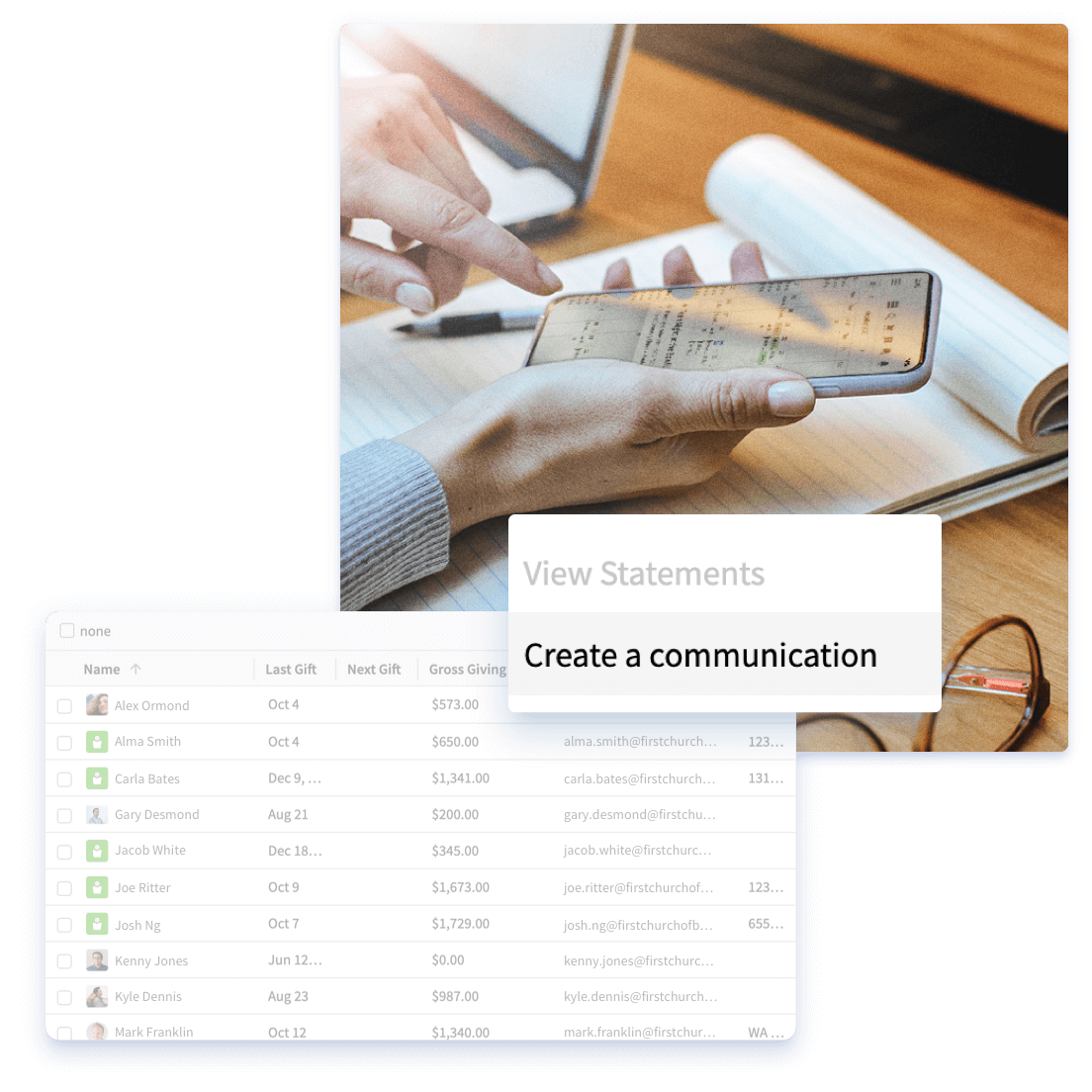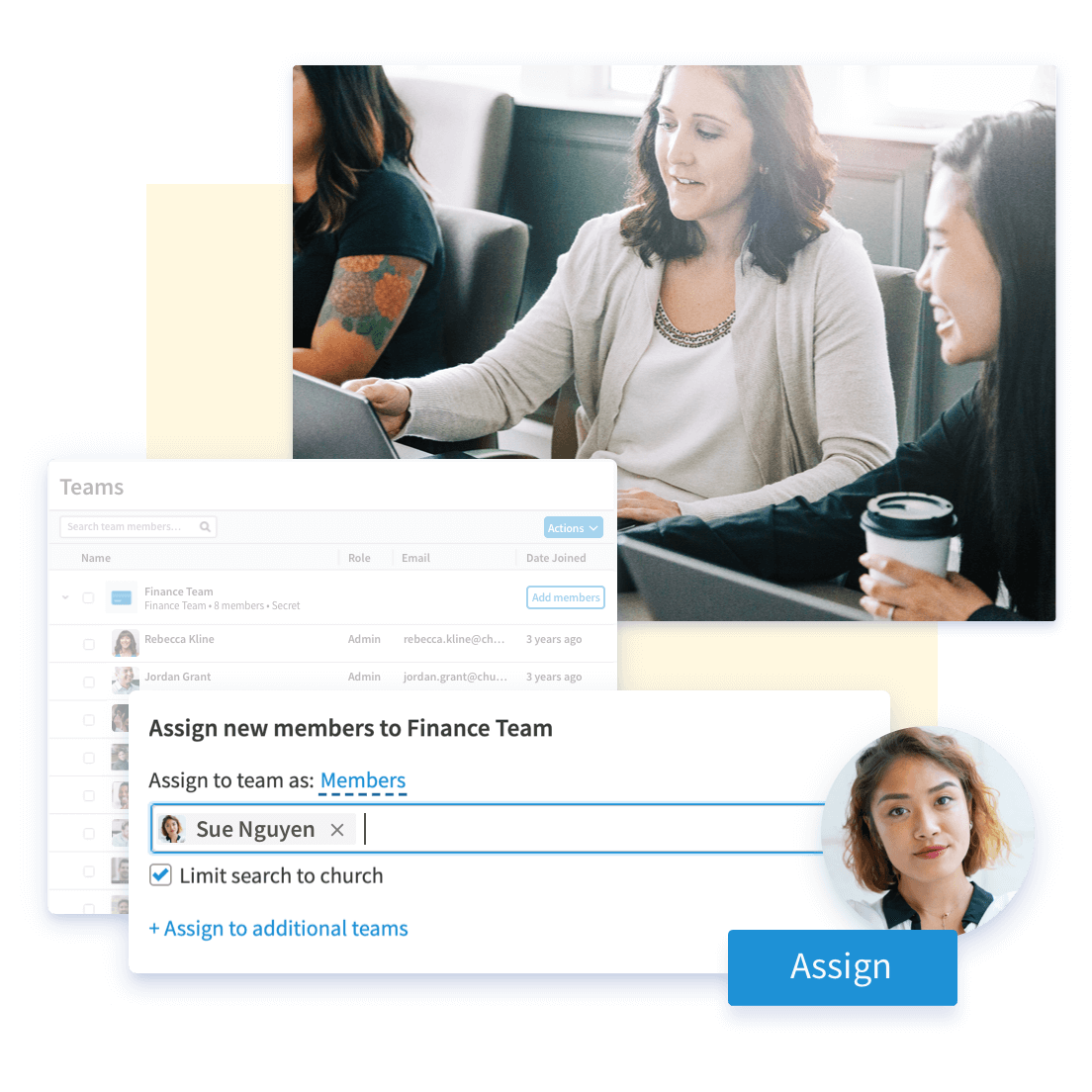 Easy, Secure Delegation
---
Divvy Up the Work So You Don't Burn Out
Faithlife Giving makes it easy and secure to share the load with a team of volunteers. Invite others to your Finance Team, and they'll access essential tools for healthy church finances:
At-a-glance metrics: See church-wide and individual tithing trends.
Automatic tax statements: Customize and send out giving statements automatically.
Gift management: Manage and edit gifts—including refunds.
Cash & check recording: Record batches of cash and check donations.
See all features that will help you share the load.

---
Share the Load
---
Running the Numbers as Easy as 1, 2, 3
It's never been easier to run the business of the church like a well-oiled machine. Faithlife Giving automates common tasks and makes it easy to share the load with others.
21,859/year
Automated tax statements sent
114,190/year
Automated email receipts sent
26,110/year
Manual gifts recorded
---
Low Rates + Free Features
---
Get Fully Loaded Features—without Paying a Truckload
All of our plans—including the free tier—come with all of our features. Get everything you need to collect offerings from anywhere:
Give with a link: Just share a link, and anyone can give without even creating an account.
On your website: Add a prominent button to give on your site.
Text to Give: A few thumb taps is all it takes.
Kiosk giving: Set up an iPad so they can give in the lobby.
Customizable app: Give through an app you customize to fit your church's look.
Cash and check: You can quickly log your gifts later.
Choose the plan that will save you the most.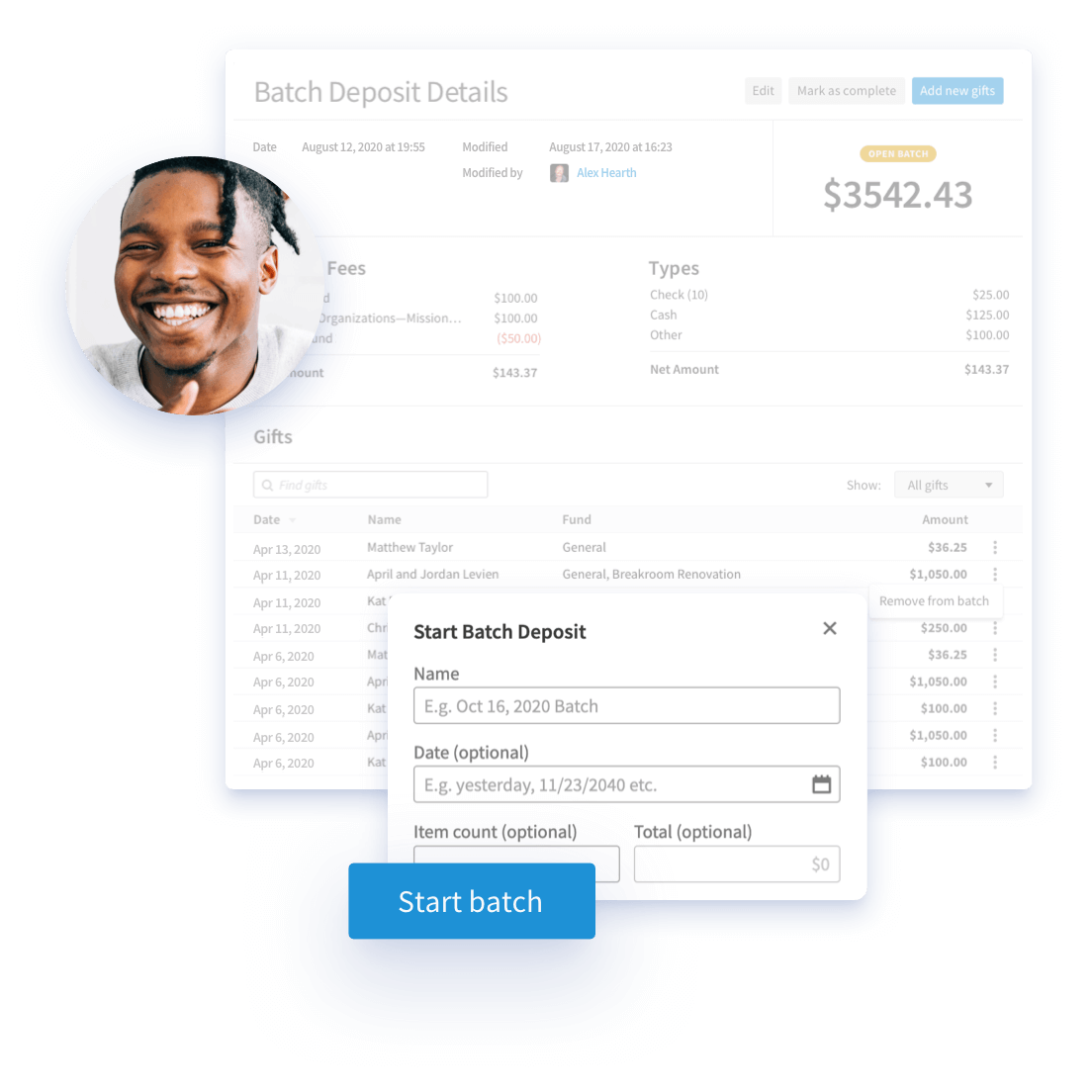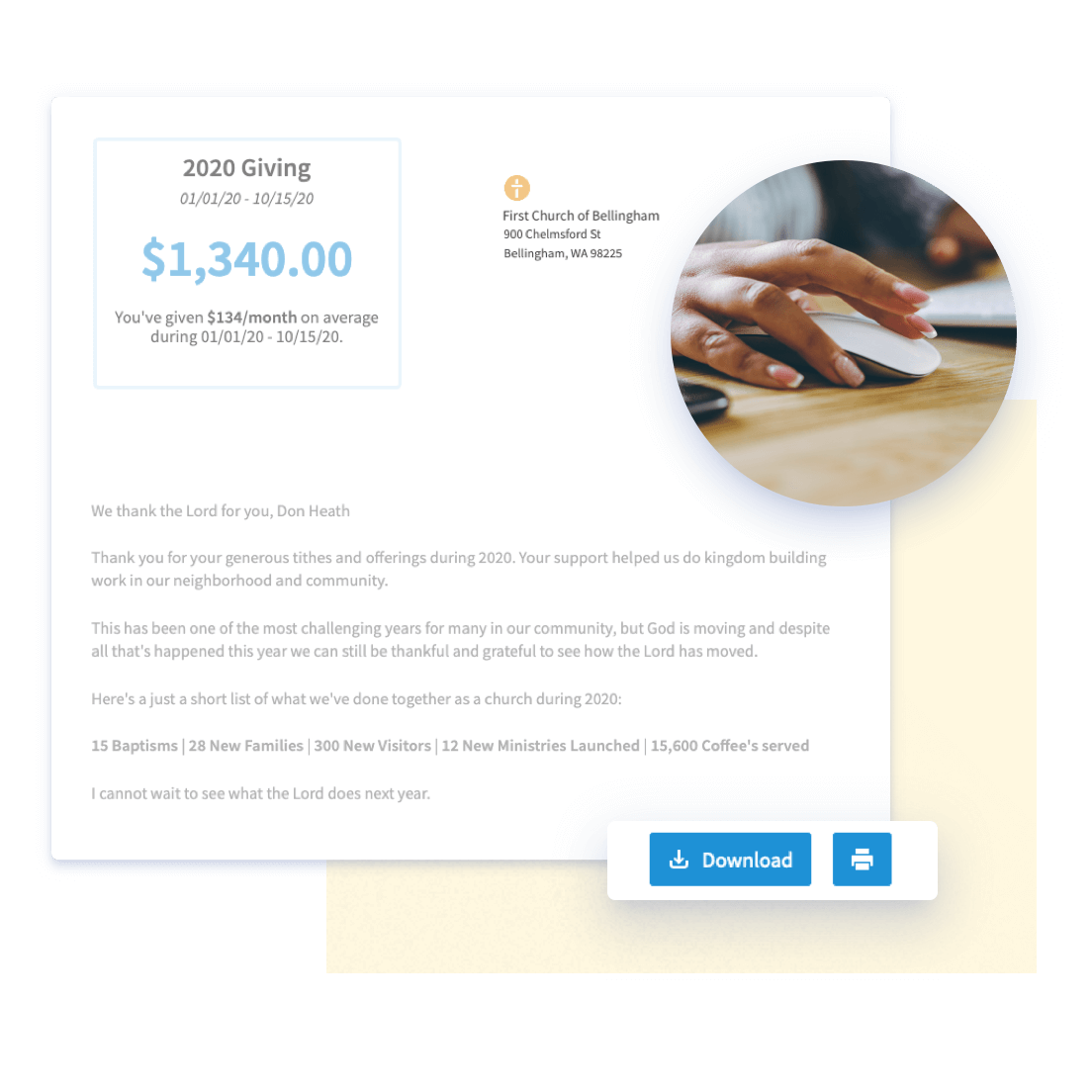 Flexible Automation
---
There's Light at the End of the Carpal Tunnel
No more hand writing notes or snail-mailing statements. Faithlife Giving generates customizable email receipts and giving statements, with personalized notes thanking members for faithfully supporting the church—all automatically.
Giving statements are sent automatically or with a single click—whenever your donor wants them.
Email receipts are sent after every gift, even with manually recorded cash and check gifts.
Church management records complete with contact information are automatically created when a new giver makes an offering.
Free Customer Support
---
Help from Real People, 365 Days a year—Even Sundays
Serving you every day of the year from our state-of-the-art Church Support Center, our team is here to help. Some of us even go to church on Saturday night so we can be there bright and early to help you out on Sunday morning.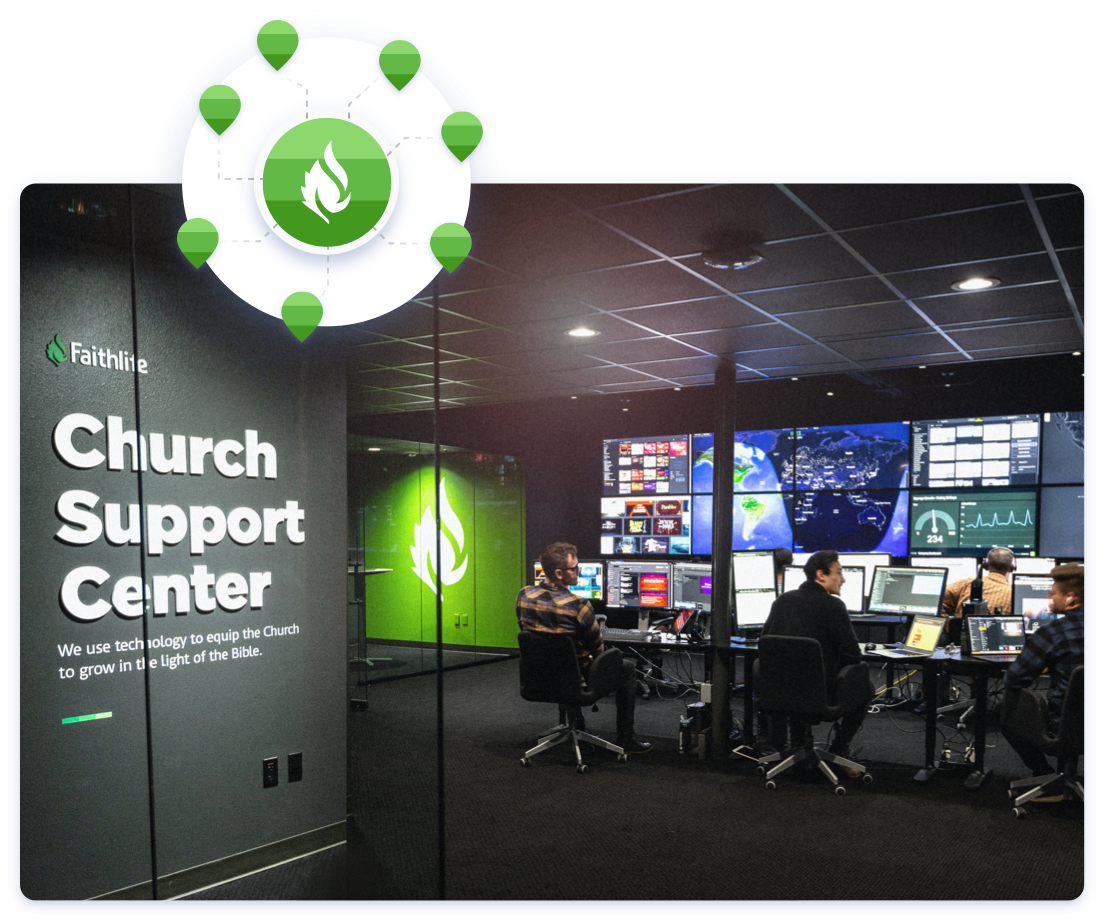 ---
Discover Why Church Admins Love Faithlife Giving
When we needed an online donation system that could support numerous outreach ministries, Faithlife delivered! This system is easy to use, the reports are outstanding, and the friendly client service is unbeatable
I LOVE the goal calculator and study resources . . . ! As an individual tither, I love that this tool lets me quickly see how I am giving to my church. The study resources are also excellent. Thank you!
This is the best customer support I have ever had. Please don't ever change that. You guys have a true calling.
Operations Team, Which Future Will You Choose?

Without
Faithlife Giving

Keep track of only one login.

Automate mind-numbing (yet important) work.

Maximize every dollar for your church's mission.

Delegate financial responsibilities easily to a team.

Access support 365 days a year—even Christmas and Easter.
Operations Team, Which Future Will You Choose?
Without Faithlife Giving
With Faithlife Giving
Keep track of only one login.
Automate mind-numbing (yet important) work.
Maximize every dollar for your church's mission.
Delegate financial responsibilities easily to a team.
Access support 365 days a year—even Christmas and Easter.
---
Get Faithlife Giving the Way That Works for You
Online & Mobile Giving
As low as $0/mo
Plus low transaction fees
Start for free
Bundle and Save
Get Faithlife Giving and other essential tools you need to plan your service, manage your church, and disciple your people.
Learn more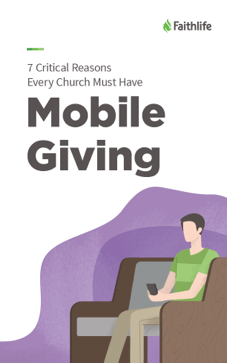 Free Guide
---
7 Critical Reasons Every Church Must Have Mobile Giving
Your members use their phones for nearly everything, even their finances. Learn how mobile giving can make more ministry possible at your church.
Learn more.