If You Can Read, You Can Make Stunning Church Presentations
You just need to read this book. From how to choose colors to how to take good photos, The Proclaim Guide to Beautiful Church Presentations demystifies how to design high-quality church presentations. Even if you feel like you have zero artistic skills, this book is for you. Learn the basics of design, presentation best practices, and church technology. The advice applies broadly to all presentation software but works best with Faithlife Proclaim, and you'll find special Proclaim tips throughout so you can implement the advice immediately.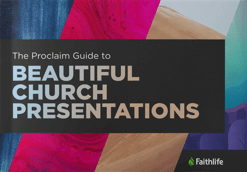 Sign-Up for the Church Design Webinar Waiting List
We're exploring the possibility of hosting a webinar based on the book. Interested? Give us your email address and we'll message you when we have more details.