Christmas Bonus Fund
Hello Church Members & Friends,
As we approach the holidays we wanted to remind you of the Christmas Bonus Fund for our Church employees. This is a way we, Redeemer Baptist Church, can show our appreciation for all the hard work that has been put in all year by our church employees and a way that we live out the scriptural admonition to be people who give to others joyfully for their good and God's glory.
Visit: https://redeemerbaptistchurch.org/give
click "add or change funds"
and select "Christmas Bonus"
or write "Christmas Bonus" on cash envelope or check memo line.
Deadline is December 5th.
Please prayerfully consider how you can bless them this Christmas season. The deadline will be December 5th. If you have any questions, please speak to one of the deacons.
Grace & Peace,
RBC Deacons
Ron Perry
Tris Meyers
Andrew McKeever
Josh Austin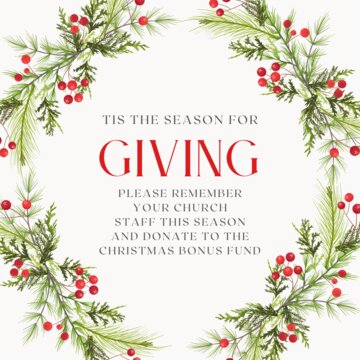 Redeemer Baptist Church is a reformed Baptist church in Rincon, Georgia
Our address is: 226 Goshen Rd, Rincon, GA 31326, USA