Membership Matters
Join our church!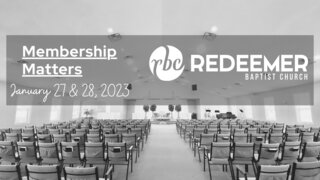 Are you interested in becoming a member of RBC? Learn more about what we believe?


This is the first place to begin the process. The classes will be held over two days, Friday, January 27th and Saturday, January 28th. You will need to attend both dates.


Please will need to RSVP on both dates.
RSVP by January 22nd.






If you have questions, please speak to Pastor Sam Barber.
Redeemer Baptist Church is a reformed Baptist church in Rincon, Georgia
Our address is: 226 Goshen Rd, Rincon, GA 31326, USA