Girls Night Out
LADIES' MINSTRY
Don't forget to RSVP! Details below.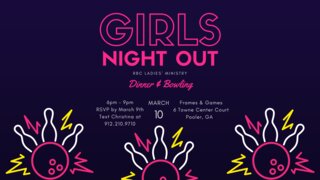 The Ladies' Ministry team is excited to share our first Girls Night Out opportunity for 2023!
We will need everyone to RSVP by texting Brenda at 912.856.7914 by March 9th.
We will meet at Frames and Games at 6pm and we will enjoy a time of fellowship, food, and bowling. If you have questions, please feel free to reach out to Christina Meyers or Brenda Reid.
Redeemer Baptist Church is a reformed Baptist church in Rincon, Georgia
Our address is: 226 Goshen Rd, Rincon, GA 31326, USA