Please read...
A few additional comments to add to our weekly newsletter. :)
Security Team
Anyone who is or is interested in serving on the security team, there will be a 15 minute informational meeting with Richard Burchette right after church tomorrow, May 2nd. If you can't attend it but are or are interested please contact Richard (912.658.6134).
NEW Sunday School Classes
Our new trimester begins tomorrow, May 2nd. Here are the details for both adults and students.
Adult Sunday School
Location: Sanctuary, Bldg 300
Discovering Deuteronomy, A Teaching Series by Dr. W. Robert Godfrey
Teacher: Pastor Nick Kennicott
Deuteronomy is one of the most frequently quoted Old Testament books in the New Testament. So, why do modern Christians often overlook it? In this twenty-one-part teaching series, Dr. W. Robert Godfrey reveals the importance and value of studying Deuteronomy. Through an examination of the book's structure and context, this series will help students better understand Deuteronomy's coherent message. Discovering Deuteronomy connects the history, land, leaders, laws, and warnings of Deuteronomy to the New Testament and to modern life. In doing so, it highlights the relevance and usefulness of this foundational book.
Children & Student Sunday School
Location: Building 500
Volunteers: Please arrive by 9:15am. If you have any questions, please contact our Children's Coordinator, Maggie Carr at 912.661.4751.
Babies:
Caleb & Quinn Meyers
(First classroom on right)
Toddlers:
Shannon Schroeder & Becky Bradley
(First Door to the right)
3 & 4 years Old:
Ben & Raven Brett
(First classroom on left)
K-2nd Grade -
Josh & Heather Kohl
(Second classroom on left)
3rd - 5th Grade:
Kaleigh Perry & Casey Fields
(Third classroom on left)
6th - 12th Grade:
Jeff Stephens
(Last classroom on left)
*This would be their Grade/Age on 9.1.20
Family Camp 2021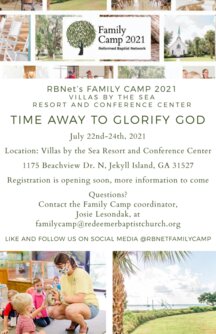 Our address is: 226 Goshen Rd, Rincon, GA 31326, USA