Weekly Newsletter
May 14, 2021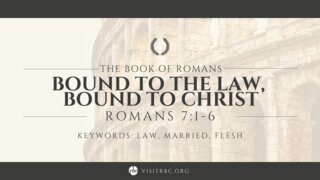 Looking ahead...
We look forward to seeing you this Sunday!
Sunday School 9:30am
Worship 10:30am
A quick note for Sunday School
Church family,
This coming Lord's Day, May 16th, Pastor C.R. Cali will be joining us from Sermon in the Park Church in Texas. He will be speaking during Sunday school and sharing his testimony, and talking about his work to end abortion.


When we have guests, we have typically had all of the children's Sunday school classes join us, but this time we are going to just ask for the middle and high school classes, and allow parents to decide if they want to include their younger children given the nature of the topic. We believe that it is important to talk about these important issues with our children, but also realize that we are all at different places in those discussions, so we want to leave that decision up to you.


Pastor Cali's testimony of how the Lord saved him will be good for all of us to hear, and it will help us to understand more about the work he is doing. He is very active in his ministry outside of abortion mills in his community and is also involved in addressing legislative issues in his state and around the nation. I will have copies of his book available if you are interested in purchasing a copy to read more.


Lord willing, we will see you on Sunday.


Pastor Nick
Upcoming Events
Click on the Event Title for more details or to RSVP.
(if you see 3 dots below, just click them to see the full content of this email). More event details please go to the group calendar.
Be sure to mark your calendars for these events!
Volunteer Schedules
Be sure to mark your calendars for your volunteer dates!
Nursery Schedule: Volunteers please arrive at 10:15am.
(If you have any questions, please contact our Children's Coordinator, Maggie Carr at 912.661.4751.)
May 16
Worship Toddler Nursery:
Josie Lesondak
Andi McKeever
Worship Baby Nursery:
Quinn Meyers
Bethany Cave (Check-in)
May 23
Worship Toddler Nursery:
David & Courtney Collins
(David Check-in)
Worship Baby Nursery:
Heather Kohl
Haylie Reid
May 30
Worship Toddler Nursery:
Wesley Stephens
Maggie Carr
(Check-in)
Worship Baby Nursery:
James & Susan Krikava
. . . . . . . . . . . . . . . . . . . . . .
Tithe Counting Schedule
First Sunday, May 2: David Collins & Josh Kohl
Second Sunday, May 9: Tris Meyers & Tyler Wood
Third Sunday, May 16: Steve Reid & Caleb Meyers
Fourth Sunday, May 23: Josh Austin & Andrew McKeever
Fifth Sunday, May 30: James Krikava & Lee Bradley
. . . . . . . . . . . . . . . . . . . . . .
Lord's Supper (Instructions below)
May 16
Setup/Cleanup: Andrew McKeever, David Collins
Bread: Andi McKeever
May 23
Setup/Cleanup: Josh Austin, Ben Brett
Bread: Modupe Olumide
May 30
Setup/Cleanup: Dan Schroeder, Charlie Head
Bread: Brenda Reid
INSTRUCTIONS: Please bring the bread with the date on the bag to the 500 bldg by 9:00am Sunday mornings. We will need 3 trays of wine/juice and 2 trays of bread. Tear down, please clean all trays and dry and put them away. Questions? See Tris Meyers.
. . . . . . . . . . . . . . . . . . . . . . .
Security Rotation (Gentleman please arrive by 9:15am for Sunday School rotation and 10:15am for worship rotation. If you have questions, please speak to Tris Meyers.)
May 16
Sunday School: Marc Winnai
Worship: Andrew McKeever
May 23
Sunday School: Caleb Meyers
Worship: Germaine Fields
May 30
Sunday School: James Krikava
Worship: Ron Perry
. . . . . . . . . . . . . . . . . . . . . . .
Sound Booth Rotation (If you have questions, please speak to Dan Schroeder.)
May 16
Dan Schroeder, Lee Bradley
May 23
Lee Bradley, Ethan Brett
May 30
Ethan Brett, Wesley Stephens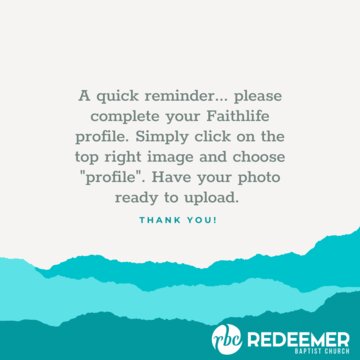 Once you complete your profile - you will choose who will be able to view your information. Please choose "everyone" or "members". Everyone means everyone on this specific group. Members means only members of this group, not the followers of the group. If you have any questions, please feel free to ask Pastor Nick Kennicott or Christina Meyers.
Counseling Center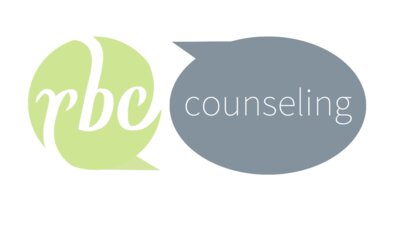 RBC offers free biblical counseling from trained counselors.
For more information click the image.


Redeemer Baptist Church is a reformed Baptist church in Rincon, Georgia
Our address is: 226 Goshen Rd, Rincon, GA 31326, USA