Easter Thoughts
Meditations
Good Friday
Fear is a strong motivator in our culture. There are many of us who live our entire lives under the weight of some fear. In reading the biblical accounts surrounding Good Friday, the theme of fear takes a dominant place in many of the stories.
The Chief Priests and officials are afraid of the challenge Jesus poses to all that they hold dear. They fear change, loss of power, cultural upheaval and it drives them to plan and implement the murder of Jesus.
Pilate's fear of the people, of Caesar, and of failure forces a compromise in his soul leading to the death of a man he has declared innocent.
The centurion and guards are stunned and immobilized by their fear as they watch the death of the one they declare to be the Son of God.
Joseph and Nicodemus (pharisees) are so afraid of the Jews that they bury Jesus in secret. Their fear keeps them from standing for the one who they believe holds the only hope for the future of their people. They have waited a lifetime for their Messiah and when he comes, they are too afraid to own him.
The disciples' fear of death causes them to abandon the Savior they have come to treasure and love as a dear brother.
But on that Good Friday, there was one who embraced Jesus and trusted him for forgiveness. But that thief who hung next to him on a cross, had already lost everything. He had nothing of this world to hang onto, to fear losing, and in his loss found eternal life.
Our fear robs us of the one thing that can save us, give us hope, release us from the bondage of so many burdens. Only as we let go of all that is temporary can we take hold of that which is eternal.
Silent Saturday
And then there was silence. The Bible has no poignant stories of Saturday. There are no comforting words from the Father. There is only silence.
There was nothing beautiful about his death save for the outpouring of his love. The death was horrific, bloody, brutal in every aspect. Then silence.
When Dollie died it was horrific. She fought for every last moment of life. They restrained her finally because of the flailing and attempts to leave the bed. In her mania she begged me to take her home and in her few moments of lucidity she told me she was dying. But I maintained a naive hope until she was gone. And then came the silence. I begged for his comfort, the peace that so many speak of, but it did not come. He did not speak to me in that moment. I did hear a voice in that silence, but it was not the Father. "She's gone. There is no heaven, no afterlife. You will never see her again." I have been faithful to Jesus my whole life. It was if he had been waiting for decades for this moment of despair and weakness to speak these words, to add to my pain, and when it came, he savored each one as he spoke them. He uttered each phrase with the hope of breaking me, destroying my faith and leaving me with nothing.
Saturday after the crucifixion, amidst this silence from heaven, I believe the evil one was active with words he had been saving for each of the followers of Jesus. He spent that day spreading defeat and despair.
There will be times of silence in our lives. Heaven will seem closed up and hushed. Never forget, however, that the story is not over. There is yet one more day...
Church Spring 2019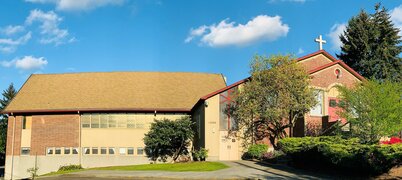 Love God. Love Others. Make Disciples.
Our address is: 15880 Military Rd S, Tukwila, WA, 98188