The translator of the Sacred Scriptures should profess utmost fidelity, not to him self nor to his theological or exegetical favourites, but only to these persons: the original sacred authors and their original auto graphs. This should be both the foundation as well as the cap stone of any trans lation process, and the trans lator should remove him self or her self out of the picture, bringing only in to the picture that of the sacred authors and their original auto graphs, and then presenting that picture to the readers and to the world.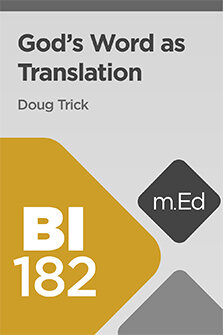 Mobile Ed: BI182 God's Word as Translation (2 hour course)
Add to cart
My brother, I so appreciate your commitment to a high view of Scripture as the Word of God. Certainly those involved in translating Scripture need to exercise great care, and try to avoid any personal influence in the translation process. Let's pray that as God moved the hearts and minds of the original sacred authors, that He will likewise move the hearts and minds of all who are engaged in this sacred ministry of Bible translation. And let's pray also that He will raise up those who can serve the remaining 1600+ people groups without Scripture in their language.

we don't possess the original autographs

Jay Lally

I know. What I mean in my post above was that "as we get closer and closer to the sacred authors' auto graphs".