I like the commentary, but...why does it cover 64 out of 66 books in the Bible? Psalms and Ephesians are missing.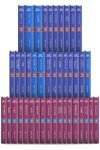 The New American Commentary Series (42 vols.)
Add to cart
Hi

Jeff Fischer

I am happy to help you with your question. The two missing volumes are for Psalms and Ephesians. It appears that the publisher has not given us permission for Psalms as there appears to be more than one author. Ephesians is possibly in a similar state. It is likely an issue with the contract with the publisher but I am not sure what the root of this issue is. You can see the forum thread at

https://community.logos.com/forums/t/6195.aspx

for further discussion on this topic.