Having been using Logos Bible software for many years, and having purchased the Logos 7 full feature upgrade a couple of years ago, it would be nice if the workflow editor was offered as a separate purchase apart from the Logos 8 base packages. The cheapest package I could find that includes this feature is the Logos 8 full feature upgrade, and I'm not going to spend a large chunk of money just to use this one feature (I don't have any interest in the other features and resources included in that package).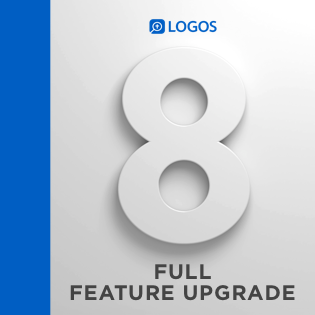 Logos 8 Full Feature Upgrade
Hi, my name is Doug Wilde, I have been a Logos user since 2011. I currently own more books (resources), than I could read in a lifetime. Forgive me if I am speaking out of turn, I have read your comments and I would like to offer both a defense and an encouragement. In their defense, Logos is primarily a Software Company who specializes in Databases or Datasets and they are very good at it. My study of God's Word and theology has been greatly enriched and perhaps accelerated because of the Logos product - I defer to The Holy Spirit who alone reveals God and His glory. For your encouragement, it is possible to upgrade to Logos 8 for free with the Logos 8 Basic

https://www.logos.com/product/168880/logos-8-basic

Three other options are available for less money than you might spend on a Base Package. Of course the pricing is dynamic based on the amount of resources you currently own. All four of these Feature Sets offer some level of the Workflow Editor.

https://www.logos.com/ways-to-upgrade-to-logos-8

When I speak to my friends about purchasing Logos Bible Software, I encourage them to start small - less than $100, because there is a learning curve to using the software. See if you like it. Then take the time to explore Base Package options. Make an informed decision, think into the future; the needs or requirements of your library. Over the years I have purchased two Base Packages and two Base Package Upgrades. I no longer buy Base Packages. I make selections of (typically), individual resources and purchase when they go on sale. If I look at my order history and divide by the number of resources I own, it comes out to less than $2 per. I can find rejoicing in that because I think that I am shopping at a thrift store!! A portion of that price includes a $6/mo subscription to Faithlife TV. My current dynamic pricing on the Logos 8 Full Feature Upgrade is about $160. I am not financially ready to make that purchase, I am going to go with the Logos 8 Basic - free upgrade simply because I do want my software to be supported. Perhaps later and if I think I really need it will I purchase the Full Feature Upgrade. One of the challenges before me is to make full use of what I already own. The guiding truth is: godliness with contentment is great gain. Am I growing in Christ? That is the real issue. Brothers, have a great day.

I had already installed the Logos 8 basic upgrade. But again, I can't speak for anyone else as to what they want to do, but my concern specifically involves the cost of the cheapest option that offers the workflow editor. For me, the cheapest option is the full feature upgrade. And with my library of resources and purchases that I've made, with the current 20% discount available on base upgrades, it would cost me over $150. To spend over $150 just so I can use that one feature (not wanting any of the other features of that upgrade).... never. Not an option at all. I do wish that Logos would make available that workflow editor as a standalone upgrade option.

I agree whole heatedly with Jeff and mostly with Doug. I am forced to purchase the Full Feature Package as well, but it costs me $495. That is crazy for all the options that I will most likely never use. I cannot imagine that this company is hurting for money and believe they should make this resource a bit more accessible for less. I have had so many friends interested in this software, but once they look at the price they all shy away. They also shy away at the complexity of it. There is a huge learning curve for beginners and even for those upgrading to a new version. Also, Logos is making available a lot of false teaching resources, just like most christian book stores and that is a huge problem, and makes me think they are more focused on money than Godly service. At the same time, I don't know their financials, and as a business owner I can relate to that. All of these digital resources are way cheaper than if we bought paper versions without a doubt. Also, this software has aided me beyond words can describe and I am ever grateful for the tools and resources it provides. I just think the company needs a refocus possibly. Seems too big now to be more service oriented than money oriented. To God be the glory!