It appears the six-dayer's won this round. It is sad that they do not understand that Romans 1 forbids their interpretation.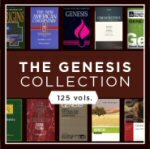 The Genesis Collection (125 vols.)
Add to cart
I didn't do a prior post about the subject. However, the Big Bang so clearly screams "CREATION!" that Romans 1 rings true for practically all the of those within astronomy. Robert Jastrow wrote an entire book about that topic, even though he was not a Christian. Simply put, any honest look at the universe from an old-age perspective is sufficient to convict a person of the existence of a Creator. I came to Christ that way. If I had been told at that time that I needed to believe in a 6-day creation to be a Christian, I would have rejected Christianity, not from what the Bible says, but from propounded bad doctrine that is inconsistent with Scripture and with good science.

Kevin -- is your comment on the item tagged (the Genesis collection of many books), either most or all of them?

The whole collection. Of course, to be a bit fair, there are those who deny Genesis 1 & 2 have any basis in science. Then there are those who either spiritualize or rationalize those chapters out of any real significance. But why would Dr. Ross and others like him, who also have books published by Logos, be left out of the collection? I only used Dr. Ross as an example. I became a Christian because of my study of science. At the time, I was working with the Jet Propulsion Laboratories. See my above comments.