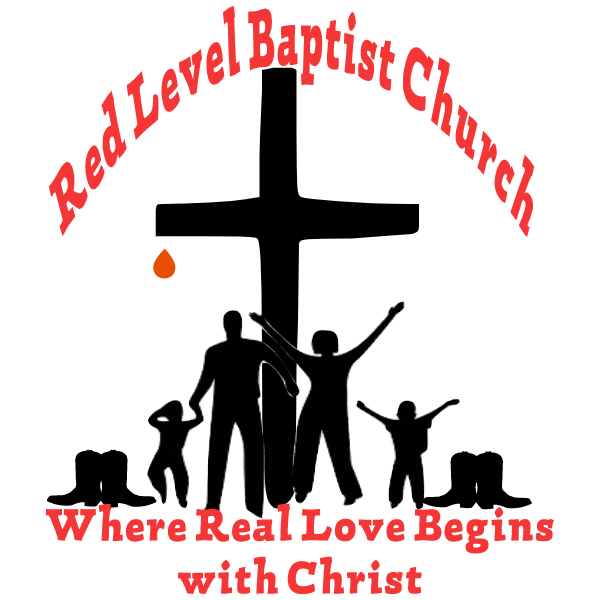 Weekly Church NewsLetter
September 30th, 2022
Verse of the week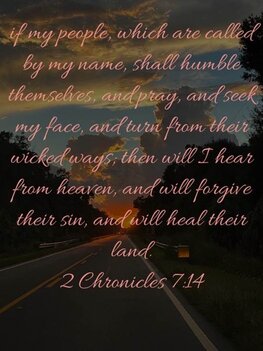 If my people, which are called by my name, shall humble themselves, and pray, and seek my face, and turn from their wicked ways; then will I hear from heaven, and will forgive their sin, and will heal their land. 2 Chronicles 7:14
Memorial Garden
We will be placing a veterans and first repsonders memorial garden in the front yard where the flag pole is, we are selling memorial bricks to go in the garden, these bricks will have your loved ones name and service dates on them, all money collected from the bricks goes directly to the garden, the stone has been ordered and will be here soon, we are hoping and placed, it is beautiful and is an honor to each branch of the military as well as first repsonders. The bricks are $100 or you can donate any amount of money you would like to this cause, just write in the memo if you are writing a check "memorial garden" or if you are putting cash in an envelope please do the same thing, if giving online please write in the notes, that you are purchasing a brick for the memorial with the persons first and last name, branch of the military or police, fire, ems, etc and dates. same for other we need that information. We at Red Level honor and love our service men and women past, present, and future.
This is what the bricks will look like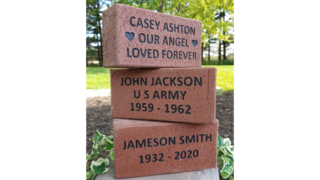 This is an example of what the bricks will look, again they are $100. to purchase online you can go to www.redlevelchurch.com or you can paypal, our paypal is redlevel@embarqmail, or you can mail a check to 11025 W Dunnellon Rd, Crystal River FL 34428 or always stop by and give cash or check or give it when you come to church, please do not mail cash. Here is the link for the fundraiser https://faithlife.com/rlbc-i/give?funds=51368
Prayer List For 9-21-22/9-28-22
Prayer list for this week is as follows:
Members:
Mike/Pam Patterson------------- Shirley Lawrence
David/Louise Melton ------------Jim/Sandra Owens
Irma Stokes ---------------Mary Brassell
Veva Nelson--------------- Rhoda/Jerry Schwartz
Tony Parrish -------------Hannah Rich-pregnancy
Logan Crump---------Chase/Savannah Wheeler-housing
Heather Crump-----------------
NonMemembers:
Jimmy Owens ----------------Mya Boyd
Donna/Tex Ashby -------------Pete Morris-Cancer
Stacy Kimble-Tumor -----------James Barnes
Elizabeth Love ------------------Tony Hall
Wendy Ramsey-Brain Surgery ---------------Jake Runnels
Shawn Wigglesworth- Cancer--------------- JohnNasser-cancer
Justin/Abby Mashburn ----------------------Lee Earl Stokes-Mass
Clyde------------------ Joy/Dick Neiser
Charles --------- -----Zoe
Barbara's Son--------------Brenda Naber-Health
Maverick-Fracture----------Erin Kimble
All of those impacted by hurricane Ian
Service Personnel:
We want to keep all service men and women in our constans prayers! These are either church members or family of:
Jimmy Lagger-------------- Gabriel Mashburn
Brent Runnels ----------Colton & Matt Sullivan
Steven Denny ---All First Responders --------and our President.
Nature Coast Baptist Association:
Joe Mattox------------------ Disaster Relief
New works--------Citrus Pregnancy Center
Red Level:
Chris & Donetta---------------- Leadership
Church Growth --------------Student Ministry
Sunday School--------------- Willing Workers
Arena Ministry-Rodeo starts 10/8 ------------------Outreach
Food Ministry ----------------Shoe Boxes
Finances
Missionaries:
David-Asia----------------- Guatemala Missionaries
Tina Barr-------------------- Mount Ebal Church
Israel---------------------- Haiti
Ukraine
Praise Reports!!!
We did not get hit as hard as they were originally predicting by the hurricane which is a huge praise report! please keep all of the storm victims in your prayers and all of the linemen, first responders, and disaster relief volunteers in your prayers as they work to clean up the distruction that was left in Ians path.
Prayer request
If you ever have a prayer request please do not hesitate to reach out so we can
1. pray for you. and
2. put you on the prayer list so that others can be in prayer for and with you as well.
You can e-mail the church at redlevel@embarqmail.com
then make it attention Donetta, and they will forward me the email, and also if you put in the subject line that it is a prayer request they will know to mark it down as well before sending it to me.
Thank you Donetta!
Food Ministry Update
We had to postpone our food distribution for September 28th due to hurricane Ian and the impact that was set to hit for our county, we did not want to take any chances on putting anyone in danger, our workers, or the recipients of the food. While we know so many depend on us safty has to be first. So we are going to re-evalute and determine whether to just wait until the next distribution date or have another one in liu of this one.
*******Also we can always use donations of non perishable in date canned food****** if you would like to donate perishable items that is also fine we just ask that you do that with in a week of distribution so we can ensure we have the space to house it. Also if you would like to donate UNUSED personal hygiene items such as bar soap, toothpaste, deodorant, razors, dish soap, laundry soap ect. we would be very thankful to receive them. Thank you so much for that.
Food Distribution Date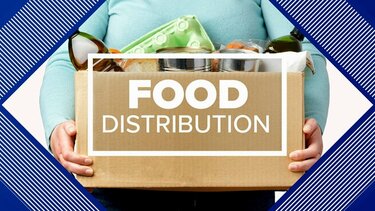 Our next one will October 11th from 4pm-5pm
For this one we could really use deodorant unisex is best we try to get degree 72 hour because it is good for both.
Rodeo Season begins Oct 8th!
It wont be long and we will be back in the swing of things. Get ready to come out and start watching or participating in the rodeos! We will be in need of willing workers as always so if you are willing and able please please see A.D. when you get there and he will direct you as to what you can do, IF he is not available you can also see Kathi, Savannah, Chris, Wayne, or Donetta, one of us will be able to tell you how you can help! Also with that if you are a high school student in need of community service hours you can also get them by working for us and we will sign off on your paper work just make sure you bring it with you for us to fill out!
You can find more information on our website at www.redlevelhorsemansassociation.com
Small groups are so important!
If you are intersted in being apart of a small group please contact the church and let us know 352-795-2086, if you get the answering machine please leave a message and we will get back to you or you can visit our website, www.redlevelchurch.com
Small Groups we have active
Womens groups meet on Mondays at 1pm for the 50+ and we are in the study of Jonah and 18-40 are on Tuesdays at 6pm same study for now we are half way through and then we will be announcing the new studies soon.
Men do breakfasts and suppers and they will let everyone know of the dates ahead of time as of right this moment they do not have a study going on, however, that does not mean that one is not in the works.
Youth group meet on Wednesdays at 6pm and are studing the end times
Next Womens Bible Study (50+)

This bible study will begin on October the 17th @ 1pm if you are interested in joining please reach out and let us know you can call 352-795-2086 and leave a message or you can message us on the website www.redlevelchurch.com and Donetta will get back with you to get you signed up! We will be ordering the books for this study on October 3rd so keep that in mind.
Next Womens Bible Study (18-40)

This bible study will begin on October the 18th @ 6pm if you are interested in joining please reach out and let us know you can call 352-795-2086 and leave a message or you can message us on the website www.redlevelchurch.com and Donetta will get back with you to get you signed up! We will be ordering the books for this study on October 3rd so keep that in mind.
Things to get on your mind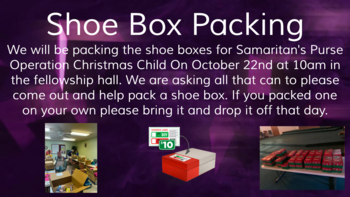 This is a day of FUN mission work, not even a day really just a couple of hours. BUT you get to enjoy great fellowship and the gift of knowing you are making a little boy or girl somewhere in this world very happy this Christmas and you are sharing the gospel with them!!!! Acts 1:8bCSB "be my witnesses in Jerusalem, in all Judea and Samaria and to the end of the earth"
If you can not help pack could you consider helping with the cost of sending the boxes please. It cost $10 per box for us to send them. You can go on our website and pay that if you are not local and just comment "shoeboxes" or if you mail a check in the memo write "shoeboxes" THANK YOU
Things to get on your mind!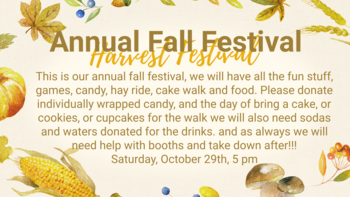 You can start bringing the individually wrapped candy and cans of soda and bottles of water now.
Our address is: 11025 W Dunnellon Rd