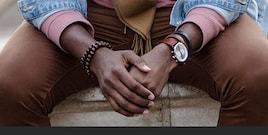 Robert McAuthor Ministries
Where the Spirit of the Lord is there is liberty
The Lord God Is Able
When we allow the Lord God to lead us we find we're able to truly serve Him with all our heart, mind and soul. This is why you and I can depend on Him to help each of us through this present sphere of life.
He's truly desires to be our supernatural assistant as we learn to depend on Him daily. Let each of us always remember this true fact - The Lord God is able. God bless.
Come out an join us for a time of worship and praise at - St, Paul Missionary Baptist Church. We promise we'll make you feel right at home.
Let us get to know you!
Please take a moment to send us your information so that we may stay connected with you. Your information is carefully managed and protected.
How did you hear about us?