The Master's Vision
July 2021
"The Future is Upon Us"
I don't know how it happens, I know I am supposed to plan for the future, and I do think about it…occasionally. But about the time I get serious about making plans, whatever was out there is slam bang in front of me. I don't like living that way and a little more organization would go a long way toward me being ready for future events.
I think, I have always been a "deadliner" that is a person who completes assignments right up there close to the deadline. Well, Pastor Dave has forced me to rethink and review that style.
The future is upon us here at Rockwood Church of God. We knew Dave was not going to be with us as a "Forever" Pastor and he did his best to nurture us along, but now we have to step up to the plate and face the fast balls of time that are coming at us.
We can no longer see a need and hope someone else will take care of it, there isn't anyone else! Ministry opportunities abound around us. I am presently planning on meeting with the Leadership of Davis school to see how we can Partner with the School and the teachers and minister to the over 400 kids that attend there and that is not the only opportunity out there.
I am not really a very creative person, actually my gift is in "fixin" things. Each Elder at Rockwood has their own gifts, but we don't have all of them…that's the Body's responsibility. So put your thinking cap on and let's talk about what opportunities for reaching into our community that you see.
We have made a little start with our Website, what will make it better? Some one had signs made up and someone else puts them up every Sunday…and takes them down. Someone is going to see them and perhaps come and visit. What else do we need to be doing? We have a banner above our Church sign on the corner, that's a start, but now I and others thinking of taking the banner idea further and having electronic reader board that would publicize more than just our services. There is no limit to what we might do if we put our hearts and minds to it.
Some where in the recesses of my mind, I remember a little ditty that has stuck with me. It's called "the Ten most important two letter words in the English language: They are; IF IT IS TO BE, IT IS UP TO ME!
I'm asking each of us to pray and seek the Holy Spirit's energizing power for encouragement, and to be like Gideon of old who thought he had too few men to do the job God was asking and yet God reduced even that number so that when they were victorious, God would be glorified.
We can't do everything, so let's do what we do best, Love where you live! Reach out to your friends and neighbors. Who can you bring to church? Who can you get to know? Our new Brothers and Sisters are out there just waiting to meet you so you can share Jesus with them.
Oh, by the way, there is still a lot of work needing to be done around the Church. I was working with Maxie one day last week, she is a powerhouse, moving from one job to another, but what was really interesting to see was how she would stop and talk to anyone walking by! Amazing!
If you hang out at the church other than on Sunday, work will get done and you will have the opportunity to meet and greet many people walking by.
The Future is Upon us! God is ready, Will we join Him in what he is doing in our Community?
Yours for total involvement in God's work,
Pastor Ron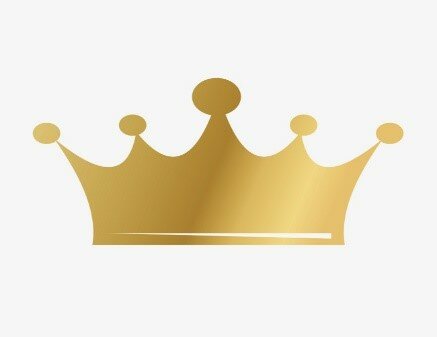 CROWN OF RIGHTEOUSNESS
It's not uncommon for Christians to fear death. Preferring to stay on this side of God's creation for as long as possible. The apostle Paul had a right mindset concerning death when he said in his final words to the Church…
"For I am already being poured out like a drink offering, and the time of my departure is near. I have fought the good fight, I have finished the race, I have kept the faith. Now there is in store for me the crown of righteousness, which the Lord, the righteous Judge will award me on that day – not only me, but also to all who have longed for his appearing."
2 Timothy 4:6-8
There are rewards in Heaven bestowed on merit, and rewards bestowed on free grace. All rewards are based on quality, not quantity. We humans are impressed with size, volume, noise, and numbers. It's easy for us to forget that God's eyes are on our motives. Which means that everyone has equal opportunity to receive the crown of righteousness, which is bestowed by grace not merit.
At the time the apostle Paul wrote 2 Timothy, he was imprisoned in Rome awaiting the moment of his execution, which would be death by decapitation. However, his final words weren't focused on his own death, which would be indeed gruesome. But to the glorious moment he would be crowned with righteousness. He saw death as his final offering for his love of Christ, being poured out.
This reward is given to those who:
Love and long for the second coming of the Lord Jesus Christ.
They live each day with eternal values in mind, along with Christ's imminent return.
These are Christians who desire intimacy with Christ not only then, but desire intimacy now.
David was such a man. He longed for God-intimacy. Honestly men, I think women are more inclined to these feelings for God.
There is a song we sometimes sing that best describe these feelings for God. It's called "Lover of my Soul."
Jesus, lover of my soul
Jesus, I will never let you go
You've taken me from the miry clay
You've set my feet upon the Rock and now I know
I love you; I need you
Though my world may fall, I'll never let you go
My Savior, my closest friend
I will worship you until the very end
Jesus, lover of my soul (repeat)
(If you aren't familiar, Google it and sing along)
Committed to Biblical Truth
And Accuracy,
Pastor Val

Missions Presents…
"And now these three remain: faith, hope and love. But the greatest of these is love."
I Corinthians 13:13
At the end of the well-known Love Chapter, Paul sums up the Christian life with these three attributes: faith, hope and love.
But how do these attributes impact our life?
"We remember before God our Father your work produced by faith, your labor prompted by love, and your endurance inspired by hope in our Lord Jesus Christ"(emphasis added)
I Thessalonians 1:3
So the core of the redeemed life should be one of productivity and perseverance… not for earthly gain or advancement but for the advancement of the Kingdom of God and for the glory of Jesus Christ.
It is so easy for us to get sidetracked in our world of numerous responsibilities and countless distractions that it is easy to forget our purpose and mission. Because we know that these distractions can be a very real issue for people we would like to help you keep focused by introducing the Missions Monthly Challenge. For the remainder of 2021 we will be presenting you with a challenge each month to help you in attaining the goal of being the productive, persevering disciple that Christ intended for you to be.
The challenges will cover a wide range of concrete steps to achieve that goal; meaningful connections, prayer, service to others and contributing to the needs of the saints and the vulnerable.
This wonderful weather can open the door, so to speak, for meaningful connections with our neighbors. July's challenge is to have an intentional connection with a neighbor. It can be a conversation that focuses on getting to know them better. Or, an act of service that meets a need, like watering plants while they are away. Maybe inviting them over for a little dessert outside. Choose something that demonstrates that you value them as a person and want to have a connection with them.
Please share with someone (just FYI, I would love to be that "someone") your experience; what you did, how it was received, and what it produced. Sharing the results of our labors edifies the entire Body of Christ.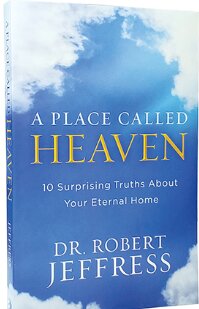 Adult Sunday School Class
As Christians, we know someday we will leave our familiar country and be united with God in Heaven. And yet many of us know very little about this place called Heaven.
This 10-week video series, presented in a logical, Bible based format by Dr. Robert Jeffress has been getting great reviews from those at Rockwood who have joined us for Sunday School.
The next several weeks will answer these questions: What will we do in heaven? Who will be in Heaven? Do people on Heaven know what is happening on Earth? Will we know each other in Heaven?
I want to encourage you to come and join us as we discuss and answer these questions about our eternal home.
Thank you,
Adult Christian Education (ACE) Chairman
Larry Fischer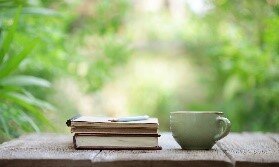 New Chapter Book Ministry
A Special Addition for This Month Only…
Bible Study booklets
You can do it alone
OR
Grab a couple and do it with a friend!!
We have a variety of Christian growth or topical studies for you to choose from!
For those of you who missed last month's new offerings:
Fervent
How Great Thou Art
Get Out Of Your Head
The Relentless Tenderness of Jesus
Respectable Sins
Faithful Women and Their Extraordinary God
You will have another chance to take a look at them this coming Sunday…
July 4, 2021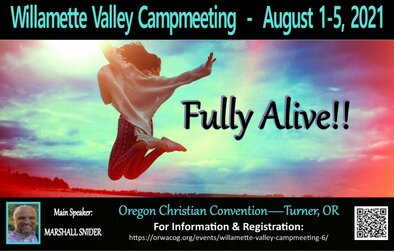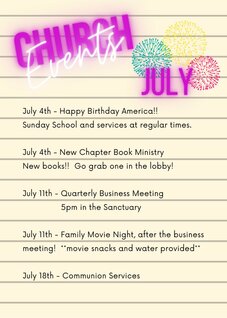 Rockwood Church of God
Our address is: 133 NE 192nd Ave, Portland, OR 97230, USA