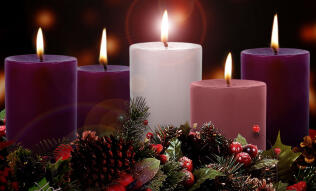 The Master's Vision
December 2021
December is here and the holiday season is upon us. Christmas is my favorite time of the year because it is a time to celebrate with family and friends the birth of our savior Jesus Christ. I love the way Eugene Peterson paraphrases John 1:14, "The Word became flesh and blood, and moved into the neighborhood. We saw the glory with our own eyes, the one-of-a-kind glory, like Father, like Son, Generous inside and out, true from start to finish." What a brilliant description of what God did for us, sending his Son into a dark and lonely world full of hopelessness. Jesus came to reconcile us to God and to model for us a lifestyle of reconciliation. For the past couple months, we have been exploring what it means to be a missional people. John's description of what Jesus did when he came to earth that first Christmas is a great picture of what it means to be on mission for God. We are to be flesh and blood representatives of Christ to our own neighborhoods. As I have stated before, missional is not an innovative word for evangelism. Missional is not a new church program, it is not a modern way to do church. Missional is a lifestyle! I love how Hugh Halter describes missional in his book; AND. Halter says:
"Missional isn't a form of church. It's a label we give to the qualitative or descriptive aspect of how a church actually lives. It's about how much like Jesus those people become and how much they influence, woo, and transform the culture in which they are placed. In other words, how 'missional' you are is largely determined by the extent to which your people model the life, activities, and words of Jesus. It doesn't matter how big or small your church is. Any church of any size can be both missional and non-missional at the same time. The difference is in the lifestyle of the believers."
In the hyper consumer driven holiday season, we are called to be different. As missional people we are to live a lifestyle that challenges the forces in our popular culture. Alan Hirsch writes in his book, Right Here Right Now,
"In a world obsessed with consumerism, we choose to live more simply. In a world obsessed with social status and image, we choose to associate with poor, 'invisible' and uncool people and invite them into our lives. In a world obsessed with money, we choose to be very generous. In other words, without withdrawing ourselves from our tribe, we have to model what a Jesus alternative looks like."
"Jesus became flesh and blood and moved into the neighborhood."
Hirsch is challenging us to move into our neighborhood as well. What is God calling you to do different this Christmas season? This coming New Year to help you live out your missional calling to your neighborhood. Kris and I want to wish you and your family a very Merry Christmas and a joy filled New Year!
Pastor Jerry Davisson

The Human Library
The Human Library is a learning platform that allows people to borrow people, instead of books. But not just any people, this library represents a group of people that face prejudice or stigmas because of their lifestyle, ethnicity, beliefs, disabilities, or life experiences.
It's a tool that emphasizes empathy to create greater understanding between people that may be a little different than you. Human Books have covers like: LGBTQ+, Muslim, homeless, alcoholic, abused, etc.
You have 30 minutes to converse with each book you check out. It's done in a calm, respectable manner. Any question can be asked. The Human Book has prepared to share their life story. They, of course, have the right not to answer a question.
The conversation stays on task for the 30 minutes. No needless chit-chat; How's the weather? Got anything fun coming up? This is a time to get to truly know someone who is very different than you.
True example: The transgender woman was waiting at a table when the other woman showed up. "I want you to know I'm a conservative Christian" she said, still standing. "I'm a liberal Christian" the transgender woman replied. "Let's talk."
At the end of their "reading" they stood and embraced. "This has been wonderful." The conservative Christian woman replied.
The Human Library is meant to be a safe place for all. Anyone is welcome. Right now, this experiment is all over the world with more than 1000 Human Books in circulation. Several libraries are in the United States.
We as a church could model such an example. Jody (who was a librarian) said "that is brilliant, I would be at that library every day checking out Human Books." I think you might even visit the library from time to time, to "read" for a 30-minute conversation. Even within our own Church there are Human Books worth reading!
How about a 30-minute read with one of the following books:
Russ Sanderlin: What it was like to be Boots on the Ground in Vietnam
Nikki Greene: Surviving Life After Losing a Child
Roy Keene: How Cerebral Palsy Affects My Life
Ray and Wendy Dingman: The View from a Wheelchair
Misty Acred: Christian, Unmarried, and Pregnant
Bryon Logan: Life from the Other Side of Prison Bars
Would you check out any of our Human Books?
Maybe it's time for a "Rockwood Reading Night" where some of us volunteer to be a Human Book and the rest of us get to see life from a different perspective? Instead of only seeing the cover, we get the chance to read the real heart of the book.
Committed to Biblical Truth
And Accuracy
Pastor Val
Adult Sunday School Class
I want to take this opportunity to thank those of you who have been participating in the adult Sunday School class. We have been blessed this year with Pastor Ron Hoak leading us through some of the "That the World May Know" videos with Ray Vanderlaan. Nikki Greene, Maxine Baughman and Dr. Lou Foltz have blessed us by sharing what God has laid on their hearts.
In the coming weeks Terri Fischer will be sharing some insights on "The IT Factor". Many of us have watched talent shows in which the judges declare someone has "The IT Factor". That usually indicates the judge's sense that the person has what it takes to excel. So, what does it take for the Christian to excel? Come and find out Sunday mornings at 9:30 in the upper room.
I want to say a special "Thank You" to Larry Krogstad and Kendall Johnson for using the gifts God has given them in providing us with the electronics we need each Sunday. They are there early every week to ensure you can see and hear what will be presented.
Thank you all for sharing your gifts with this body as we strive to grow in Christ.
Larry Fischer
Adult Christian Education (ACE) Chairman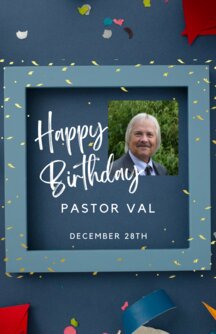 Upcoming Events
Download
Come join us for an hour of intentional growth as we search and study God's word together. Teachers and subject will vary.
Sunday, December 5th  •  9:30–10:30 am
Download
Bring your dapper dudes and little ladies down to our lower floor classrooms for a special Sunday School class just for them. They'll learn the stories of the Bible and about Jesus' limitless love for them through engaging teachers and hands-on play.
Sunday, December 5th, 9:30 am
Rockwood Church of God
Our address is: 133 NE 192nd Ave, Portland, OR 97230, USA