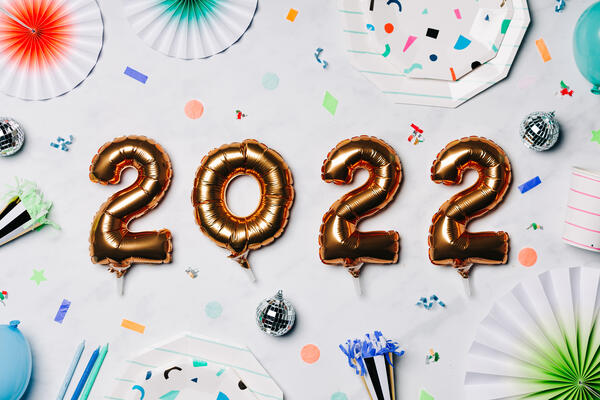 The Master's Vision
January 2022
Well, here we are at the beginning of a brand-new year. A lot of us are asking where 2021 went. Even though the years are flying by I enjoy the chance to start fresh each January and have another opportunity to make a difference for the Kingdom of God. I am really looking forward to the coming year as we continue to become the Missional people that God has called us to be. I'm not a big New Year resolution guy but I do feel it is important to take some time to reflect on the things that happened in the past year and to make some plans that will help us become the people God would have us be. The Psalmist wrote:
Search me, O God, and know my heart; test my thoughts. Point out anything you find in me that makes you sad, and lead me along the path of everlasting life. Psalm 139:23-24 (LB)
We need to start by asking some questions like, how am I more like Jesus at the end of 2021 then I was when the year started? What helped me to make those changes? Where did I struggle and what areas do I need to work on? How did I leverage my time, talent, money, relationships, work, and leisure to further the Kingdom of God and help Him in His redemptive mission? As we look at our successes and failures, we can then begin to formulate a plan that will help us strengthen the areas of our lives that we need to work on and to continue the growth that we began. The ultimate goal is not to do more stuff but to continue to center our lives and our goals around a missional lifestyle. Let me give you some suggestions. Continue to pray that God will bring across your path those "People of Peace" that you can pour the love of Jesus into. By building those relationships we will have the opportunity to help introduce others to Jesus and to his Kingdom. Share a meal with someone outside the faith family with the purpose on building relationship. Bless at least one person a week. This could be as simple as sending a card or an email or giving a gift. Another suggestion would be to continue in your own growth and understanding of who Jesus is and what he did. Reading the Gospels every couple of months will help you to get to know Jesus better. But don't just read the Gospels, practice the things that Jesus practiced. As I shared a couple of weeks ago, I will be preaching a series of messages through the Gospel of Matthew called, Practicing the Way of Jesus. My prayer is that at the end of the series we all will have moved a little closer to living out the Jesus life in our homes and communities. I am excited about what God has in store for our church this coming year as we seek to build Missional DNA into our lives. How will you make 2022 a year of becoming more like Jesus? Have a great New Year!
Grace and Peace,
Pastor Jerry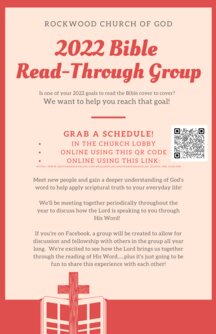 What's Your Point, Ron?
A Small Return to NORMALCY
Pastor Ron's Bible Study Resuming
As a body of believers, we have endured the current pandemic with its lockdowns, restrictions, and masks with grace and resiliency. We cut back at almost every point, ceasing certain gatherings, and limiting others.
A new year is rapidly descending upon us and we want to move forward. We have a new Pastor and people are beginning to return to Worship services.
With that said, I have proposed restarting the Bible study that Sheryl and I hosted for several years. The Elders agreed and beginning Thursday, January 6, 2022 at 10:00 AM the Bible Study will reconvene.
A BIG difference will be the location. We will no longer meet at the Hoak's home, instead we will gather at the Church Office in the Conference room. Everyone is welcome if you can make it.
Friends, this is a Bible Study, plan on bringing your Bible and preparing for the study before it takes place. We will be studying the Apostle Paul's letters to the Churches in Chronological order. The order of Paul's letters is:
1 Thessalonians 52 A.D. 2 Thessalonians 53 A.D. Galatians 54 A.D. 1 Corinthians 57 A.D. 2 Corinthians 57 A.D. Romans 57 A.D. Colossians 62 A.D. Ephesians 62 A.D. Philippians 62 A.D. Philemon 63 A.D. 1 Timothy 64 A.D.
We will begin with 1 Thessalonians and then continue through each of his letters discovering insights as to why they were written. If you plan on joining the Bible Study, please read all of 1Thessalonians before January 6th with special attention to chapter one. Write down notes and questions while you read.
Sheryl and I are excited about resuming this Study. Please Join us.
Pastor Ron
Praying Out Loud
Whenever the leader of a gathering asks, "Who would like to close us in prayer?", I feel a twinge in my stomach, and I shift uncomfortably. My mind races a million miles per second. But it's not just me shifting uncomfortably. As I look around, others are avoiding eye contact with the leader also. No one wants to pray. For some reason, praying out loud is just plain intimidating. Why is that?
Is it because we think our prayers have to be elaborate? Is it because we fear that others listening will judge us? Today (if you are like me) I like to listen to someone else pray instead of being the one who says the prayer. I am confident that many of you reading this also struggle in this area.
"Then Jesus looked up… 'Father, I thank you that you have heard me. I knew that you always hear me, but I said this (out loud) for the benefit of the people standing here.'"
John 11:41-42
Question, why do we pray out loud? Seriously, why do we pray out loud? While our audible prayers are "to" God only, our prayers are often "for" others ears (for their benefit).
There are times our prayers are supposed to be silent and from our prayer closet, with no ears listening (Matthew 6:6). Our prayers are not meant to manipulate others or for the approval of others when we pray aloud.
There are times we pray aloud so that those listening might be in agreement. That's what the "amen" is for.
I recently got overwhelmed by some information that came my way. I tried praying and I tried to focus on the eternal and not the here-and-now, but I was getting no breakthrough. I just didn't "feel" the prayer had connected with the Lord. So, I called a friend to pray for me (out loud). As they audibly prayed, I began to feel a comfort. Even in the prayer the person said to God, I pray this for Val's ears. They knew I needed to be reminded of God's faithfulness and goodness. Their out-loud prayer benefitted me. It brought me to a balance and correct perspective.
Release the gift of audible prayer for the benefit of others. It's medicine for the weary of heart.
Committed to Biblical
Truth and Accuracy
Pastor Val
You Did It Again!
Your Missions Committee appreciates your generous heart in making Missions a priority again this year.
Val and Jody Bender are taking over the committee as Terri Fischer is stepping away from the lead. Terri has been the driving force behind our Missions direction as a Church. It was Terri who pointed us to the persecuted believers around the world. Thousands and thousands of dollars have come from you good folks to aid, feed, and rescue our persecuted brothers and sisters. Thank you, Terri, for your leadership from all of us.
Jody and I will continue making needs known to you regarding worthy ministries that need our help, prayers, and support.
We will look to local, state, national, and international needs you can become involved in.
"Imprisoned with Them"
Is a long-standing saying
Of the Missions Ministry
Pastor Val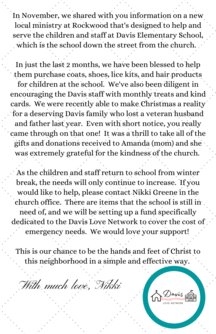 Rockwood Church of God
Our address is: 133 NE 192nd Ave, Portland, OR 97230, USA