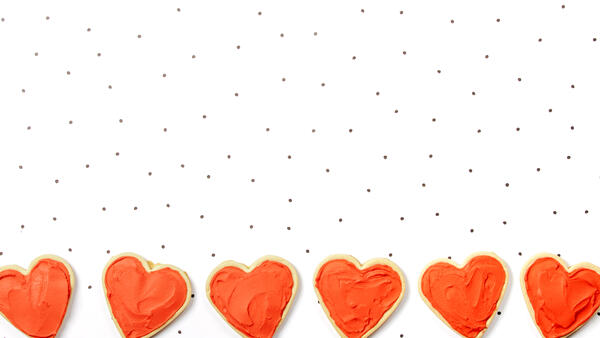 The Master's Vision
February 2023
February is the month that we most often associate with the word LOVE. We are compelled by creative marketers to expressing our love for our significant other with cards, flowers and of course the heart-shaped box of chocolates. Everybody wants to know that they are loved by someone, and not just on Valentine's Day. The wonderful thing about the message we have been entrusted with by God is that it is all about love. John 3:16-17 says, "For God so loved the world that he gave his one and only son, that whoever believes in him shall not perish but have eternal life. For God did not send his Son into the world to condemn the world, but to save the world through him." I think we have become so familiar with these verses that we have lost the awe and wonder of what it means for the God of the universe to love us so much that he was willing to sacrifice a part of himself so that we could have a relationship with him.
Stop for a moment and meditated on that thought.
Because of that great love for us we have the ability and the challenge to love God and others with that same kind of sacrificial love.
Jesus was asked what the greatest commandment was in the entire Law. He answered, "Love the Lord your God with all your heart and with all your soul and with all your mind. This is the first and greatest commandment. And the second is like it: Love your neighbor as yourself." (Matthew 22:37-39) The only way this is remotely possible is for us to understand as Paul prayed, "…How wide and long and high and deep is the love of Christ, and to know this love that surpasses knowledge-that you may be filled to the measure of all the fullness of God". (Ephesians 3:18b-19) in Paul's letter to the church at Corinth he reminds the followers of Jesus how important it is that God's people are united in love and that we gather in community together. Because this community is made up of imperfect people it is not always easy. However, if we fail to love each other how can we ever expect to love our neighbor? What does true love look like? John wrote, "This is how we know what love is: Jesus Christ laid down his life for us. And we ought to lay down our lives for our brothers (and sisters). If anyone has material possessions and sees his brother in need but has no pity on him, how can the love of God be in him? Dear children, let us not love with words or tongue but with actions and in truth." (1 John 3:16-18). During this month set aside for love, let me encourage you to not simply love with words but with actions as well.
Loving God and others together,
Pastor Jerry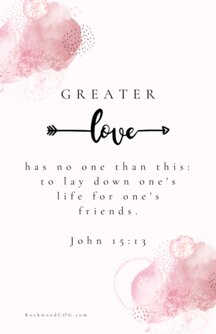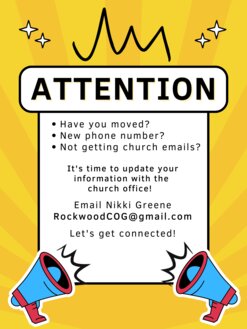 What's Your Point, Ron?
We are in the New Year.
Now what?
We are well into 2023. I'm already wondering how it's going to turn out. I suppose that's not the way to look at it, but the past several years has been anything but normal, agreed? We are seeing from last year major cultural changes in our country, not many of them welcome from my point of view. So, what are we supposed to do? How are Christians supposed to act, or perhaps react? Well for one thing we are not going to stop things from changing. Change is inevitable. The only thing constant in change is change. I know one thing for sure, if we remain uninvolved then we have no right to complain about the way things are changing. In reality, you and I can be an agent for change, change that occurs in a good way. We must continue to be leaven in the bread, a good flavoring in the world. We have been called to love a lost world, the only promise about the world that we have from our God, is that things will go from bad to worse. If the world goes up in flames, Jude gives some good advice, Jude says; 20But you, dear friends, by building yourselves up in your most holy faith and praying in the Holy Spirit, 21keep yourselves in God's love as you wait for the mercy of our Lord Jesus Christ to bring you to eternal life.
22Be merciful to those who doubt; 23save others by snatching them from the fire; to others show mercy, mixed with fear—hating even the clothing stained by corrupted flesh. We must be involved in the lives of people, not just the acceptable people but those on the outskirts of society.
What are you doing to bring Christ to unbelievers within your own sphere of influence? Jesus isn't calling you to go overseas and be a missionary, he is calling you to be a missionary where you live, work and play.
When it comes to communicating the gospel to people try to think outside the box, to find a fresh approach to sharing the gospel. It may not be received, but then again it just might be.
Let's not waste any more time, we should be busy, about our Father's business. If you make the sincere effort to touch someone for Jesus or with Jesus, God will bless it. It may seem at first that nothing happened, but God is faithful and He promises that His word will not return void. So overcome timidity and outright fear and let people know you are a believer. CS Lewis once said about talking about his faith, that if one believer then he ought to FLY the Flag!
Let's make this the year that Rockwood is back on track in growing in the Lord, both with individual growth and growth in new disciples
Yours for a vibrant living Faith that is shared,
Pastor Ron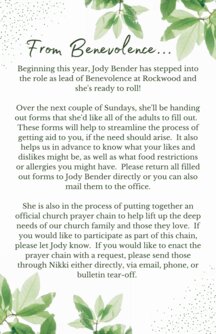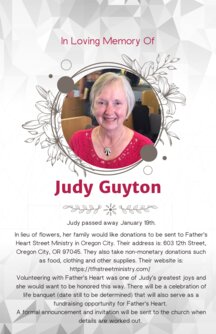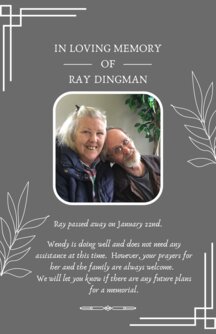 Missions 2022 Financial Report
Folks, your overwhelming generosity is such a great blessing; THANK YOU!! And while financial support is important it could be argued that our prayer support is much more important. Please be praying for these people, ministries and needs.
Assoc. COG in OR & SW WA 5,000.00
ICR: Ukraine 65,357.00
Where most needed 2,700.00
NCF Brickmaker Redemption Fund 12,620.31
(freeing slaves)
Voice of the Martyrs 100.00
COG Ministries (Nachtigalls) 2,020.51
St. Jude's Hospital 652.73
World Concern (Chickens) 1,984.00
Total $90,434.55
Additionally:
Davis Love network 1024.65
Donations 485.00
539.65
BBQ 1102.41
Donations 1130.02
27.61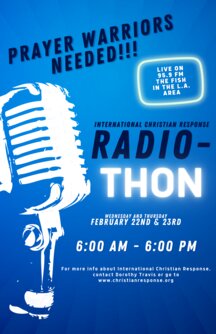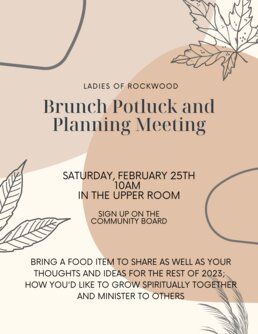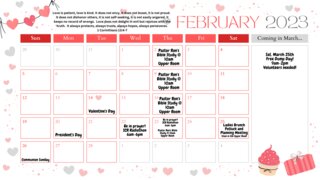 Rockwood Church of God
Our address is: 133 NE 192nd Ave, Portland, OR 97230, USA