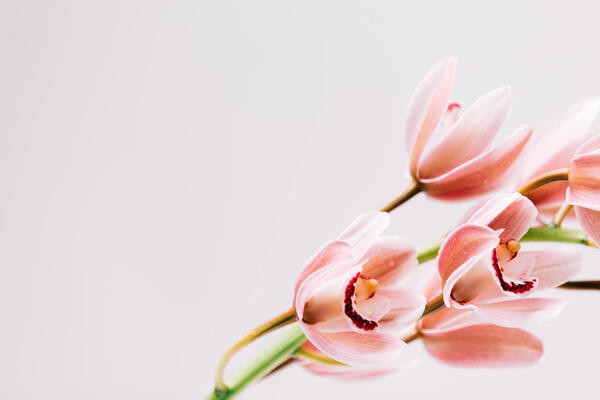 The Master's Vision
April 2023
I was recently captured by the title of an article by Daniel Im. The title was How to talk about "Good News" with your Neighbors. The title seemed to go along with what God has been stirring in my heart and what I have been trying to communicate during my Sermons on Sunday's the past couple weeks. Growing up I was taught that the gospel or "good news" was really only about the fact that Jesus came and died for the sins of the world and if I simply believed that fact and asked for forgiveness I would be "saved" from an eternity apart from God in Hell. While I believe this is part of the gospel, I do not believe it is all of the good news Jesus came to proclaim. Jesus preached a message of the Kingdom of God. As Reggie McNeal describes it, the Kingdom of God is life as it was intended to be. The life we see in the garden of Eden before sin entered the world. Jesus demonstrated the Kingdom life by restoring what sin had broken. He went around healing the sick, casting out demons, feeding the multitudes, engaging and treating women as persons of worth and dignity. For Jesus, the good news effected our lives on this earth as well as our eternal destination. In a world where many people are looking for some good news here on earth, does the gospel have anything to say to them Daniel Im says yes. IM says that in the sermon on the mount Jesus used the pattern of challenging those who listened to think about their motives. Jesus taught, "you have heard it was said…" "But I tell you…" Im asked the question "What if we follow the ancient ways of Jesus and taught and interacted with our culture in the same manner? What if this was how we talked about 'good news' to our neighbors? Where we replace the lies that our culture inundates us with, for the good news that is true of us when we have a relationship with Jesus?" what would the good news sound like? He goes on to give some examples.
You heard it was said, "You are what you do," but I say to you "You are a child of God." (John 1:12)
You heard it was said, "You are what you experience," but I say to you, "You are a new creation" (2 Cor 5:17)
You heard it was said, "You are who you know," but I say to you, "You are known by our loving Savior, Jesus" (John 10:27)
You heard it was said, "You are what you know," but I say to you, "The fear of the Lord is the beginning of knowledge" (Prov 1:7a)
You heard it was said, "You are what you own," but I say to you, "You are complete in Jesus" (Col 2:9-10)
You heard it was said, "You are who you raise," but I say to you, "You are God's masterpiece" (Eph 2:10)
And you heard it was said, "You are your past," but I say to you, "you are free from all condemnation in Christ Jesus" (Rom 8:1-2).
Many people in our neighborhoods, and if we are honest, many of us are haunted by the lies we tell ourselves or that others tell us about our past, our fears. The lie that we could never change or that our worth and value are found in what we accomplish or what we own. The Gospel of the kingdom has some good news for us about how we can break free from these lies and step into the light of Jesus. And yes, seeking God's forgiveness and asking him to be Lord of your life is the key to the hope and joy in this life and the next. The list above are great ways to transition our conversations with our neighbors into spiritual conversations and introducing them to the God who loves them so much he wants a relationship with them. The God who wants us to flourish and find our hope in him. Easter is a time when many people are open to the good news. Jesus is alive and we are made complete in him.
Pastor Jerry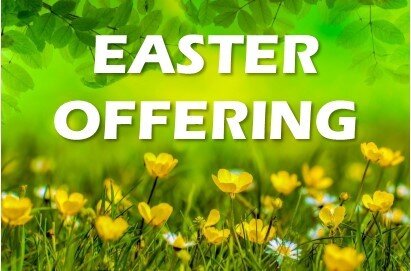 Easter Offering April 9, 2023
It is our desire that you have the ability to donate to something that stirs your heart so this Easter season we have selected three ministries from which to choose.
Redeem the Slaves. Our partner in redeeming slaves from the brick kilns in Pakistan is currently looking at 11 possible families. Originally the redemption of these families would cost $3k-$5k, but that figure has dropped due to a couple of factors. The debts can sometimes be paid off at a lower rate and the reestablishing of the families has not been as costly as anticipated. It is now possible to redeem a family for $2k-3k.
Relief for the Suffering. There has been a severe drought in the Horn of Africa in the last few years that has resulted in a devastating famine. The war in the Ukraine has exacerbated the problem because this area is not getting the shipments of wheat from Ukraine that they received in the past. The hardest hit among the people is those under the age of 5 with 7.46 million children facing acute malnutrition and 1.85 million facing severe acute malnutrition, in other words, these children are starving to death. The stories of the suffering of these people are heartbreaking. Your donations will help with food, water and hygiene kits. If anyone would like more information regarding this crisis, please contact me and I will share with you some of the personal stories from the area. We are partnering with World Concern in this effort.
Reach the Lost. We have an opportunity to cover the cost of a pastor's salary in a country with great poverty. Amazingly, $20 will cover the entire salary for one month that means for just $240 we can pay the annual full-time salary for a pastor. I met with a pastor from this country and have been deeply blessed by the miraculous stories of what God is doing there. Our trusted partner, International Christian Response, is able to get the funds into the country and the hands of these faithful pastors.
To designate your offering please put just the first word of your selection (Redeem, Relief or Reach) on the memo line of your check or on your offering envelope.
Thank you so much for your generous donations to the offering on March 5th for disaster relief for those affected by the Earthquake in Turkey and Syria. We were able to give $5,180 to ICR to distribute aid to those in need. I have a lengthy report I am willing to share with anyone interested.
Terri Fischer
Missions Director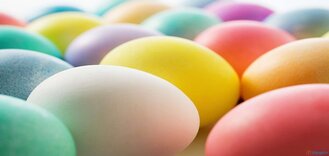 Children's Easter Offering
This Easter our children's Sunday School class wants to be part of our Easter Offering. This is a first for us but we are learning about the love of Jesus for all of us. We are also learning how Jesus calls us to love our neighbors, to love those we may never meet, to love those who are persecuted just because they love Him.
To raise money, we will be selling colored plastic covered eggs. We will be offering them April 2nd between Sunday School and service and again after service. We are only coloring a dozen eggs so you need to be quick to get one.
These will be the best eggs you will ever buy!
First you are supporting our children, second you are feeding people, and third you are helping them show their love and care for people.
On Easter Sunday each student will have an envelope with their name on it to put in one offering box. They are excited to help and live as Jesus commands us.
We need your help and your encouragement.
Thank You!
Jody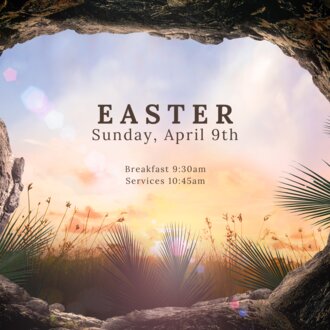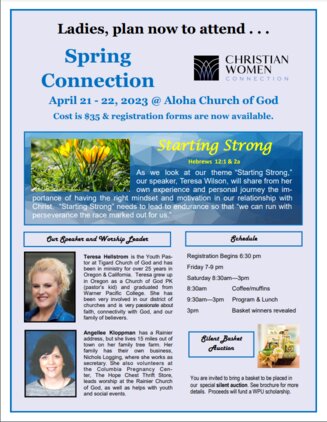 Registration forms available from the church office or in the lobby.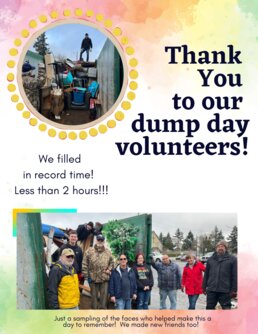 "What's Your Point, Ron?"
The Importance of Foot Washing
to the Church
Hi Friends,
Easter is fast approaching many are making plans for Easter dinners and family gatherings. Among the things that people plan for is the resurrection Sunday service, where we celebrate the Lord Jesus having risen from the tomb. Death could not hold him, HE LIVES! is sung in many congregations and because he lives, we have hope of eternal life.
Before our Lord was crucified on "Good Friday," on Thursday He celebrated "Passover" with his 12 apostles. We call it "The Last Supper." Jesus knew what was going to happen and he wanted to leave a last important teaching with them. We call that day "Maundy Thursday." The word Maundy comes from the Latin "mandatum," or commandment, so what was the commandment that Jesus instituted that evening?
First Jesus established the ordinance of "Communion" the taking of the wine and bread as the "body and blood of the Lord Jesus." Symbolizing the New Covenant and the presence of our Lord within each of his followers. This is an important act of faith, Jesus told them "Do this in remembrance of me."
But Jesus did something else that night that bears the force of being a command. Look at John 13 and read what Jesus tells them;
3"Jesus, knowing that the Father had given all things into his hands, and that he had come from God and was going back to God, 4rose from supper. He laid aside his outer garments, and taking a towel, tied it around his waist. 5Then he poured water into a basin and began to wash the disciples' feet and to wipe them with the towel that was wrapped around him. 6He came to Simon Peter, who said to him, "Lord, do you wash my feet?" 7Jesus answered him, "What I am doing you do not understand now, but afterward you will understand." 8Peter said to him, "You shall never wash my feet." Jesus answered him, "If I do not wash you, you have no share with me." 9Simon Peter said to him, "Lord, not my feet only but also my hands and my head!" 10Jesus said to him, "The one who has bathed does not need to wash, except for his feet,a but is completely clean. And youb are clean, but not every one of you." 11For he knew who was to betray him; that was why he said, "Not all of you are clean."
12When he had washed their feet and put on his outer garments and resumed his place, he said to them, "Do you understand what I have done to you? 13You call me Teacher and Lord, and you are right, for so I am. 14If I then, your Lord and Teacher, have washed your feet, you also ought to wash one another's feet. 15For I have given you an example, that you also should do just as I have done to you. 16Truly, truly, I say to you, a servantc is not greater than his master, nor is a messenger greater than the one who sent him. 17If you know these things, blessed are you if you do them. (underline mine).
Very few churches practice "Foot Washing." The Church of God recognizes this a commandment and therefore an ordinance of the church. So why do people NOT practice foot washing?
Foot washing is known as the "Ordnance of Humility." Who was it in a household who washed visitors' feet? It was the lowliest servant or slave. The guy on the bottom rung of the ladder of power. Notice Peter's reaction when Jesus came to wash his feet. "You shall never wash my feet!"
It was pride that caused Peter to make that statement. It takes a person with a servant's heart to humble himself and wash another's feet. You can recall that several times as the disciples were on the road with Jesus, he found them arguing about who was the greatest among them. In Proverbs 8:13 The Lord says; To fear the LORD is to hate evil; I hate pride and arrogance, evil behavior and perverse speech.. Seldom does God us words like HATE. But there are things that God hates, he hates divorce in Hosea, and in proverbs he hates pride and arrogance.
The ordnance of foot washing helps us overcome any pride in serving others. The word in Greek used in John 13:14 has been translated "should" by some, like you should do this, but the Greek word is " ὀφείλετε" opheilete which is very seldom used as should and most often used as OUGHT, now ought and should sound similar, but ought comes from an obligation, you OWE IT, is what Jesus said. Who did they owe to? To Jesus, he said "If I, your Lord and teacher, have done this to you…You owe it to do it to each other."
Seems pretty clear to me. Hope to see you at the Maundy Thursday Service on April 6th at 6pm.
Pastor Ron

YOU can make a difference!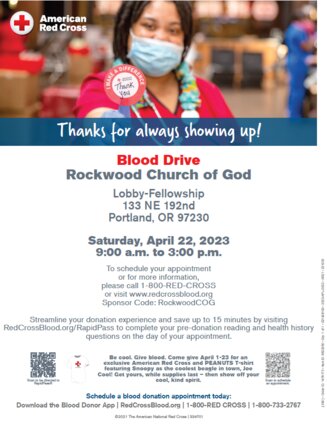 Doug Harmon Baptized in Sandy!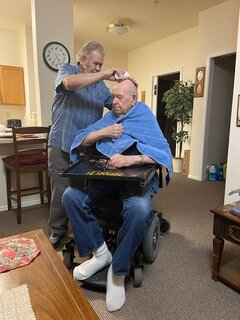 At Pentecost, Peter preached to the crowd. Luke says, "They were cut to the heart and cried out, brothers, what must we do to be saved." Peter replied, "Repent and be baptized, every one of you, in the name of Jesus Christ for the forgiveness of your sins. And you will receive the gift of the Holy Spirit"
Τhe life of a Christian is marked by obedience to Jesus Christ and the believer's first act of obedience after believing, is as Peter said, "be Baptized."
Most of you don't know Doug Harmon, he seldom came to church, but was very faithful in attending the Thursday Bible
Study. Some time ago Doug expressed a desire to be baptized, but it was never realized. Then Doug had to move into assisted living and couldn't drive anymore. Next COVID
came and no visitors were allowed.
That crisis is over now and I made plans to go visit Doug. Lynn and Earl Roth, and Sheryl and I drove to Sandy to visit him. It was a good visit and just before we were to leave, I asked Doug if he still wanted to be Baptized? "Yes", he said, so I explained what Baptism was and that because he could not walk much that we would do it by pouring water on him rather than by immersion.
I prayed for Doug and we baptized him explaining that as a believer, he had obeyed our Lord's first commands. "Repent and be Baptized." A question arises in my thinking, "Have you obeyed Jesus since you believed?" Jesus himself said "Why do you call me Lord, Lord and don't do what I say?" (Luke 6: 46). The Baptism of believers who by faith have chosen to follow Jesus is one of the Ordinances of the Church as Jesus submitted to John the Baptist to be Baptized, we must follow his example. Baptism is not an accessory to Salvation, it is a witness to it.
Pray for Doug, He doesn't get many visitors, but he reads his Bible and prays every day.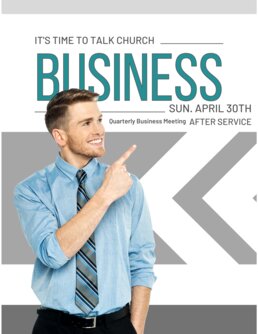 The previously discussed by-law amendment, dropping the word "male" from Eldership requirement, will be confirmed at this meeting.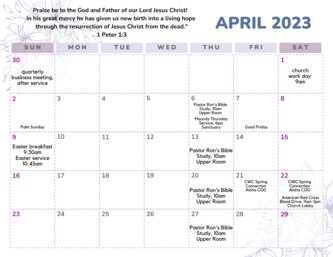 Rockwood Church of God
Our address is: 133 NE 192nd Ave, Portland, OR 97230, USA