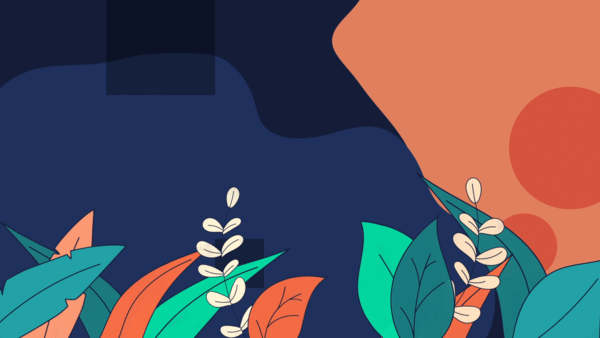 The Master's Vision
May 2023
Pentecost falls on Sunday May 28th this year. What is Pentecost and why does it matter? The word Pentecost has its roots in the Greek word pentecoste which means fifty days. For the Jews it signified the fifty days after Passover and marked a day of celebration. For the Christian community, Pentecost is the day we celebrate the decent of Holy Spirit on the Apostles and other followers of Jesus while they were in Jerusalem celebrating the Feast of Weeks. The description of the event is found in Acts 2. Before the event, Jesus had been pressed by his followers, to tell them when the Kingdom of God would come. Jesus said, "It is not for you to know the times or dates the Father has set by his own authority. But you will receive power when the Holy Spirit comes on you; and you will be my witnesses in Jerusalem, and in all Judea and Samaria, and to the ends of the earth" (Acts 1:7-8). In Act chapter 2 we have the discription of the fulfillment of that promise. Luke writes, "When the Feast of Pentecost came, they were all together in one place. Without warning there was a sound like a strong wind, gale force—no one could tell where it came from. It filled the whole building. Then, like a wildfire, the Holy Spirit spread through their ranks, and they started speaking in a number of different languages as the Spirit prompted them" (Acts 2:1-4 MSG). The celebration is often overlooked by the Western Church, but it is a great opportunity to remind ourselves of the vital role that Holy Spirit plays in our lives both individually and as a community of Jesus followers. Jesus described one of the roles of Holy Spirit as giving us power. Holy Spirit gives us the power to live the Jesus life we are called to live. Without that power we would be challenged to produce the fruit of the Spirit which marks those who are following Him (Galatians 5:22-23). Holy Spirit also acts as our friend, counselor, and advocate. Holy Spirit is one who comes along side us and lives inside us to convict us of sins, give us spiritual gifts, and leads us toward holiness. Holy Spirit plays a vital role in our lives and Pentecost gives us a great opportunity to acknowledge that role. How should we celebrate Pentecost? Feast! Find some friends and eat a wonderful meal together. Pentecost is a day of celebration. Celebrations are always better with good food and friends. Celebrate the continued poring out of Holy Spirit in the life of believers and Christian communities alike. Spend some time listening to the voice of Holy Spirit either alone or in community. In the business of life, the influence of Holy Spirit can be drowned out. Spend some focused time paying attention to your inner life. However, you choose to mark the day, thank God for the gift of Holy Spirit in your life.
Pastor Jerry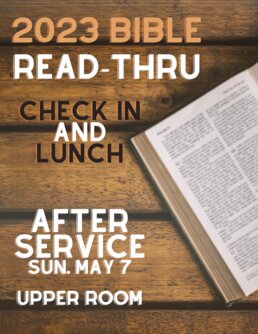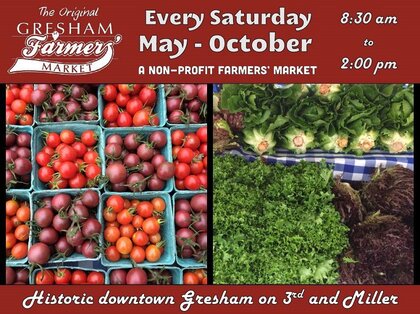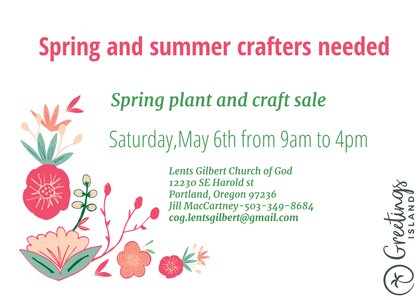 What's Your Point, Ron?
"What does Loving God have to do with Loving Others?"
For the last year or two, we have been paying attention to what the Bible refers to as the two greatest Commandments. The overarching command to love God and also to love others. It's interesting to note that the Apostle John in the first of his three letters to the church, clarifies this explicitly for us. 19 "We love because he first loved us. 20 Whoever claims to love God yet hates a brother or sister is a liar. For whoever does not love their brother and sister, whom they have seen, cannot love God, whom they have not seen. 21 And he has given us this command: Anyone who loves God must also love their brother and sister."
This is hard to hear and harder to put into practice. So how do we do it so that God is pleased with us? A favorite excuse for not following these two commands is, "I'm only human," as if God doesn't know that already. The truth is that as a Christian, we are not "only human," each believer has within them the Holy Spirit, also referred to as "the Spirit of Christ." This is what Paul was referring to in Colossians where he said, "Christ in you, the hope of Glory." Again, Paul writing to the Romans says this; 7 "The mind governed by the flesh is hostile to God; it does not submit to God's law, nor can it do so. 8 Those who are in the realm of the flesh cannot please God. 9 You, however, are not in the realm of the flesh but are in the realm of the Spirit, if indeed the Spirit of God lives in you. And if anyone does not have the Spirit of Christ, they do not belong to Christ." This brings up an important point. How do I know I have the Holy Spirit living within me? Well, in his letter to the Galatians Paul writes about the "Fruit of the Spirit" 13 You, my brothers and sisters, were called to be free. But do not use your freedom to indulge the flesh; rather, serve one another humbly in love. 14 For the entire law is fulfilled in keeping this one command: "Love your neighbor as yourself." 15 If you bite and devour each other, watch out or you will be destroyed by each other. So I say, walk by the Spirit, and you will not gratify the desires of the flesh. 17 For the flesh desires what is contrary to the Spirit, and the Spirit what is contrary to the flesh. They are in conflict with each other, so that you are not to do whatever you want. 18 But if you are led by the Spirit, you are not under the law. 19 The acts of the flesh are obvious: sexual immorality, impurity, and debauchery; 20 idolatry and witchcraft; hatred, discord, jealousy, fits of rage, selfish ambition, dissensions, factions 21 and envy; drunkenness, orgies, and the like. I warn you, as I did before, that those who live like this will not inherit the kingdom of God.22 But the fruit of the Spirit is love, joy, peace, forbearance, kindness, goodness, faithfulness, 23 gentleness and self-control. Against such things there is no law. 24 Those who belong to Christ Jesus have crucified the flesh with its passions and desires. 25 Since we live by the Spirit, let us keep in step with the Spirit. 26 Let us not become conceited, provoking, and envying each other. We need to surrender our attitudes about others and ask God to purify our thoughts as we deal with others. Not easy, but with the help of the Holy Spirit IN YOU! God can do it.
Jesus said to be his disciple we must deny ourselves. Have you learned this secret?
Pastor Ron, for a closer walk with Jesus.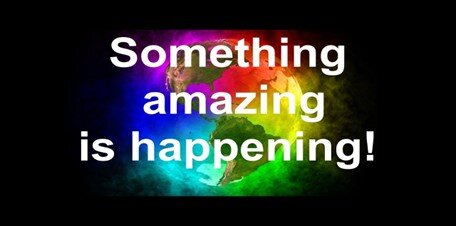 Let me share with you the results of the Easter offering… this is REALLY GREAT!!
With the funds we received we will be able to redeem 3 families out of slavery and provide them with funds to get reestablished.
AND… we will be able to provide relief in the form of food, water and hygiene kits for one month to 17 families in the Horn of Africa.
AND… we will be able to reach the lost by paying the full-time annual salary of 10 pastors (wait, what? Yes, annual!)
AND… we will provide support to Village Schools international.
HOW AMAZING IS THAT!?!?!
Mission's Challenge
For the month of May
· Please pray for those 3 families coming out of slavery, that the Lord would get all of the glory for their release and that they would glorify and honor Him in their freedom.
· Pray for the 17 families in the Horn of Africa that they would know the peace of God and that this aid will build their trust in Him.
· Pray for those 10 pastors; that the Holy Spirit would give them strength, passion, and guidance in the ministry that He has called them to.
· Pray for Village Schools International, that God would bless their ministry and they would have an eternal impact on the students they educate.
"The effectual fervent prayer of a
righteous man availeth much"
James 5:16 (KJV)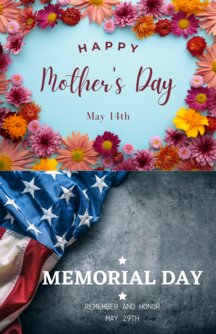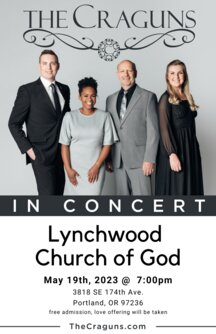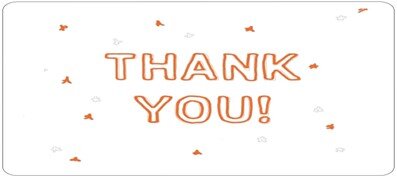 I'm very grateful to all of you who helped out with laying down the ground fabric during our church work day, thank you so much! We are well on our way to minimizing the number of man hours needed to maintain the church grounds. Unfortunately, it takes an extra amount of man hours initially to make that happen.
We still have some space that needs to be prepped, covered with ground fabric and then have bark dust applied. As well as areas that will just take a little TLC to achieve the health and beauty we would like for our property. We understand that not everyone can help with the grounds but I would urge you to take a look at the list of opportunities to help out, it might surprise you that you have more to offer than you think! You can do as little or as much as you want, and of course, as often as you want.
Volunteers needed for…
· Watering (bring a book and relax!)
· Spraying weed killer
· Pulling weeds
· Burning weeds in the gravel
· Pulling stumps
· Laying ground fabric
· Spreading bark dust
· Taking a load to All Wood for recycling
· Blowing (or sweeping) the parking lot and walk ways
· Pressure washing
· Mowing with riding lawn mower
· Mowing with push mower
· Fertilizing lawn and flowers
· Pruning or trimming shrubs
This is not a comprehensive list nor is it very specific of where and what we want done. I wanted to give you a general idea of what is needed. If you feel prompted to help out let's have a conversation and work out all of the details!
Larry Fischer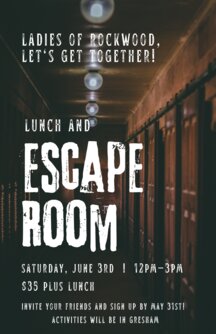 A sign-up sheet is available on the lobby Community board.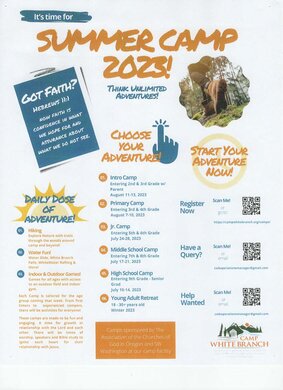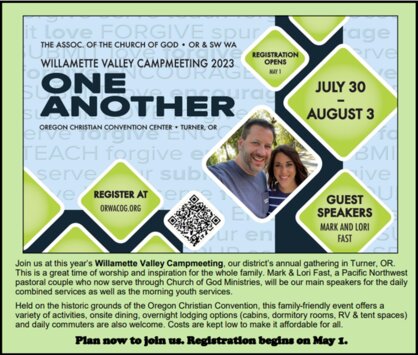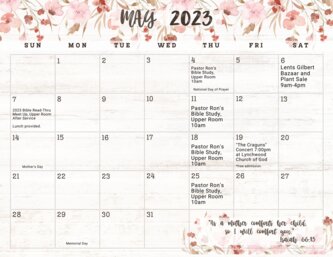 Rockwood Church of God
Our address is: 133 NE 192nd Ave, Portland, OR 97230, USA