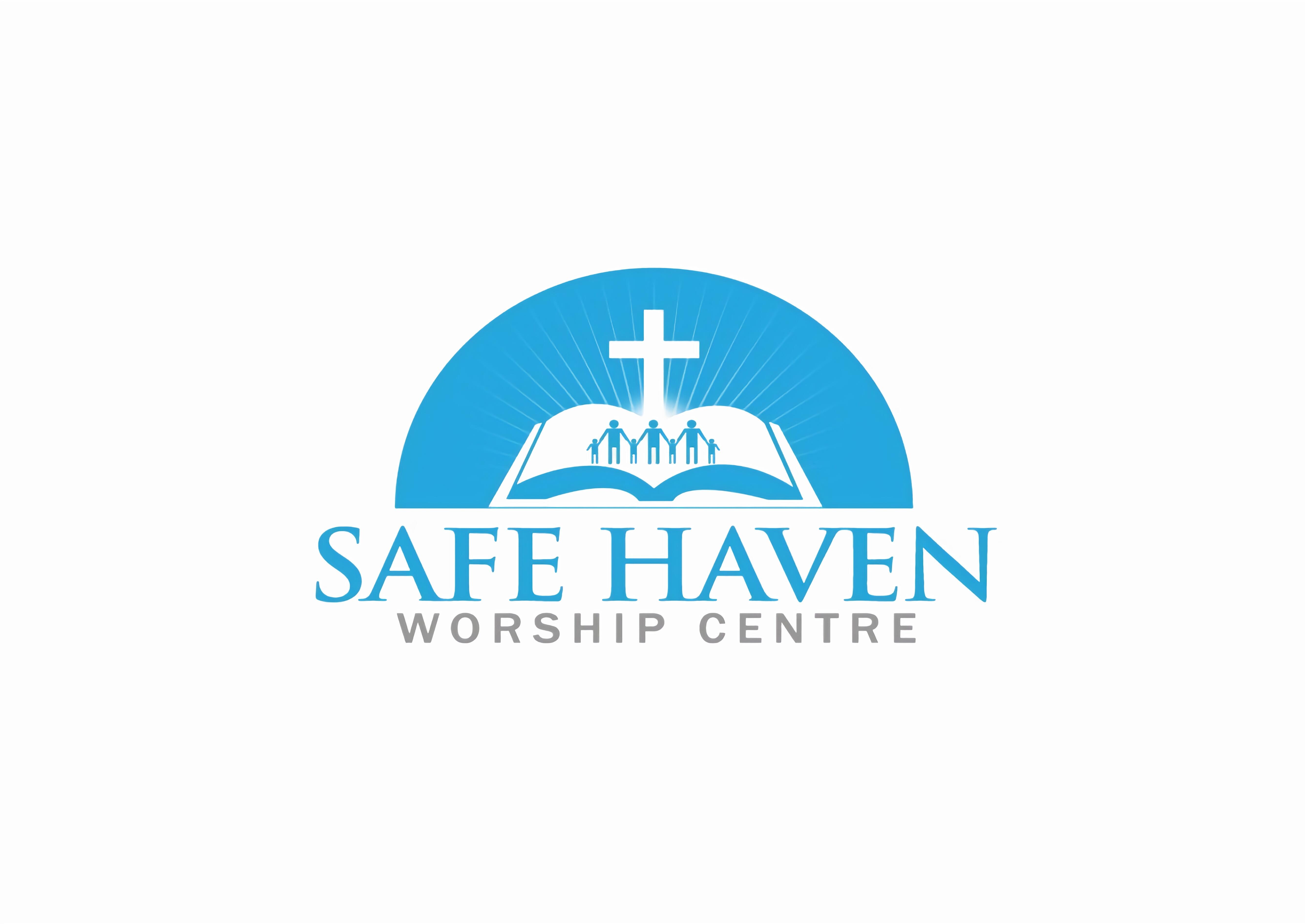 Safe Haven Worship Centre Pickering
Sunday August 16th, 2020 10am
Order of Worship
Children's Object Lesson
Welcome Song
Call to Worship / Opening Prayer
Congregational Singing
Offering
Congregational Singing
Pastoral Prayer
Congregational Singing
Sermon - Putting on the New Self
Ephesians 4:20-24
Closing Hymn
Benediction
Feel free to fill out the form at the bottom of this bulletin after the service
Welcome to your Safe Haven
Service will be streamed online during the COVID-19 crisis. Go to the Safe Haven YouTube page to watch the service.
Contact our pastor soon about Salvation, Baptism, Spiritual Growth or Guidance, Church Membership, or Private Prayer Requests.
Our Pastor is here to serve you.
Senior Pastor: Pastor Matthew Kratz
pastorkratz@rogers.com
Youth & Children's Ministries Director: Karen Schatz
karplus3g@outlook.com
Public Prayer Requests
Please contact:
Mrs. Roma Nelson: 905-831-4876
mike.roma@rogers.com
or
Church Office: 905-837-8771
debloney@safehavenworship.com
Safe Haven is a faith-based ministry that depends entirely upon the Lord and the generosity of God's people.
Thank you to all who party and give. Offering envelopes are available at the Welcome Centre.
**Affiliated with the Associated Gospel Churches of Canada**
Announcements
As you know, we have been working on finding a new location for well over a year. We have looked at existing church buildings, existing buildings that would be good to convert into a church building, and lastly empty land. At this point the first two options have turned up empty for anything we can use and afford. The third option is something we are seriously considering but still need to secure the land to do that.
This week, we met with a leading manufacturer of prefabricated buildings who has experience with church buildings. We are interested in using these structures for our new building compared to traditional design-build buildings, because a prefab is far less expensive and also can be built much faster than design-built churches. They have a very long guarantee and are also very energy efficient, which is kinder to the environment and to our occupancy costs. We have asked them to quote us on a 10,000 square foot building; this will give us room for our worship area plus classrooms, offices, washrooms, kitchen etc. At the right time, we will need to get building permits from the city, and then the building can be erected and ready for us to occupy it within a few months. The quick turnaround time from building to occupancy is another plus to this type of structure.
As we head into the Fall, we hope to not only announce our temporary plans for a location, but also secure a permanent location, while considering the prefab option for a building. We hope to present the details for discussion by at least our early Fall Congregational Meeting. Please pray for God's continued guidance and that we will be open to His leading, as we continue to work out details for a new home to gather in and to worship the Lord.
◊◊◊◊◊◊◊◊◊◊◊◊◊◊◊◊◊◊◊◊◊◊◊◊◊◊◊◊◊◊◊◊◊◊◊◊◊◊◊◊◊◊◊◊◊◊◊◊◊◊◊◊◊◊◊◊◊◊◊◊◊◊◊◊◊◊◊◊◊◊◊◊◊◊
Looking to the future in Faith:
"What do faith and fear have in common besides the letter F? They both believe in a future that hasn't happened yet. Fear believes in a negative future. Faith believes in a positive future. Choose faith!" (Jon Gordon)
◊◊◊◊◊◊◊◊◊◊◊◊◊◊◊◊◊◊◊◊◊◊◊◊◊◊◊◊◊◊◊◊◊◊◊◊◊◊◊◊◊◊◊◊◊◊◊◊◊◊◊◊◊◊
We look forward to our Annual Corn Roast at the Javor's on the first Sunday of September. More details to follow! Please pray the restrictions on gathering will continue to be loosed in line with decreasing cases of COVID. As much as we would like to make more permanent plans, as the last five months have shown, we continue to live and operate in a very fluid environment requiring almost constant adjustments to our plans. That is why our confidence through all of this is in the sovereignty of our God, who does not change and His way is sure. May we continue to pray for guidance regarding our future plans for Safe Haven, and may we continue to look to Him for our security and hope.
◊◊◊◊◊◊◊◊◊◊◊◊◊◊◊◊◊◊◊◊◊◊◊◊◊◊◊◊◊◊◊◊◊◊◊◊◊◊◊◊◊◊◊◊◊◊◊◊◊◊◊◊◊◊
-Before arrival, please complete the liability waver online or signing it at the door. This ensures that people understand the nature of coming to worship during a pandemic, and should, heaven forbid, someone discover that they are COVID-19 positive, those who have attended will be advised to test themselves.
-With an occupancy rating of 450 for the main building, government restrictions (30% occupancy) mean that a maximum of 126 people be allowed in the building. Admission to the building up to a maximum of 126 will be based on a first come first seated basis.
1. 10 a.m. Service: We will have one service at 10:00 am. There will be no Sunday School or Children's Church available.
2. Arrival: Plan to arrive at least 30 minutes early.
3. Screening: At each entrance, you will be greeted by an usher, and a screening station where there will be a temperature check, screen for symptoms, and offer you any personal protective equipment you may want or need. It is requested that you bring a lawn chair and mask, however. A limited number of chairs and masks will be available. These procedures will need to be done
each time upon arrival.
4. Ushers will be wearing personal protective equipment and will direct you to an usher inside the building, who will direct you to your seat. Beyond members of a household, please remain 2 meters apart, and avoid physical contact beyond members of your household.
5. Singing: only those who are masked (besides those on the platform)
are permitted to sing.
6. Nursery: With the removal of all nursery services, parents, please have your children stay with you during the service.
7. Washrooms: Only one bathroom for men and one for women (one person at a time) is available in the two classrooms. Disinfectant materials will be provided for you to clean all surfaces used (toilets, handles, taps)
before and after your visit.
9. After the service: When the service is over, you may mingle in the main auditorium so long as physical distancing guidelines are maintained: members of different households must stay 6 feet apart minimum;
we encourage you to exit the building and mingle outside.
10. No food: There will be no food line, tea, or coffee after the service.
11. Hand shaking: We ask you not to shake each other's hands or hug or kiss, in order to respect the physical distancing guidelines and the health of others.
12. Doors: As many doors as possible will be propped open to ensure you do not need to touch door handles and surfaces.
◊◊◊◊◊◊◊◊◊◊◊◊◊◊◊◊◊◊◊◊◊◊◊◊◊◊◊◊◊◊◊◊◊◊◊◊◊◊◊◊◊◊◊◊◊◊◊◊◊◊◊◊◊◊
During the time, we thank God for all of you who are faithfully financially supporting our ministry.
◊◊◊◊◊◊◊◊◊◊◊◊◊◊◊◊◊◊◊◊◊◊◊◊◊◊◊◊◊◊◊◊◊◊◊◊◊◊◊◊◊◊◊◊◊◊◊◊◊◊◊◊◊◊
May we all pray that this current crisis is resolved, and let it be said that when things got tough, the loving response of the people of Safe Haven was visible like never before. God is with us and will sustain us. Great is His Faithfulness!
◊◊◊◊◊◊◊◊◊◊◊◊◊◊◊◊◊◊◊◊◊◊◊◊◊◊◊◊◊◊◊◊◊◊◊◊◊◊◊◊◊◊◊◊◊◊◊◊◊◊◊◊◊◊
◊◊◊◊◊◊◊◊◊◊◊◊◊◊◊◊◊◊◊◊◊◊◊◊◊◊◊◊◊◊◊◊◊◊◊◊◊◊◊◊◊◊◊◊◊◊◊◊◊◊◊◊◊◊
Check out FaithlifeTV for great videos and Bible resources.
Bible Verses for this sermon
Let us get to know you!
Please take a moment to send us your information so that we may stay connected with you. Your information is carefully managed and protected.
How did you hear about us?