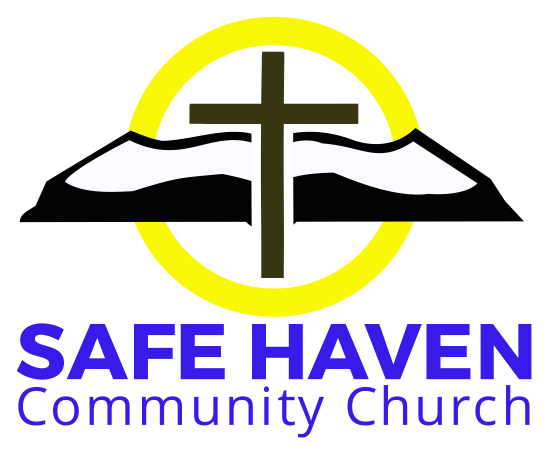 Safe Haven Community Church
Sunday May 9th 2021 10am
Order of Worship
Welcome
Congregational Singing
Call to Worship/Opening Prayer
Congregational Singing
Offering
Special Music
Congregational Singing
Pastoral Prayer
Children's Object Lesson
Congregational Singing
Rebekah: The Mother of Esau and Jacob
Genesis 25:19-28
Closing Hymn
Benediction
New to Safe Haven ?
Connect with us through the connect card at the bottom of this bulletin.
Welcome to your Safe Haven
Service will be streamed online during the COVID-19 crisis. Go to the Safe Haven YouTube page to watch the service.
Contact our pastor soon about Salvation, Baptism, Spiritual Growth or Guidance, Church Membership, or Private Prayer Requests.
Our Pastor is here to serve you.
Senior Pastor: Pastor Matthew Kratz
pastorkratz@rogers.com
Youth & Children's Ministries Director: Karen Schatz
karplus3g@outlook.com
Public Prayer Requests
Please contact:
Mrs. Roma Nelson: 905-831-4876
mike.roma@rogers.com
or
Church Office: 905-837-8771
debloney@safehavenworship.com
Safe Haven is a faith-based ministry that depends entirely upon the Lord and the generosity of God's people.
Thank you to all who party and give. Offering envelopes are available upon request.
Announcements
ANNOUNCEMENTS
Mother's Day can be difficult at the best of times. There are those who have miscarried, aborted, lost a child to illness or accident. There are those who cannot or have chosen not to conceive. There are those who are alienated from their children, and those who just can't seem to get through. There are those who weep over unsaved children and those who weep over backsliding children. Put into the mix of a pandemic and you have those who have not seen or been with their children for some time. Here we have yet another year where it almost doesn't seem right to think of a Mother's Day in lockdown. In one way this is the best time for thinking about Mother's Day, because it enables us to cut through the unrealistic concept of motherhood and deal with the real difficulty that is a regular part of motherhood.
One of the prime examples of the difficulty of motherhood displayed in Scripture seems so appropriate for the difficulty of our day. Rebekah, as recorded in Genesis 25, struggled with infertility, family conflict and the future for her boys Esau and Jacob. Starting from the point of God's apparent abandonment, well beyond her child bearing years, she wondered how God would fulfill His promises to her family. Even when God did seem to grant her prayers that her husband brought before the Lord, God did so in a way that seemed to just bring more trouble. So much trouble that she wondered why this was all happening to her. God's answer to her plight only seemed to bring more confusion. Her story is a story of struggle, faith and mistakes. It is such a real story that we can see ourselves in the struggle.
◊◊◊◊◊◊◊◊◊◊◊◊◊◊◊◊◊◊◊◊◊◊◊◊◊◊◊◊◊◊◊◊◊◊◊◊◊◊◊◊◊◊◊◊◊◊◊◊◊◊◊◊◊◊◊◊◊◊◊◊
May 2nd 2021 Collection
General Offering: $5,482.25
***Weekly amt needed to meet budget $6,700***
Building Fund: $755.00
Building Fund Project Total: $192,312.56
◊◊◊◊◊◊◊◊◊◊◊◊◊◊◊◊◊◊◊◊◊◊◊◊◊◊◊◊◊◊◊◊◊◊◊◊◊◊◊◊◊◊◊◊◊◊◊◊◊◊◊◊◊◊
The Offering Envelopes for 2021 are now available. You can pick them up through the week between the hours of 10am-4pm
at 82 Church St., South, Ajax.
◊◊◊◊◊◊◊◊◊◊◊◊◊◊◊◊◊◊◊◊◊◊◊◊◊◊◊◊◊◊◊◊◊◊◊◊◊◊◊◊◊◊◊◊◊◊◊◊◊◊◊◊◊◊
May we all pray that this current crisis is resolved, and let it be said that when things got tough, the loving response of the people of Safe Haven was visible like never before. God is with us and will sustain us. Great is His Faithfulness!
◊◊◊◊◊◊◊◊◊◊◊◊◊◊◊◊◊◊◊◊◊◊◊◊◊◊◊◊◊◊◊◊◊◊◊◊◊◊◊◊◊◊◊◊◊◊◊◊◊◊◊◊◊◊
◊◊◊◊◊◊◊◊◊◊◊◊◊◊◊◊◊◊◊◊◊◊◊◊◊◊◊◊◊◊◊◊◊◊◊◊◊◊◊◊◊◊◊◊◊◊◊◊◊◊◊◊◊◊
Check out FaithlifeTV for great videos and Bible resources.
Let us get to know you!
Please take a moment to send us your information so that we may stay connected with you. Your information is carefully managed and protected.
How did you hear about us?