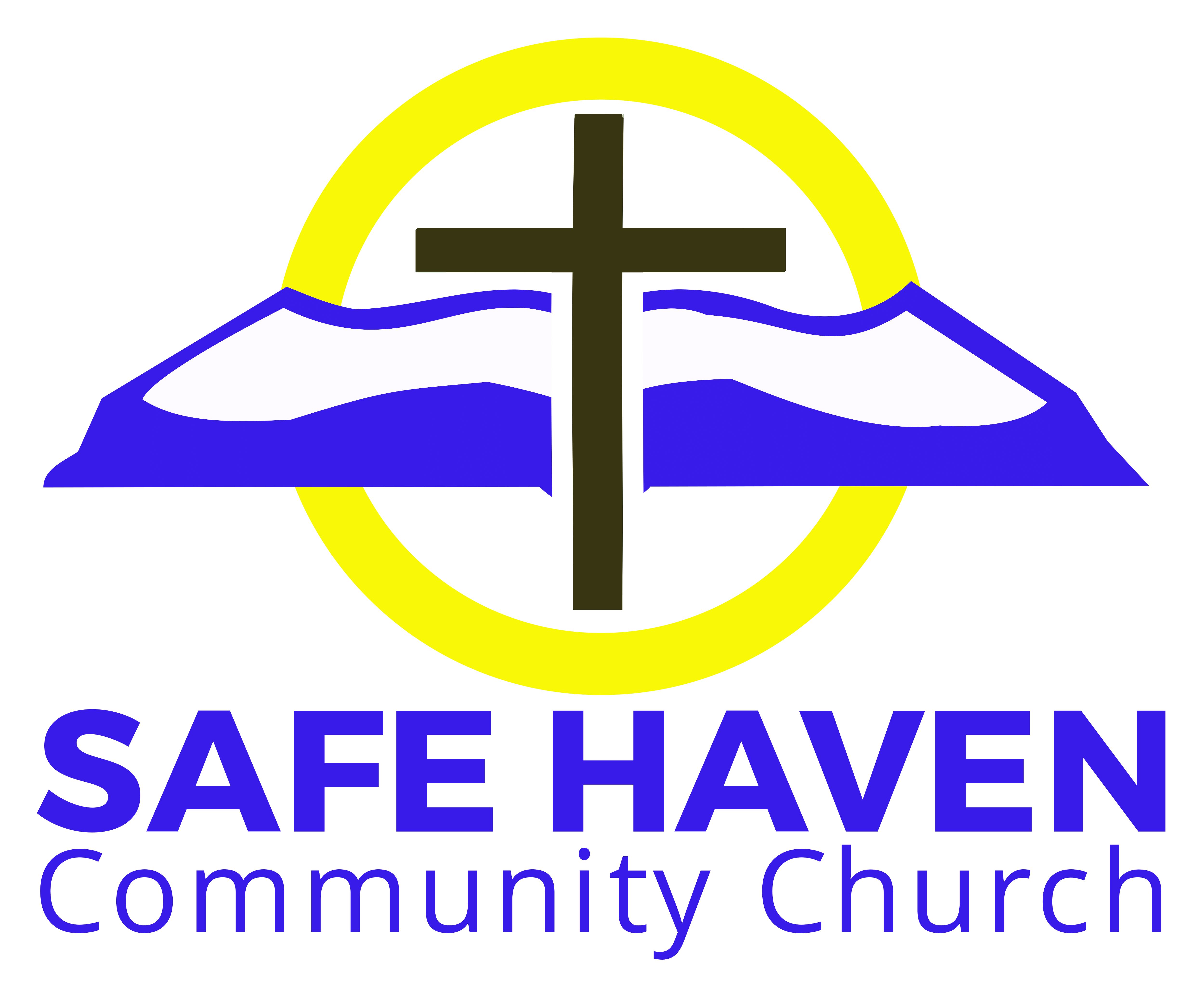 Safe Haven Community Church
Sunday February 21st 2021 10am
Order of Worship
Welcome/Welcome Song
Congregational Singing
Call to Worship/Opening Prayer
Congregational Singing
Offering
Special Music
Congregational Singing
Pastoral Prayer
Congregational Singing
Children's Object Lesson
Sermon - Faith in Action
1 Peter 1:13-17
Closing Hymn
Benediction
Feel free to fill out the form at the bottom of this bulletin after the service
Welcome to your Safe Haven
Service will be streamed online during the COVID-19 crisis. Go to the Safe Haven YouTube page to watch the service.
Contact our pastor soon about Salvation, Baptism, Spiritual Growth or Guidance, Church Membership, or Private Prayer Requests.
Our Pastor is here to serve you.
Senior Pastor: Pastor Matthew Kratz
pastorkratz@rogers.com
Youth & Children's Ministries Director: Karen Schatz
karplus3g@outlook.com
Public Prayer Requests
Please contact:
Mrs. Roma Nelson: 905-831-4876
mike.roma@rogers.com
or
Church Office: 905-837-8771
debloney@safehavenworship.com
Safe Haven is a faith-based ministry that depends entirely upon the Lord and the generosity of God's people.
Thank you to all who party and give. Offering envelopes are available at the Welcome Centre.
**Affiliated with the Associated Gospel Churches of Canada**
Announcements
ANNOUNCEMENTS
In planning for the acquisition of a new property at 82 Church St. we had some upfront costs, some estimated costs and the realization that there will be some unforeseen costs. The Town of Ajax required a whole series of studies and reports before they would allow a building permit. We tried our best to find consultants that would provide the needed information yet be sensitive to costs. We take the issue of Biblical stewardship seriously, and when costs have seemed unreasonable, we have sought to mitigate the expense. A good example was in negotiating the fee that the Toronto and Region Conservation Authority expected, by about a third. As we move forward in budgeting and the next phase of construction, we will seek to a keep close eye on projected costs. We hope to outline and discuss plans and opportunities for consideration. The Durham District Catholic School Board has offered to sell or lease a portion of land right behind our backyard, suitable for a walkway to Village Gardens and overflow parking. We are looking to the end of March to have a congregational meeting to update everyone on the progress of our efforts, and plan our next actions together.
Immediately, we could still use your input for the interior design space for our forthcoming auditorium. To help with this process, we have put together a video and theological considerations on "Architecture" to base our choices, architecture and building articles for planning consideration, sample pictures of our template for design with technical dimensions as well as pictures to view and help with design ideas. This is all found on our website from our main page entitled: Our Permanent Home - SAFE HAVEN COMMUNITY CHURCH (safehavenworship.com). Please be in prayer for the processing of our submission to the Town of Ajax. They have said it may take up to two months to deal with our case. We pray that it may go quicker than that.
◊◊◊◊◊◊◊◊◊◊◊◊◊◊◊◊◊◊◊◊◊◊◊◊◊◊◊◊◊◊◊◊◊◊◊◊◊◊◊◊◊◊◊◊◊◊◊◊◊◊◊◊◊◊
February 14th 2021 Collection
General Offering: $5,441.50
Building Fund: $660.00
Building Fund Project Total: $183,392.56
◊◊◊◊◊◊◊◊◊◊◊◊◊◊◊◊◊◊◊◊◊◊◊◊◊◊◊◊◊◊◊◊◊◊◊◊◊◊◊◊◊◊◊◊◊◊◊◊◊◊◊◊◊◊
The Offering Envelopes for 2021 are now available. You can pick them up through the week between the hours of 10am-4pm
at 82 Church St., South, Ajax.
◊◊◊◊◊◊◊◊◊◊◊◊◊◊◊◊◊◊◊◊◊◊◊◊◊◊◊◊◊◊◊◊◊◊◊◊◊◊◊◊◊◊◊◊◊◊◊◊◊◊◊◊◊◊
May we all pray that this current crisis is resolved, and let it be said that when things got tough, the loving response of the people of Safe Haven was visible like never before. God is with us and will sustain us. Great is His Faithfulness!
◊◊◊◊◊◊◊◊◊◊◊◊◊◊◊◊◊◊◊◊◊◊◊◊◊◊◊◊◊◊◊◊◊◊◊◊◊◊◊◊◊◊◊◊◊◊◊◊◊◊◊◊◊◊
◊◊◊◊◊◊◊◊◊◊◊◊◊◊◊◊◊◊◊◊◊◊◊◊◊◊◊◊◊◊◊◊◊◊◊◊◊◊◊◊◊◊◊◊◊◊◊◊◊◊◊◊◊◊
Check out FaithlifeTV for great videos and Bible resources.
Bible Verses for this sermon
Let us get to know you!
Please take a moment to send us your information so that we may stay connected with you. Your information is carefully managed and protected.
How did you hear about us?