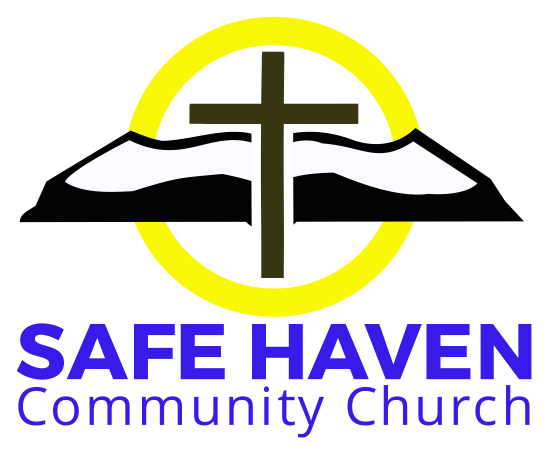 Safe Haven Community Church
Sunday June 27th 2021 10am
Order of Worship
Welcome
Congregational Singing
Call to Worship – Pastor Ray Kaufman
Congregational Singing
Prayer & Offering / Pastoral Prayer
Congregational Singing
Scripture Reading: 1 Peter 4:1-6
Sermon: Gospel of Life 1 Peter 4:1-6
Congregational Singing
Communion
Closing Hymn
Benediction
New to Safe Haven ?
Connect with us through the connect card at the bottom of this bulletin.
Welcome to your Safe Haven
Service will be streamed online during the COVID-19 crisis. Go to the Safe Haven YouTube page to watch the service.
Contact our pastor soon about Salvation, Baptism, Spiritual Growth or Guidance, Church Membership, or Private Prayer Requests.
Our Pastor is here to serve you.
Senior Pastor: Pastor Matthew Kratz
pastorkratz@rogers.com
Youth & Children's Ministries Director: Karen Schatz
karplus3g@outlook.com
Public Prayer Requests
Please contact:
Mrs. Roma Nelson: 905-831-4876
mike.roma@rogers.com
or
Church Office: 905-837-8771
debloney@safehavenworship.com
Safe Haven is a faith-based ministry that depends entirely upon the Lord and the generosity of God's people.
Thank you to all who party and give. Offering envelopes are available upon request.
Announcements
ANNOUNCEMENTS
Welcome to our Outdoor Worship Service
These services are meant to have as much participation from everyone as possible. We are looking for people willing to read scripture, pray, sing, play an instrument or generally get involved over the Summer to give a break to many who have worked non-stop over this pandemic. Please let Roy Smyth know of your willingness to help out during our Summer worship services. Having the freedom to be unmasked outside the tent, yet still be a part of worship has been a relief to many. Yet for those still very concerned about being masked, having the tent members masked has been an assurance. Given that every Sunday may not have as great weather conditions as this past Sunday, it's a good idea to bring portable pop-up coverings, patio or large golf type umbrellas in case of rain.
◊◊◊◊◊◊◊◊◊◊◊◊◊◊◊◊◊◊◊◊◊◊◊◊◊◊◊◊◊◊◊◊◊◊◊◊
Clothing Drive for Missions
With all the donations received, there is only the need for the following items:
-Men's, Ladies & Children's RUNNING Shoes
-Sheet sets, towels
Items can be dropped off from 9:00 am-5:00 pm, Monday to Friday at Safe Haven, 82 Church St. S. in Ajax. If you are unable to do so, a pick up can be arranged. The deadline for dropping off items is Wednesday June 30th.
◊◊◊◊◊◊◊◊◊◊◊◊◊◊◊◊◊◊◊◊◊◊◊◊◊◊◊◊◊◊◊◊◊◊◊◊
Summer Day Camp
Safe Haven Community Church will be running FREE Children's Day Camps this year! These exciting events will occur on Tuesdays during the month of July on July 6th, 13th & 20th. The day camp will run from 9:00am - 12noon for ages 4-12. Mid-morning snacks will be provided. A registration form is available for pick-up or register online.
◊◊◊◊◊◊◊◊◊◊◊◊◊◊◊◊◊◊◊◊◊◊◊◊◊◊◊◊◊◊◊◊◊◊◊◊
Care Groups
Over the Summer, some groups will take a pause from their regular meetings in order to interact in different ways. Summer is a great time to get together in these regular or new ways.
◊◊◊◊◊◊◊◊◊◊◊◊◊◊◊◊◊◊◊◊◊◊◊◊◊◊◊◊◊◊◊◊◊◊◊◊
Our offerings this week:
General Offering: $5,483 / Weekly budget need: $6,700
YTD General offering need: $160,800 / YTD General offering: $130,657 /
YTD deficit: $30,143
Building Fund: $355 / Building Fund Acct: $196,297
◊◊◊◊◊◊◊◊◊◊◊◊◊◊◊◊◊◊◊◊◊◊◊◊◊◊◊◊◊◊◊◊◊◊◊◊◊◊◊◊◊◊◊◊◊◊◊◊◊◊◊◊◊◊
May we all pray that this current crisis is resolved, and let it be said that when things got tough, the loving response of the people of Safe Haven was visible like never before. God is with us and will sustain us. Great is His Faithfulness!
◊◊◊◊◊◊◊◊◊◊◊◊◊◊◊◊◊◊◊◊◊◊◊◊◊◊◊◊◊◊◊◊◊◊◊◊◊◊◊◊◊◊◊◊◊◊◊◊◊◊◊◊◊◊
◊◊◊◊◊◊◊◊◊◊◊◊◊◊◊◊◊◊◊◊◊◊◊◊◊◊◊◊◊◊◊◊◊◊◊◊◊◊◊◊◊◊◊◊◊◊◊◊◊◊◊◊◊◊
Check out FaithlifeTV for great videos and Bible resources.
Let us get to know you!
Please take a moment to send us your information so that we may stay connected with you. Your information is carefully managed and protected.
How did you hear about us?