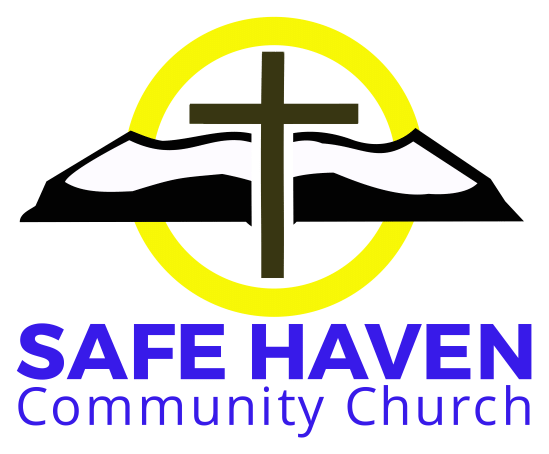 Newsletter for September 4th, 2022
This Sunday's Message from Romans 3:18-25a "Justified by Faith".
Newsletter Contents:
Devotional: New
Our Current Preaching Series: "Life in His Name"
Children & Youth Update
Financial Update
A Brief Building Update
Care Groups: Current
Wednesday Prayer & Bible Study: New series
Volunteer Opportunities: New Opportunities to serve.
Right Now Media Great Series of the Week: Updated recommended sample of free resources.
Excellent Free E-book: New
Free Devotionals: "Our Daily Bread" & "Tabletalk"
Safe Haven Digital App & Online Community: Our directory+
"How to pray for our children"
Prayer offers an amazing opportunity for us to see God work in the lives of our children. During my Scripture reading one day, the Lord drew my attention to Philippians 1:6, "And I am sure that he who began a good work in you will bring it to completion at the day of Jesus Christ" (RSV). As Christian parents, we share a privilege – the opportunity to come to God through prayer. As O. Hallesby writes, "To pray is nothing more involved than to open the door, giving Jesus access to our needs and permitting Him to exercise His own power in dealing with them." But perhaps you've struggled with knowing how to pray for your children and for yourself. You're not alone; many Christian parents often feel as though their prayers somehow fall short. We can take comfort in knowing that the Holy Spirit intercedes for us, even when we're not sure how we should pray. As you mature in the discipline of prayer, the Holy Spirit will show you which prayers are most important for you and your children. Here are a few prayers that Lois Walfrid Johnson found essential to her own parenting:
Lord, You know I want to be a godly, consistent parent, but I can't do it without You. Help me live in such a way that my children know my love for them and see Your qualities in me.
I commit myself to daily Bible reading and prayer. Lead me, guide me and change me.
Remind me often that my greatest gift to my children is to help them know You. Help me prepare the soil for them to grow deep and strong and receive Your salvation.
Father, our family needs fun times together. Help us do those simple, everyday things out of which healthy bonding grows.
Help me, Lord, to make time for good talks with my kids. Help me recognize and respond to teachable moments – those earth-stands-still moments when my child asks something he or she really wants to know.
Lord, wherever I am, whatever I'm doing, remind me when a child of mine needs extra prayer. Tell me what I should ask.
Paul's words in 2 Timothy 1:12 form the basis for a great prayer: "Lord Jesus, I am convinced that You are able to guard what I entrust to You. I commit my children to You and thank You for Your protection and care."
Our Current Preaching Series
On that road near Damascus, Saul was marvelously and eternally transformed. Although temporarily blinded and all but speechless, during that experience he submitted his life to Christ. Becoming known as the Apostle Paul, he would later explain: "But if Christ is in you, although the body is dead because of sin, the Spirit is life because of righteousness. 11 If the Spirit of him who raised Jesus from the dead dwells in you, he who raised Christ Jesus from the dead will also give life to your mortal bodies through his Spirit who dwells in you." (Rom. 8:10-11). In Romans, Paul explains how belief in Christ brings an entirely different kind and quality of life—a holy life, a righteous life, an eternal life.
Series Outline: Part 2
1.Romans 2:1-5. "The Day of Reckoning": Sunday July 17th, 2022.
2.Rom. 2:6-10. "The Great Divide" Sunday July 31st, 2022.
3.Romans 2:11-16. "Law of the Lord" Sunday August 7th, 2022.
4.Romans 2:17-29. "Examining the Heart" Sun. August 14th, 2022.
5.Romans 3:1-8. "Called into Righteousness" Sun. Aug. 21st, 2022.
6.Romans 3:9-20. "Law Breakers" Sunday August 28th, 2022.
7.Romans 3:18-25a. "Justified by Faith" Sun. September 4th, 2022.
Children & Youth Update
Sunday School: It's never too late to be a teacher! Please let me know if you would like to sign up for teaching. We are looking to have our Sunday School running again by the end of September! See you all there.
Youth: Youth will be kickstarting again this Fall! Our back-together-event will be on Friday September 16th. Following that we will begin our series on Christian Dating
Financial Update
Month of August 2022:
General Offering: $25,787.14/ Building Fund Offering: $
Monthly Budget need: $29,040 / YTD General Offering need: $246,820
YTD General Offering: $
YTD Building Fund Donations: $
A Brief Building Update
Our General Contractor, Ricardo, followed up this week with the representatives of the building division of the Town of Ajax to inquire about our building permit. A gentlemen named Angelo was the previous building planner assigned to our project. The person who is now assigned to our project is away until next week. Arrangements are being made with crews for the excavation and the foundation process for the project. That is good news!
Based on the above, we should be pouring the foundation sometime in September and erecting the building in October. After that we will still need to put in the windows, doors, HVAC, platform, brickwork etc.
We are updating our budget to complete this so please pray for how you can support this while we still need to support the ongoing ministry expenses. We are considering borrowing options as a last resort, however, if you have assets to lend that will help us complete the project, please talk to someone on the Finance Committee.
Care Groups: Physical & Virtual Options
Although some may not be ready for physical interaction with others, "Care Groups" are a wonderful way to have either physical or virtual options to interact with God's Word.
As a congregation, we desire a wholistic, intentional care for one another. In order to provide intimate, intentional regular care for one another, we have created several "Care Groups" for everyone to get involved in. The purpose of these groups will be to connect regularly and share together, pray together and study the Bible together. If you aren't yet part of a Care Group joining is easy. When people do, they wonder why they did not do so sooner. Let us not remain where we are, wander off the path, or head in the wrong direction. Let us be clear to follow the One who is the Way, the Truth and the Life, for no one gets to the Father, but by Him (John 14:6). Our goal is to have everyone be a part of a Care Group. Be a blessing and be blessed!
Mid-Week Video Series & Bible Study
How does an ancient tent in the wilderness of Sinai relate to our relationship with God? The description of the tabernacle, God's Old Testament dwelling place, spans sixteen chapters of the Bible. Yet many of us pass over this extended description without understanding its significance. In this series, Rev. Daniel R. Hyde encourages us to consider this "tent of meeting" (Ex. 27:21). By studying the particulars of this first tabernacle, we will better understand Jesus, the One who dwelt, or "tabernacled," among us (John 1:14).
Twelve, 23-Minute Messages:
An Introduction to the Tabernacle: Wed. July 27th, 2022.
A Tabernacle in the Wilderness: Wednesday August 3rd, 2022.
The Ark of the Covenant: Wednesday August 10th, 2022.
A Table with Bread: Wednesday August 17th, 2022.
A Lampstand of Gold: Wednesday August 24th, 2022.
An Altar of Bronze: Wednesday August 31st, 2022.
The Lord's Courtyard: Wednesday September 7th, 2022.
The Priesthood of the Lord: Wednesday September 14th, 2022.
The Benefits of the Priesthood: Wed. September 21st, 2022.
An Altar for Incense: Wednesday September 28th, 2022.
A Basin for Washing: Wednesday October 5th, 2022.
A New Beginning: Wednesday October 12th, 2022.
Volunteer Opportunities
Progressing through the implementation of our building program, there are a lot of pieces needed to come together for us to move forward in the next phases of our ministry together. Everyone has something that God has equipped them to serve with. Our ability to serve one another and welcome guests to our ministry, depends on people willing to use their gifts and talents in the service of others. Please click the picture above or link below, and help make Safe Haven a place that truly ministers to the needs of our people and reaches out with Christ's love for others!
Right Now Media Great Series of the Week
PAUL TRIPP
15 Sessions
Avg Session - 2 Min
What is your calling as a parent?
In the midst of folding laundry, coordinating carpool schedules, and breaking up fights, many parents get lost. Feeling pressure to do everything "right" and raise up "good" children. It's easy to lose sight of our ultimate purpose as parents in the quest for practical tips and guaranteed formulas.
In this life-giving book, Paul Tripp offers parents much more than a to-do list. Instead, he presents us with a big-picture view of God's plan for us as parents. Outlining fourteen foundational principles centered on the gospel, he shows that we need more than the latest parenting strategy or list of techniques. Rather, we need the rescuing grace of God-grace that has the power to shape how we view everything we do as parents.
Freed from the burden of trying to manufacture life-change in our children's hearts, we can embrace a grand perspective of parenting overflowing with vision, purpose, and joy.
Excellent Free E-book:
Not Yet Married
The Pursuit of Joy in Singleness and Dating
by Marshall Segal
Learn to live and date for more than marriage.
Many of you grew up assuming that marriage would meet all of your needs and unlock God's purposes for you. But God has far more planned for you than your future marriage. Not Yet Married is not about waiting quietly in the corner of the world for God to bring you "the one," but about inspiring you to live and date for more now.
If you follow Jesus, the search for a spouse is no longer a pursuit of perfection, but a mutually flawed pursuit of him. He will likely write a love story for you different than the one you would have written for yourself, but that's because he loves you and knows how to write a better story. Trust him, and he will help you find real hope, happiness, and purpose in your not-yet-married life.
Excellent free audiobook
This audiobook of the classic John Bunyan work is known as the greatest allegory in the English language. It describes the journey of "Pilgrim" as he travels through life struggling onward through trials and temptations to reach the celestial city and keep to the path which is the narrow road. A classic allegorical tale which is enjoyable to read and teaches about the life of a man on the way to his reward.
Our Daily Bread
The September-November 2022 Our Daily Bread small print devotionals are now available for pick up.
Large print devotionals are on hand for October-December 2022.
Stop by Safe Haven anytime during the day (Monday to Friday) to get a copy, or pick one up when you come for worship on Sunday.
Tabletalk Online & Print Devotional
Tabletalk is a monthly discipleship magazine written by today's leading theologians and pastors to help Christians grow in the knowledge of God. Daily devotionals make up over half of the content and typically exposit a book of the Bible or a specific topic over the course of the year. A third of the content is themed, dealing with a particular issue, and the rest consists of featured columns addressing a variety of issues ranging from theology to Christian living. The print version is digest-size, formatted to fit neatly into most Bibles and notebooks. Tabletalk, along with fresh online-exclusive content, is also available at TabletalkMagazine.com.
Safe Haven App & Digital Community
Safe Haven has a digital app and community called "Faithlife". On it you will find our directory, a calendar of events, a link for giving, sermons, announcements, bulletins, Faithlife TV, the ESV Bible, our COVID-19 Waiver form for services, and the ability to communicate between congregation members for prayer requests and keeping in touch. Just with Faithlife TV, it has free original documentaries, live streams, mobile education instruction, kids programming, Bible study tools, biography presentations, presentations on Christian living, dramas, group studies, information on health and wellness, historical presentations, information on marriage and parenting, movies, music, Our Daily Bread, programs on science and creation, sports, teens, travel and so much more.
On Faithlife you can have video chats like Zoom etc. and the good news is it doesn't have the cost or limitations of Zoom or other platforms. Also, by not using a secular platform we have less to worry about getting cancelled for being Christian. To use this feature, look on the left side of Faithlife platform and go to Group Chat. Then on the bottom right is a button that looks like a video camera. They can click on that and that creates a link that they can send to whoever they want to video chat with. https://support.faithlife.com/hc/en-us/articles/360040848532
Join for free by clicking here. You can also download the Faithlife App and have access to everything through the app. If you have any problems, contact us so we can help you get started.
We are a people who seek to honour the Lord Jesus Christ and share His great love.
Our address is: 82 Church St S, Ajax, ON L1S 6B3, Canada