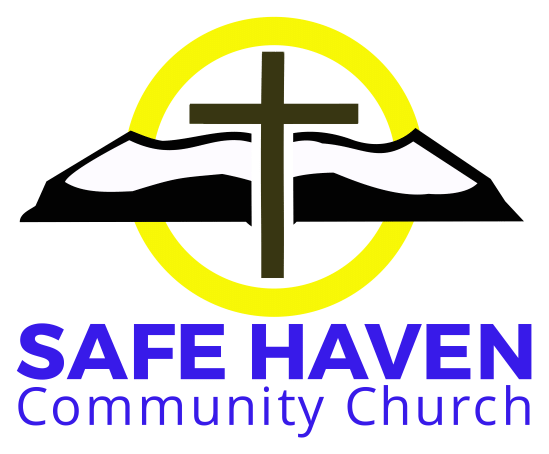 Sids. Master document
This Sunday's Message from Romans 5:1-5a "Unwavering Faith".
Newsletter Contents:
Devotional: New
Our Current Preaching Series: "Life in His Name"
Children & Youth Update
"Operation Christmas Child": Return by Sunday Nov. 13th
Financial Update: Current
Building Update: Updated timetable & costs.
Care Groups: Current
Men's Bible Study: Resumed Tuesday September 27th, 2022
Women's Bible Study: Resumed Tuesday September 27th, 2022
Wednesday Prayer & Bible Study: New series
Volunteer Opportunities: New Opportunities to serve.
Right Now Media Great Series of the Week: Updated recommended sample of free resources.
Excellent Free E-book: New
Free Devotionals: "Our Daily Bread" & "Tabletalk"
Safe Haven Digital App & Online Community: Our directory+
Children & Youth Update
Sunday School: Hello everyone! Hope all is well with you. Just a reminder that our Sunday School is going on each week now! If you would like to teach please reach out to Alex...all are welcome. Also, we are having a Jr. High Retreat for Grades 5-8 from November 11th-13th. Please contact Alex for details.
Youth: Hey all! Hope we all enjoyed the pumpkin carvings last week! I hope everyone is happy to come out on Friday, as we need to begin to plan our youth service, which is Nov. 20th. As well, we begin our new Bible study this week. Join us to find out which book it is!
Financial Update
Financial Update for October 23rd:
General Offering: $3,865.78 / Building Fund Offering: $120
Weekly Budget need: $7,260 / YTD General Offering need: $304,900
YTD General Offering: $223,117
YTD Building Fund Donations: $33,984
In order to keep everyone up-to-date on a regular basis in terms of our financial givings, we will go back to doing the financial update on a weekly basis.
Building Update
Here are the remaining costs:
Permits - development fees and building permits $76,720
-Some of these costs have been paid and development fees can be paid over time
Dumpster $5,000
General Contractor $30,000
-This is an estimate based on a percentage of the total done by trades so the amt can change
Blinds and drapes $5,000
Excavation, foundation and site concrete $140,000
-This is an estimate
Platform $25,000
Doors & hardware $11,500
Windows $23,500
Flooring $10,000
Steeple $5,500
HVAC $60,000
-Depending on the type of system we choose, this amount could be lower
New bathroom, plumbing etc. $41,500
-We need to comply with the Town code
Electrical $40,000
Masonry - front stone and skirt around the north side. We are unclear how much this will be based on the type of material we use etc.
Electronic sign $5,000
Labour $60,000
-An estimate that hopefully will be lower if possible
Total estimate needed to finish $538,720
Rough amount in our Building Fund $235,000
Final amount needed to finish the building $303,720
We are updating our budget to reflect this, so please pray for how you can support this while we still need to support the ongoing ministry expenses. We are considering borrowing options as a last resort, however, if you have assets to lend that will help us complete the project, please talk to someone on the Finance Committee.
Care Groups: Physical & Virtual Options
Although some may not be ready for physical interaction with others, "Care Groups" are a wonderful way to have either physical or virtual options to interact with God's Word.
As a congregation, we desire a wholistic, intentional care for one another. In order to provide intimate, intentional regular care for one another, we have created several "Care Groups" for everyone to get involved in. The purpose of these groups will be to connect regularly and share together, pray together and study the Bible together. If you aren't yet part of a Care Group joining is easy. When people do, they wonder why they did not do so sooner. Let us not remain where we are, wander off the path, or head in the wrong direction. Let us be clear to follow the One who is the Way, the Truth and the Life, for no one gets to the Father, but by Him (John 14:6). Our goal is to have everyone be a part of a Care Group. Be a blessing and be blessed!
Men's Bible Study: Tuesdays at 9:30am
Unshakable Hope by MAX LUCADO
In a trembling, unsteady world, learn to gain stability, find peace, and trust in God.
This 12-session video Bible study will help you, your group, and your church stand on the definitive declarations of our mighty and loving God who governs the world according to his great and precious promises.
This world has a tremble to it. There are things that seem unsteady in this life. But when we belong to God, it allows us to filter our problems through the promises of God. We choose to be people of the promise, we choose to build our lives on the promises of God, not the circumstances of life.
The stories of the men and women in Scripture were different, but the theme was the same: they were People of the Promise. Because of God's promises, Noah built an ark on dry land, Joshua claimed the Promised Land, David became king, Peter preached the first sermon, and John caught a glimpse of the future. Like them, we can also build our lives on God's promises, and trust him to keep them.
Sessions include:
You Are Stamped with God's Image
God Will Win the Victory
You Are an Heir of God
Your Prayers Have Power
God Gives Grace to the Humble
God Gets You
Jesus Is Praying for You
Death Has Been Defeated
Joy Is Coming Soon
You Will Have Power
There Is No Condemnation in Christ
Justice Will Prevail
Tuesday mornings beginning September 27th, at 9:30 am
For More Information:
Women's Bible Study: Tuesdays at 9:30am
The early Jewish believers had come from a background of legalism and works. When God came to earth in human flesh as the New Covenant, these believers discovered the freedom they could have in Jesus and the relationship they could enjoy with Him. Yet in the midst of persecution and rejection, they were often tempted to hold on to the former symbols, rituals, and traditions grounded in the requirements of the Old Covenant. The unknown author of Hebrews sought to address this problem by contrasting the Old and New Covenants, brilliantly showing that Christ is higher than any Old Testament character, priest, ritual, or sacrifice. Because of Jesus' life, death, and resurrection, He is the perfect sacrifice and our own High Priest. And He has given all believers unfettered access to God! The MacArthur Bible Studies provide intriguing examinations of the whole of Scripture. Each guide incorporates extensive commentary, detailed observations on overriding themes, and probing questions to help you study the Word of God with guidance from John MacArthur.
12 Week Study:
8: A Better Sanctuary: Hebrews 9:1–14. Tue Sept. 27/22.
9: A Better Sacrifice: Hebrews 9:15–10:18. Tue. Oct. 4/22.
10: All about Faith: Hebrews 10:19–11:40. Tue. Oct. 11/22
11: Perseverance: Hebrews 12:1–29. Tue. Oct. 18/22
12: Christian Behavior: Hebrews 13:1–25. Tue Oct. 25/22.
All ladies are warmly invited and welcome to join us for our continuing study on the book of Hebrews. For Tuesday, October 25, we will be reading Hebrews 9:15-10:18 and reviewing the questions found in Chapter 9 - A Better Sacrifice (page 81) of our Study Books.
Tuesday mornings at 9:30 am
At Safe Haven Community Church
82 Church St. S. Ajax, On.
For More Information: Janet Hill
New Mid-Week Video Series & Bible Study
All people have a worldview. All people answer ultimate questions about truth and reality, whether consciously or unconsciously. And all people act according to those answers. Understand the big questions and the ways people answer them, and you'll have real insight into the thinking and behavior of those around you.
In A Blueprint for Thinking, R.C. Sproul examines the big questions. He explores the basic elements of every worldview: epistemology (How we know what is true); metaphysics (how we know what is real); theology (discovering who God is); anthropology (discovering who man is); and ethics (discovering what right and wrong is). He also proves that the Christian answers to those questions are the truthful ones. If you want to conform your own worldview to Christ's, and help others do the same, A Blueprint for Thinking is for you.
Outline
How Does Truth Command Me?: Wed. Nov. 16th, 2022.
Volunteer Opportunities
Everyone has something that God has equipped them to serve with. Our ability to serve one another and welcome guests to our ministry, depends on people willing to use their gifts and talents in the service of others. Please click the picture above or link below, and help make Safe Haven a place that truly ministers to the needs of our people and reaches out with Christ's love for others!
Right Now Media Great Series of the Week
10 Sessions
Avg Session - 8 Min
"It is the best treatment of the person and work of the enemy I have ever read." - R.C. Sproul, from the foreword to God's Devil.
Many Christians are oblivious to the devil and his schemes. Others look for him everywhere. All need to hear what God's Devil has to say: that the devil roams, but on God's leash.
Pastor and scholar Erwin W. Lutzer elaborates on the message of his book in 10 engaging lessons that will: - Teach you about Satan and his role in God's plan for the world
Give you confidence in God's eternal victory over Satan
Equip you to withstand Satan's schemes
Perfect for individual or group viewing, these lessons will comfort and strengthen you in your Christian walk as you learn of God's sovereign power over Satan.
Intended to be used with the God's Devil Study Guide.
Our Daily Bread
The September-November 2022 Our Daily Bread small print devotionals are now available for pick up.
Large print devotionals are on hand for October-December 2022.
Stop by Safe Haven anytime during the day (Monday to Friday) to get a copy, or pick one up when you come for worship on Sunday.
Safe Haven App & Digital Community
Safe Haven has a digital app and community called "Faithlife". On it you will find our directory, a calendar of events, a link for giving, sermons, announcements, bulletins, Faithlife TV, the ESV Bible, our COVID-19 Waiver form for services, and the ability to communicate between congregation members for prayer requests and keeping in touch. Just with Faithlife TV, it has free original documentaries, live streams, mobile education instruction, kids programming, Bible study tools, biography presentations, presentations on Christian living, dramas, group studies, information on health and wellness, historical presentations, information on marriage and parenting, movies, music, Our Daily Bread, programs on science and creation, sports, teens, travel and so much more.
On Faithlife you can have video chats like Zoom etc. and the good news is it doesn't have the cost or limitations of Zoom or other platforms. Also, by not using a secular platform we have less to worry about getting cancelled for being Christian. To use this feature, look on the left side of Faithlife platform and go to Group Chat. Then on the bottom right is a button that looks like a video camera. They can click on that and that creates a link that they can send to whoever they want to video chat with. https://support.faithlife.com/hc/en-us/articles/360040848532
Join for free by clicking here. You can also download the Faithlife App and have access to everything through the app. If you have any problems, contact us so we can help you get started.
We are a people who seek to honour the Lord Jesus Christ and share His great love.
Our address is: 82 Church St S, Ajax, ON L1S 6B3, Canada