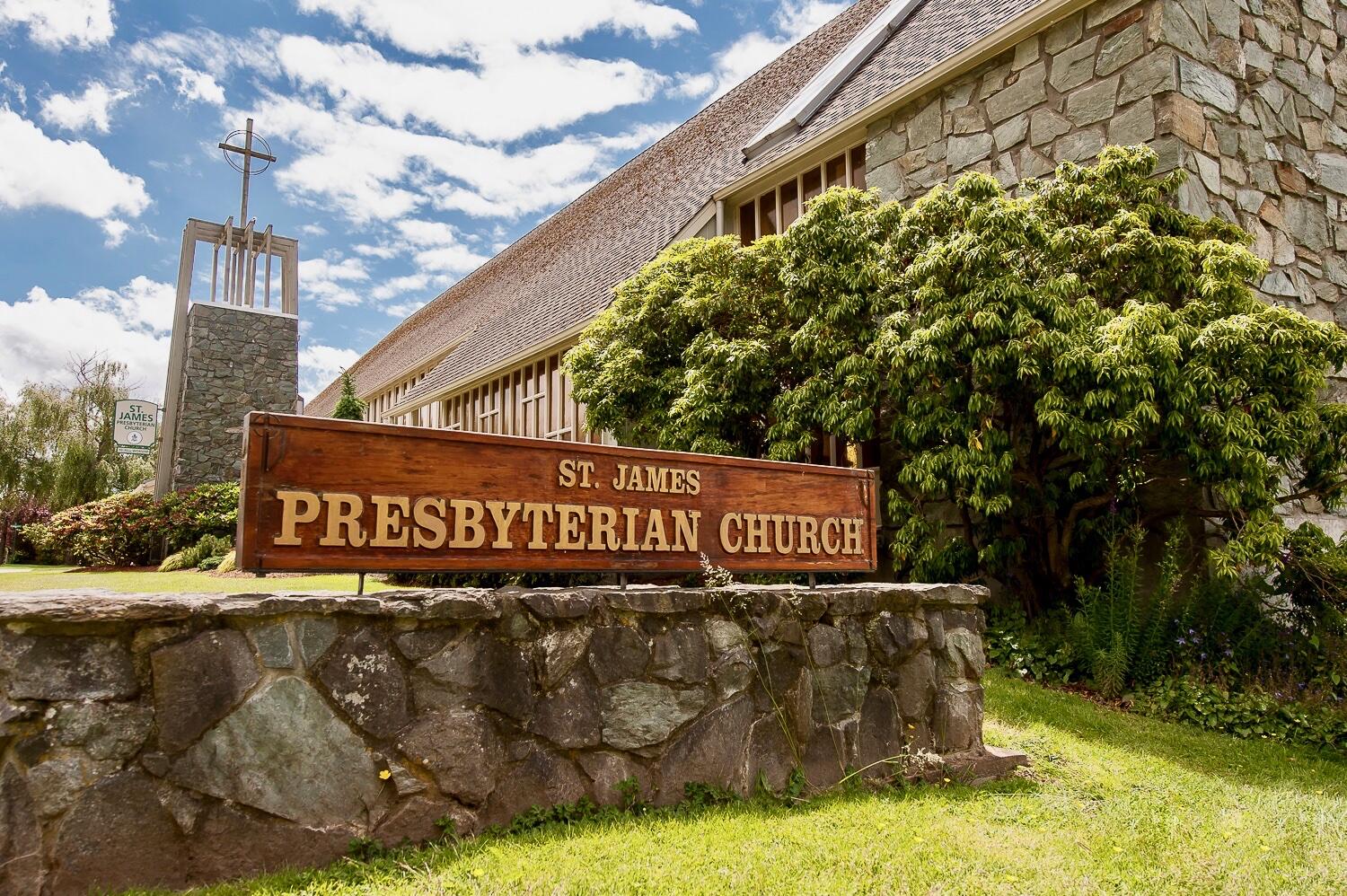 Sunday, October 24, 2021
St. James Presbyterian Church
Order of Service
PRELUDE Luke Arnold
WELCOME AND ANNOUNCEMENTS Sarah Condreay
*CALL TO WORSHIP Sarah Condreay, Lector
Come, you who are weary.
Lay down your burdens, for God can carry them.
Come, you who are joyful.
Join in God's praise with the choir of the saints.
Come, you who are doubting.
Behold the one who brings sight to the blind.
*HYMN OF PRAISE "What a Friend We Have in Jesus" – GTG #465
CALL TO CONFESSION
PRAYER OF CONFESSION
Jesus, Son of David, have mercy on us.
Heal us of our blindness, O Lord,
for it is a blindness we have chosen.
We close our eyes when faced with suffering of the world,
turn our gaze away from the needs of our neighbors,
and blur our faces in the mirror,
lest we recognize your image.
Jesus, Son of David, have mercy on us.
Heal us of our blindness,
and open our eyes to the beauty of your grace.
ASSURANCE OF GOD'S GRACE
STEWARDSHIP HIGHLIGHT – INTERFAITH COALITION & MISSIONS
*THE PEACE
The peace of our Lord Jesus Christ be with you all.
And also with you.
WE LISTEN FOR GOD'S WORD
PRAYER OF ILLUMINATION
SERMON "Christ Welcomes All" Rev. Deanna Wildermuth
*HYMN OF RESPONSE "Open the Eyes of My Heart" – GTG #452
WE RESPOND TO GOD'S INVITATION TO DISCIPLESHIP
JOYS & CONCERNS
PRAYERS OF INTERCESSION
THE LORD'S PRAYER
Our Father, who art in heaven, hallowed be thy name, thy kingdom come, thy will be done, on earth as it is in heaven. Give us this day our daily bread; and forgive us our debts, as we forgive our debtors; and lead us not into temptation, but deliver us from evil. For thine is the kingdom, and the power, and the glory, forever. Amen.
INVITATION TO THE OFFERING
OFFERTORY
*DOXOLOGY "For the Life That You Have Given" – GTG #717
For the life that you have given, for the love in Christ made known, With these fruits of time and labor, with these gifts that are your own; Here we offer, Lord, our praises; heart and mind and strength we bring; Give us grace to love and serve you,
Living what we pray and sing.
*PRAYER OF DEDICATION
*HYMN OF COMMITMENT "Be Thou My Vision" – GTG #450
WE GO INTO THE WORLD AS GOD'S AMBASSADORS
*BLESSING & CHARGE
POSTLUDE
Announcements
GODLY PLAY: The 10 Best Ways
In this story we continue to witness God's elusive presence with God's People on 3 occasions at Mt. Sinai: First in the burning bush when God revealed to Moses the name of God. Second, when God gave the Ten Commandments to the people through Moses. Third, when, after breaking the tablet in anger, Moses climbed up to Sinai to receive the Ten Commandments a second time.
The Godly Play room will open at 10:15am for songs and memory verse time, with the lesson starting at 10:35am. Students will be brought back to the service for the last hymn.
LECTIONARY TEXTS
For anyone wishing to study the lectionary texts, this week,
October 24th, the Lectionary texts are:
Psalm 126 (worship)
Hebrews 7:23-28 (preaching)
Psalm 34:1-8
Job 42:1-6, 10-17
Jeremiah 31:7-9
Mark 10:46-52
BOOK DISCUSSION Join us Sunday mornings beginning on September 26th at 9:00 am on Zoom for a book discussion led by Jennie McLaurin on her new book Designed to Heal. Let Seth or Tracy know if you need a copy of the book.
ST. JAMES BOOK CLUB is currently reading "Unsheltered" by Barbara Kingsolver. "Unsheltered" is the compulsively readable story of two families, in two centuries, who live at the corner of Sixth and Plum in Vineland, New Jersey, navigating what seems to be the end of the world as they know it. With history as their tantalizing canvas, these characters paint a startlingly relevant portrait of life in precarious times when the foundations of the past have failed to prepare us for the future.
We will be meeting Monday, November 15th at 7:00pm.
Email tracy@saintjamespres.org for the Zoom link.
Books are available in the church office.
AMAZON SMILE If you shop on Amazon, you can now designate cash back to support St. James! AmazonSmile gives 0.5% of purchases back to nonprofit organizations. Choose St. James as your nonprofit here: smile.amazon.com/ch/91-0637872. Then shop at smile.amazon.com any time. You'll get all the same prices and Prime benefits as Amazon and donate to St. James at the same time!
PASTOR SETH AWAY Next week, Pastor Seth will be away for an intensive retreat with his Doctor of Ministry cohort. Please welcome Interfaith Coalition Executive Director, Deanna Wildermuth, who will be preaching and sharing about our important relationship with Interfaith, on 10/24 as a part of our highlights for the 2022 Stewardship Campaign. If you have a pastoral emergency, please contact your church deacon or the office (360-733-1325). Pastor's Doug Bunnell, Kerrie Bauer, and Greg Ellis are all available for support while Seth is away.
Zoom Stream Info
A video of the live service stream will be available by 10:30 am Sunday morning. You can click on the video to stream the service. Check back and refresh your page to receive new content.
Let us get to know you!
Please take a moment to send us your information so that we may stay connected with you. Your information is carefully managed and protected.
How did you hear about us?