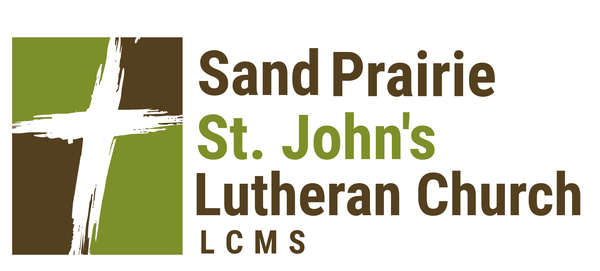 Church News
Milestone Ministry, Celebration Sunday, Weekly News and Links
BIBLE PRESENTATION: The 6th graders, Max Bond, Luke Kilgus, Raegan Norman, Carter Richards, Eliya Sansom, and Audrie Walker, will be presented with a Faith Alive Bible tomorrow. This Bible will be used during their 3 confirmation years. This is a Milestone Ministry sponsored by Parish Education. We ask members of our Sand Prairie family to pray for all our confirmands.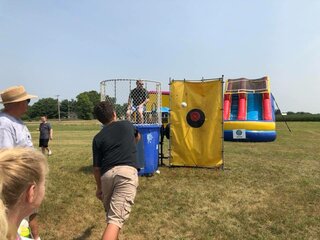 Celebration Sunday: On Sunday August 29th we will all be rallying together in a moment of celebration. Many things will be starting back up on Sunday, September 5th, including Sunday School and Bible Class. It will also be our last Sunday Drive in Service that day (It is moving to Wednesday nights at 5:30pm) and let us welcome back so many things that we have missed this past year. Here are some highlights of the day:
Lunch to be served outside after second service.
Bouncy Houses and other activities for kids (yes a dunk tank, too, as long as Pastor Chris doesn't find a way to get out of it. :) ) See picture above.
New Member Reception during services
Installation of Sunday School Teachers during services
Stay tuned for more updates.
WANTED: for our "Celebration" Sunday, planned for Sunday, August 29: Tractors, motorcycles, bicycles, cars, trucks, etc. (classic or antique) Since this is also our fall Rally day, there will many children present who will enjoy them. Please contact Kevin Bresnahan (309)369-0655, if you can help, or if you have any questions.
Below are the weekly links for worship service details, livestreams, and Bible Studies.

A Perfect Time To Sign Up
We recently started the second half of the Gospel of Mark, it is a great time to join and get involved. Click the link below and scroll down to join.
Do you want to catch up? Or maybe you just want to see previous videos. Click the link to see access all the past videos.
CID: Get to know what is going on in your district
In this section I will be posting links to documents being put out by the Central Illinois District of the LCMS (CID).
Camp CILCA News:
The Dudes' Target Shooting Retreat is back at Camp CILCA on Saturday, August 28 from 9am-4pm. All men are welcome, and all minors accompanied by an adult are welcome. Bring your own firearm and ammunition for a day of shooting, devotion, and Bible study. A range officer will be on duty to ensure safety. Cost is $15 per person and includes lunch.
The Camp CILCA Chicken Fry and Auction will be held Sunday, September 5. Dinner is served from 11:30-2:30. Cost is $8 for adults and $5 for children ages 4-12 The live auction begins at 1pm with a wide variety of items, including gift baskets, weeks of summer camp, a guided youth hunt, and more. Check out all the items at cilca.org/auction-items.
Trinity Lutheran Church of Pekin is seeking a director of Music:
Trinity Lutheran Church of Pekin, IL is seeking a Director of Music. The Director of Music leads, directs and oversees the choir. The choir practices weekly except in the summer and sings in service approximately twice a month (once at early service and once at late), with particular preference given to Feasts and Festivals. The choir serves to lead and enhance the congregation's liturgical music, assist the congregation in learning new hymns and liturgies, as well as sing anthems and other suitable music during the service. The Director will, in collaboration with the Pastor, set the choir schedule, select and procure music appropriate for the liturgical season, lead choir rehearsals, and direct the choir during services. The ideal candidate will have a love of sacred music, both old and new, and be able to teach and extract the best musicianship out of those under their direction. This is a part-time, paid position. Please send a brief letter of interest or resume to tlcpekin@grics.net or contact the church office at 309-346-1391.
News You Can Use-New
Lutheran Older Adult Retreat October 20th - 21st Brochure
CID-CEF Growth Bond Program Ending Letter
Camp CILCA Lowdown-May Edition
CID GatePost-July Edition
A Church That Cares
Our address is: 13443 Townline Road, Green Valley, IL, 61534