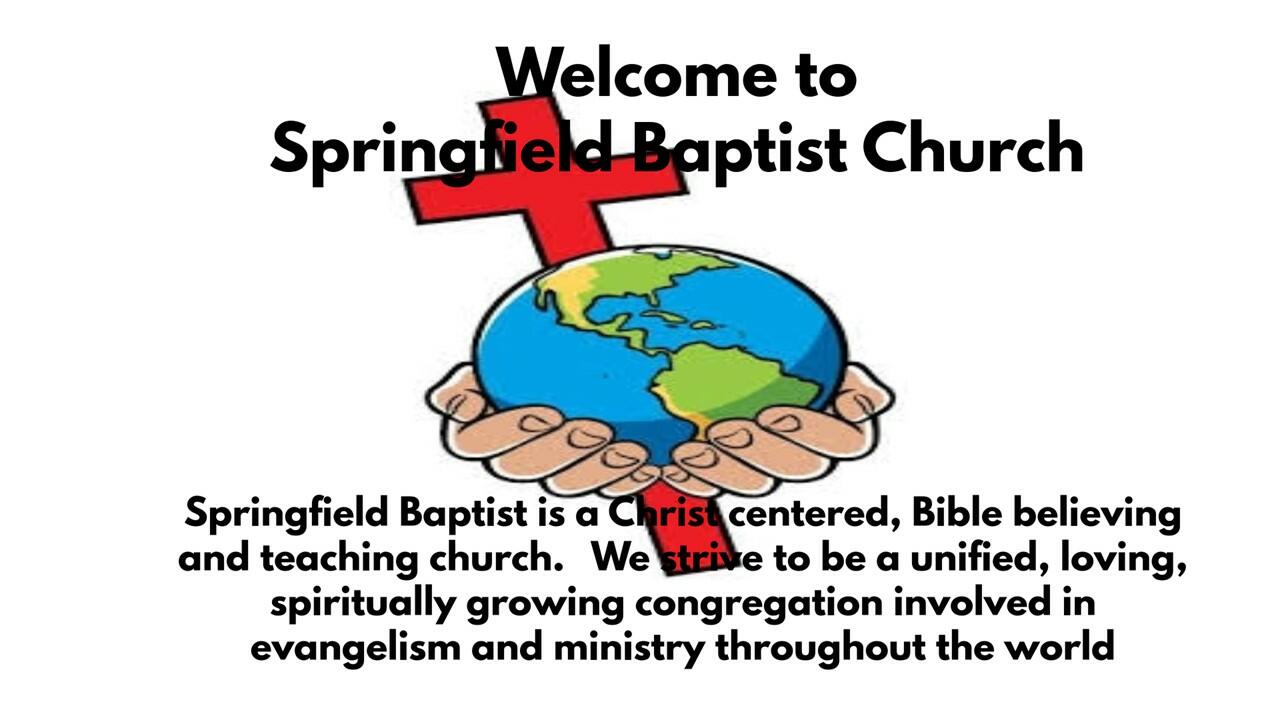 Springfield Baptist Church
August 31st, 2022
THIS WEEK AT SBC (July 31-August 6)
TODAY 9:00 am Adult Sunday School
10:00 am Worship Service
Monday: 9:00 am Vacation Bible School Starts
Saturday: 10:00 am Praise Team Rehearsal
Announcements
Important Information about Vacation Bible School
• Program runs from Monday, August 1 to Friday, August 5
• Check-in starts at 8:45 am everyday
• Program starts at 9:00 am and ends at 12:00 pm.
• Come to the Sanctuary front doors for check-in/pick-up
• A written authorization must be provided if other than parent will pick up the child/ren.
• A photo identification i.e. driver's license is needed when picking up the child/ren.
• There will be a closing program on the last day on August 5 for the whole family (More information to follow)
ORDER OF WORSHIP July 31st, 2022
PRELUDE: This Is Amazing Grace
WELCOME & ANNOUNCEMENTS
OPENING PRAYER: Deacon Bob Kern
ACKNOWLEDGING OUR GIFTS & OFFERINGS
(Children are dismissed at this time for Children's Church)
MUSIC: Living Hope
Hallelujah, What A Savior
SCRIPTURE: Psalm 143
PRAYER
SERMON
CLOSING SONG: I Know Whom I Have Believed
DISMISS
POSTLUDE: My Faith Has Found A Resting Place
CCLI# 981276 – rights purchased to reproduce music
PRAYER REQUESTS
FAMILY OF GOD
Cheryl Diadderio
Carol Slaton
Dee Dee Jackson
Nicole Seeley
Rossana Hauslein
Betty Clark
Milly Wilson
Charlie McDougal (John Dunn's friend)
LONG - TERM NEEDS
Wanda Guinn
Marilee Kolynych
Mary Toney
Les Valinski
Kelly Kennedy
Mona McNamee
MILITARY
Joey Coventree
Tory Seeley
COLLEGE & UNIVERSITY
Lindsay Villarson
Kyle Kolynych
Eduardo Diazgranados
Jen Brown
GRIEVING FAMILIES
Seeley Family
Sheely Family
McNamee Family
Clark Family
Let us get to know you!
Please take a moment to send us your information so that we may stay connected with you. Your information is carefully managed and protected.
How did you hear about us?