SCFC Weekly Connection
4.28.2022
THIS SUNDAY
When things don't go as planned, DON'T BLAME GOD (OR ANYBODY ELSE). Don't look for someone to criticize. Don't resort to accusation and condemnation, because it's a complete waste of time. Instead BELIEVE GOD WILL and then move forward by faith.
Join us in person this Sunday at 10:30am or on our livestream by clicking here.
LAST WEEK'S MESSAGE
What do we do when the answer we are seeking from God doesn't come right away?
What happens when we get a different answer than the one we expected to get?
What happens when we pray and things get worse instead of better?
What happens when deliverance is delayed?
Learn how to get past the disappointment by exploring some Biblical life patterns and spiritual disciplines that will prepare you for times like this when they come in your life and to help you know how to better navigate encouraging conversations in your relationships with others.
MOTHER'S DAY, MAY 8TH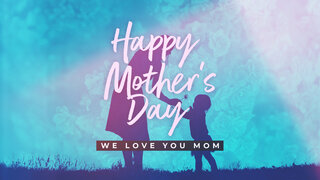 This year on Mother's Day (May 8th), Lisa Garon will bring us a message of love and hope highlighting a key mother in the Bible.
(spoiler alert-- it's not Mary)
Mothers: We will have a nice plant/flower for you to take home after our Mother's Day service.
PRAY WITHOUT CEASING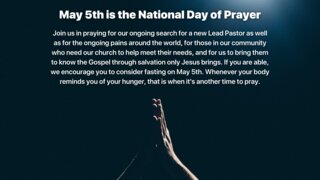 Please pray for Pat Weber who is in Meridian Park Hospital with stroke like symptoms.
Please pray for our Community Movie Night on May 6th. (See details below)
Please pray for Frances Barnum's family. Frances passed away peacefully in her sleep Saturday night.
Please continue to pray for Rob Whitaker's cousins, Justin and Katie and their baby boy Job.
Please continue to pray for Rachel Vanden Hoek.
Please continue to pray for Verne and Ellen Martin's health.
Please continue praying for Ukraine 🇺🇦
Join us in praying for our ongoing search for a new Lead Pastor as well as for the ongoing pains around the world, for those in our community who need our church to help meet their needs, and for us to bring them to know the Gospel through salvation only Jesus brings. If you are able, we encourage you to consider fasting on May 5th. Whenever your body reminds you of your hunger, that is when it's another time to pray.
LUKE 10 UPDATE
Northwest Yearly Meeting has a vision to help Evangelical Friends Mission (EFM) launch at least one new mission field in the next five years. To help us discern where God may want us to go, we are sending out three "Luke 10 Exploration Teams" in May/June to three different parts of the world: Ecuador (to the Shuar people), Greece (to Islamic refugees), and Eastern Europe.
Please pray with us for the Lord's guidance! Would you consider helping support these trips financially? We invite you to take a few minutes to watch the video on the EFM website to find out more about the Five Year Goal.
COMMUNITY MOVIE NIGHT
NEXT FRIDAY, May 6th join us for a night of food and fun with a free taco dinner, popcorn & other movie snacks, and a showing of Disney's Encanto. Doors open at 5:30pm and we'd love to see you. Invite and bring someone to experience community together with you!
Hope to see you, and bring your family, bring your friends, Friday, May 6th for our community movie night! (Doors open at 5:30pm)
UPCOMING EVENTS
Download
We invite you to invite your friends to a night of food, fun, and family at our Community Movie night for Disney's Encanto on Friday, May 6th at 5:30pm.
This is open to the public and we'd love to see lots of families from our Sherwood community come. That's our goal and we need you to help us spread the word so this happens.
We're having a Mexican themed 🌮 taco dinner, but of course we'll also have popcorn, candy, soda, and other movie snacks for everyone to enjoy.🍿🍫
Hope to see you, and bring your family, bring your friends, Friday, May 6th for our community movie night! (Doors open at 5:30pm)
Friday, May 6th  •  5:30–8:00 pm
Download
When: 6:30pm – 8:30pm on the second Tuesday of each month, September through May Where: Fellowship Hall on the left side of the building, top floor About: This is a safe place for moms of preschoolers or school-age children to be loved on by other moms, grow deeper in their relationship with Christ, and have a safe space to be in community.
Tuesday, May 10th  •  6:30–8:30 pm
BIRTHDAYS & ANNIVERSARIES
April 28-May 5
Ryan Zettlemoyer (28)
Julie Kutter (29)
Ken Thornburg (1)
Jane Cunningham (4)
HELPFUL LINKS
Serve
As followers of Jesus, we want to do what Jesus did. This means we are to actively demonstrate self-sacrificial love by serving the people around us and setting aside our own personal desires or preferences. It takes a lot of volunteers to sustain our weekly routines at Sherwood Community Friends Church. As a family, we ask everyone to please all pitch in.


Give
We are partners with Jesus to serve our Sherwood community and want to be a church marked by radical generosity for God's Kingdom work. Ten percent of every dollar that comes in to SCFC goes directly to supporting Northwest Yearly Meeting to come alongside what they do both locally and globally. Help us help more people find and follow Jesus.

QUESTIONS?
Contact us at office@sherwoodfriends.church with questions.
Stay connected with everything going on with our church community by following us on social media.
Our address is: 23264 SW Main St, Sherwood, OR 97140, USA