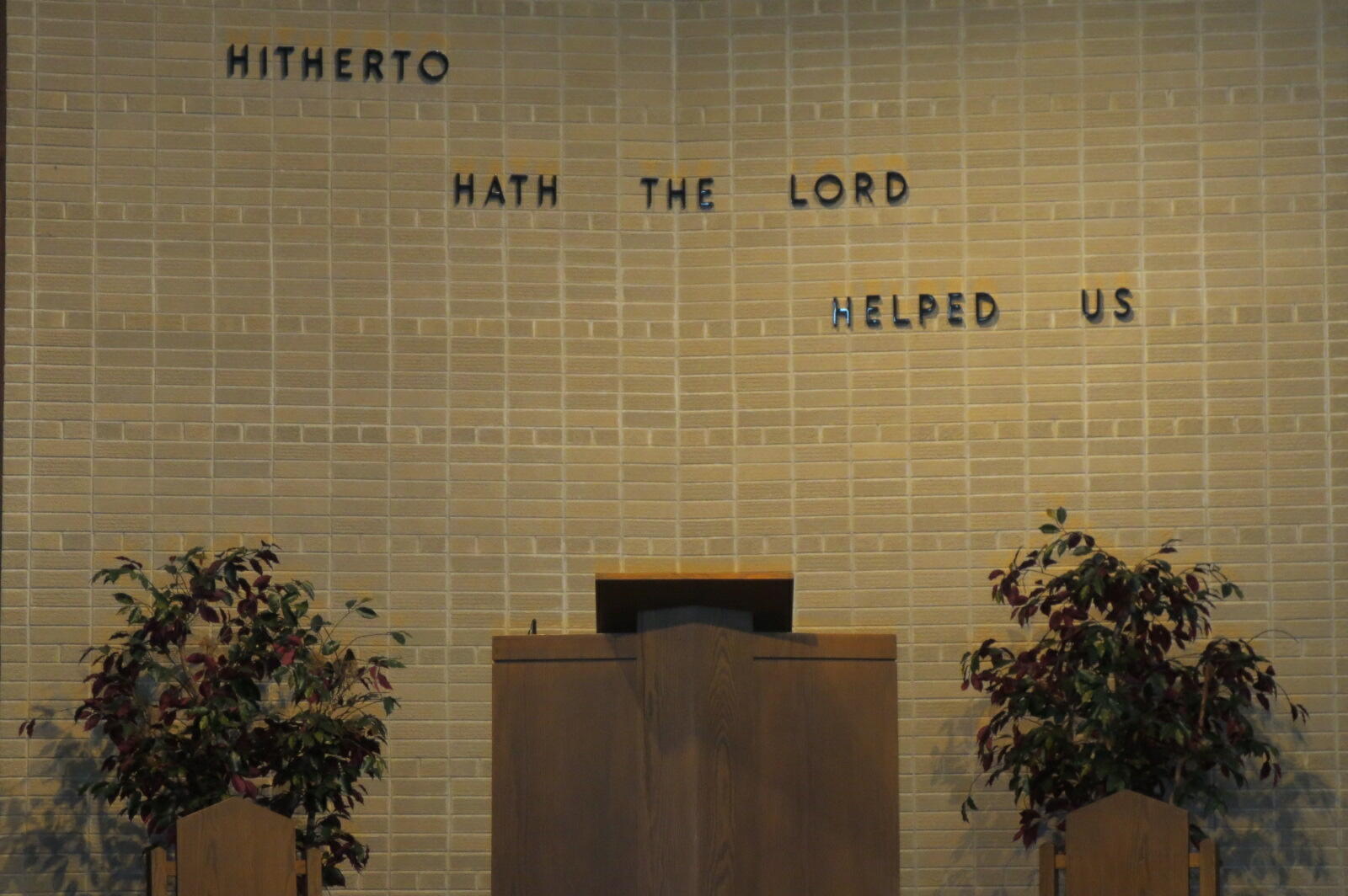 October 17, 2021
Salem Ebenezer Reformed Church RCUS (Manitowoc, WI)
Sermon: "Our Communion Confession"
Order of Service
Prelude
Welcome and Announcements
Call to Worship
*Hymn 83 We Praise Thee, O God, Our Redeemer
*Salutation and Invocation
Choir "Amazing Grace"
We Confess our Christian Faith
Heidelberg Catechism #108-109
*The Law of God
Congregational Prayer
*Hymn 418 We Have Not Known Thee as We Ought
Scripture Reading: Proverbs 27:1-12
Text: Hebrews 10:19-25
Sermon "Our Communion Confession"
Prayer (concluded with Lord's Prayer in unison)
Hymn 587 Like a River Glorious
(Tithes & Offerings Collected)
Sacrament of the Lord's Supper
*Benediction
*Doxology
Announcements
Pray for the Consistory and Spiritual Council meetings this week. May God grant them wisdom and courage to shepherd us in the Lord's ways.
Pray for Janet Waack as she continues to recover while in the hospital. May God grant her healing and also strengthened faith as she faces this time of suffering.
We celebrate the Lord's Supper during worship today. VISITORS: Please see the insert and put the completed statement of your faith in the offering plate if you would like to join us today. We encourage ALL guests and members to review the basics of the Lord's Supper explained on the insert.
MISSION FEST is NEXT WEEK! We will be blessed to invite to our pulpit Mr. David Voytek a RCUS seminary student with foreign missionary experience. In addition to the morning and afternoon services, we will celebrate with a fellowship meal.
Operation Christmas Child: brochures and boxes are available for those wishing to use this way to spread cheer and the Christian message of hope to needy children around the world this year.
We still need an outdoor winter custodian. PLEASE talk to a Consistory member ASAP for information about how you can help the church with this needed service and receive a modest compensation for your labors.
Help Manitowoc become a culture of LIFE! Come pray for as long and as often as you are able. 40 Days for Life began Wed. Sept. 22 and continues through Sun. Oct. 31. The vigil hours during the seventh Fall campaign in Manitowoc are 7am - 7pm on Calumet Ave. & 30th St., Manitowoc sidewalks near the local Planned Parenthood. For more information see https://40daysforlife.com/local-campaigns/manitowoc/.
Sermon Outline
"Our Communion Confession"
Hebrews 10:19-25
Theme:
The Christian confesses that we have a communion faith.


1. Communion with Christ (verses 19-22)


2. Communion with fellow Christians (verses 23-25)
Let us get to know you!
Please take a moment to send us your information so that we may stay connected with you. Your information is carefully managed and protected.
How did you hear about us?