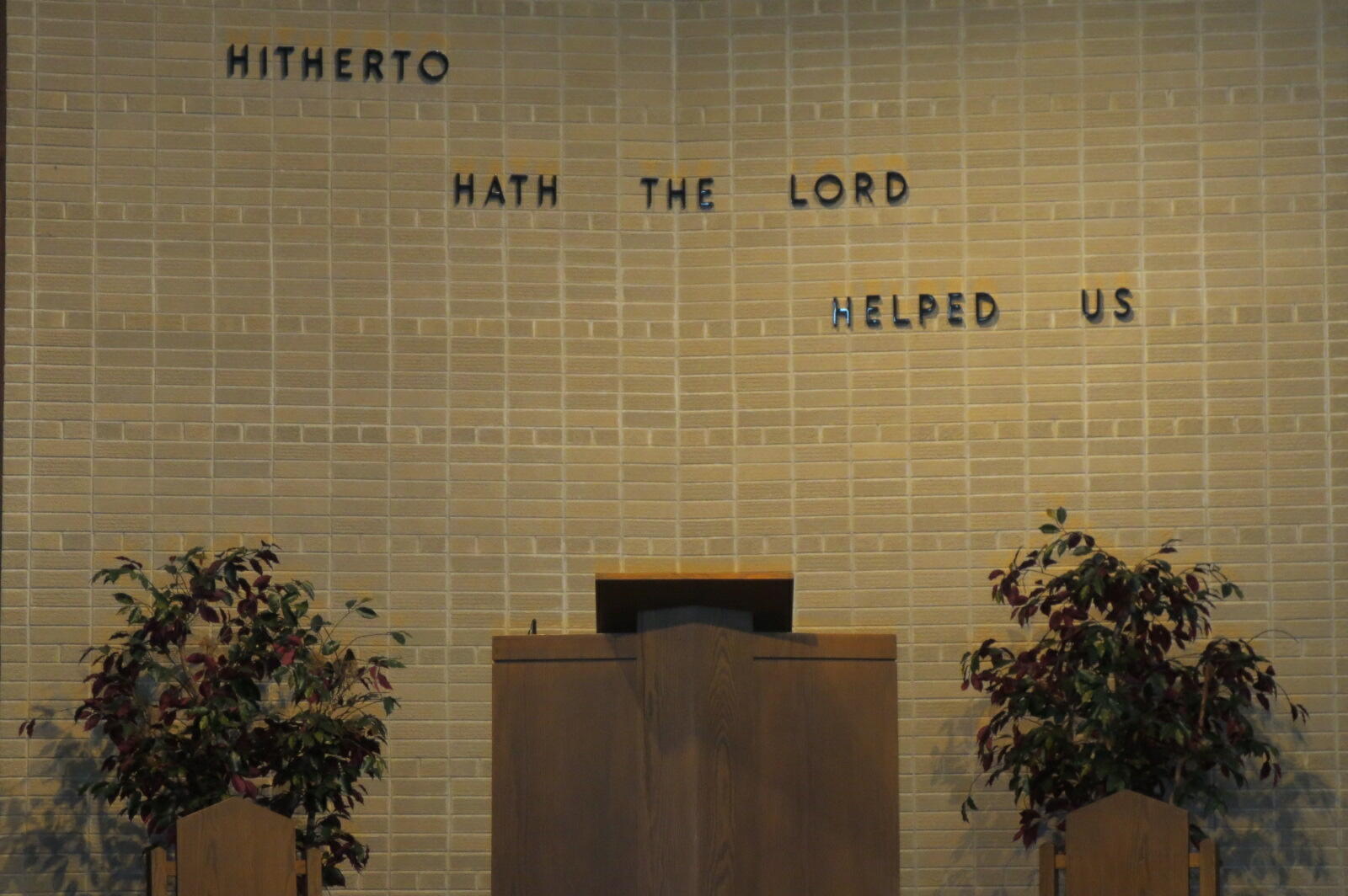 October 24, 2021
Salem Ebenezer Reformed Church RCUS (Manitowoc, WI)
Morning Sermon: "The Gospel of Christ Advances!"
Order of Service
Morning service
Prelude
Welcome and Announcements
Call to Worship
*Hymn 43 God the Lord is King Before Him
*Salutation and Invocation
Choir "Stand Up Medley"
We Confess our Christian Faith
Heidelberg Catechism #110-111
Congregational Prayer
*Hymn 386 Arise, O God, and Shine
Scripture Reading: Isaiah 55
Philippians 1:12-26 (text: verses 12-18a)
Sermon "The Gospel of Christ Advances"
Prayer (concluded with Lord's Prayer in unison)
Hymn 271 How Sweet and Awful is the Place
(Tithes & Offerings Collected)
*Closing Prayer
*Doxology
Afternoon service
Prelude
Welcome and Announcements
Call to Worship
*Hymn 27 Great is Thy Faithfulness
*Opening Prayer
We Confess our Christian Faith
Apostle's Creed
Congregational Prayer
*Hymn 135 I Greet Thee, Who My Sure Redeemer Art
Scripture Reading: Deuteronomy 30:11-20
Philippians 1:12-26 (text: verses 18b-26)
Sermon "The Joy of Life in Christ"
Prayer (concluded with Lord's Prayer in unison)
Hymn 335 Abide With Me
(Tithes & Offerings Collected)
*Closing Prayer
*Doxology
Announcements
Welcome to our annual MISSION FEST as a congregation! We are blessed to have Mr. David Voytek bringing the gospel message today. He is a RCUS seminary student with foreign missionary experience.
Praise God that Janet Waack has returned home and pray for her continued recovery.
Reformation Conference next weekend: see the bulletin board for an interesting conference next Saturday in Sheboygan, sponsored by our friends at Grace Orthodox Presbyterian Church.
Operation Christmas Child: brochures and boxes are available for those wishing to use this way to spread cheer and the Christian message of hope to needy children around the world this year.
We need an outdoor winter custodian. PLEASE talk to a Consistory member ASAP if you can help. Please see the Consistory Summary report for other news.
Help Manitowoc become a culture of LIFE! Come pray for as long and as often as you are able. 40 Days for Life began Wed. Sept. 22 and continues through Sun. Oct. 31. The vigil hours during the seventh Fall campaign in Manitowoc are 7am - 7pm on Calumet Ave. & 30th St., Manitowoc sidewalks near the local Planned Parenthood. For more information see https://40daysforlife.com/local-campaigns/manitowoc/.
Morning Sermon Outline
"The Gospel of Christ Advances!"
Philippians 1:12-18a
Theme:
In every circumstance, the gospel of Jesus Christ, the only God and Savior, advances bringing salvation and joy.


1. The gospel of Christ advances to all people (v. 12-14)


2. The gospel of Christ advances despite mixed motives (v. 15-17)
3. The advancement of the gospel of Christ gives joy (v. 18)
Afternoon Sermon: "The Joy of Life in Christ"
Afternoon Sermon Outline
"The Joy of Life in Christ"
Philippians 1:18b-26
Theme:
The Christian can live and die with joy knowing that their life is in Christ Jesus their Lord and Savior.


1. The Christian's joy in the deliverance of Christ (v. 18-21)


2. The Christian's joy in the gain of death (v. 21-23)


3. The Christian's joy in the progress of faith (v. 24-26)
Let us get to know you!
Please take a moment to send us your information so that we may stay connected with you. Your information is carefully managed and protected.
How did you hear about us?