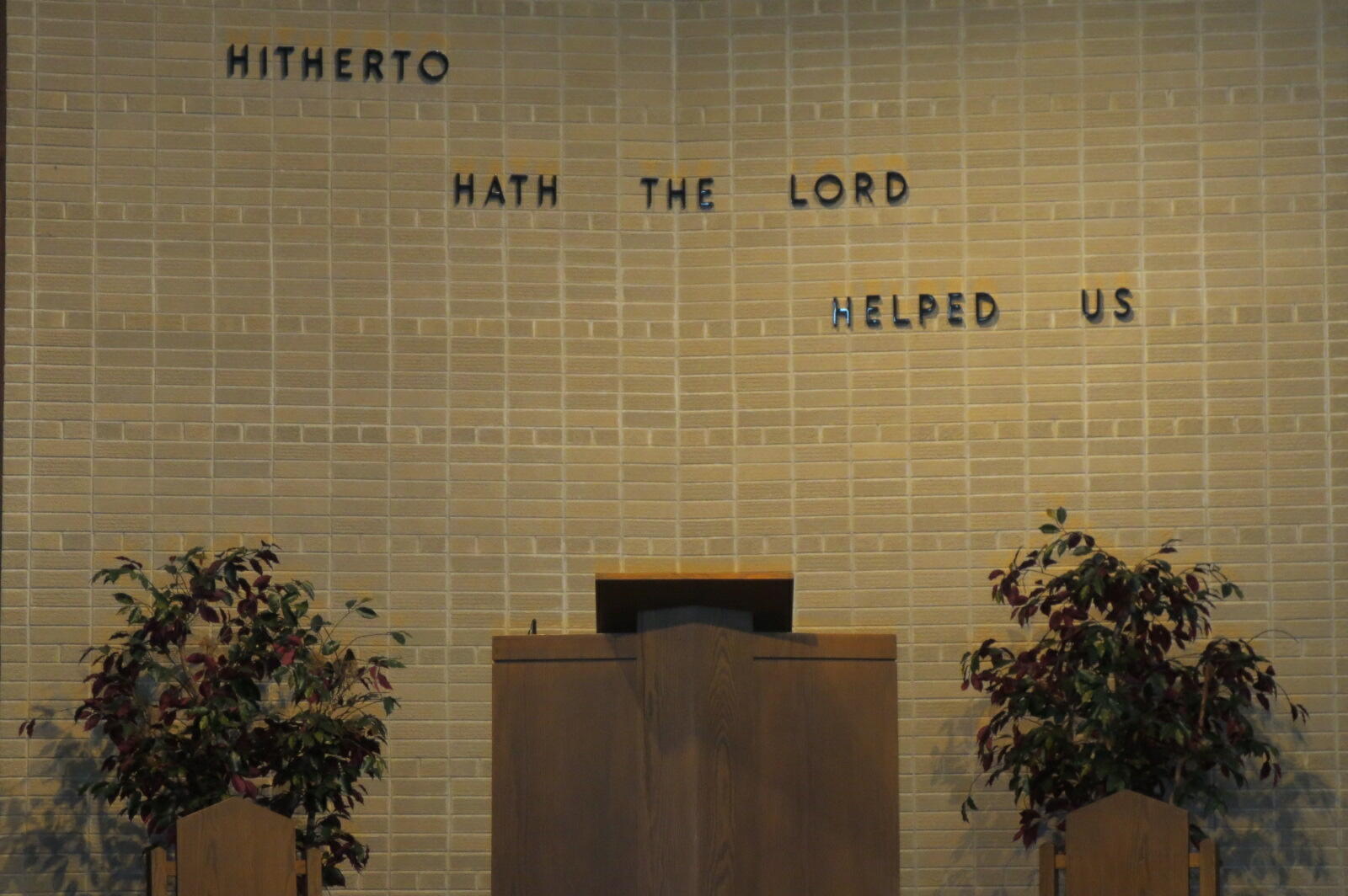 October 31, 2021
Salem Ebenezer Reformed Church RCUS (Manitowoc, WI)
Sermon: "The Humility of True Reformation"
Announcements
Happy Reformation Day! On this day in 1517 a worldwide Reformation of church and society was sparked by a faithful monk names Martin Luther who asked for a Biblical debate of his 95 Theses about practical and doctrinal matters where the church had departed from the true faith. See the handout for a summary of the themes of this movement God raised up through many of our forefathers.
Annual church cleaning day is this Friday, beginning at 8 a.m. For more information or to help at another time in the week, see Carolyn.
"Thank you for the many expressions of love which you have shown us this month. We truly feel appreciated and we also appreciate each of you." -Pastor Sorensen and family.
Ladies Evening Bible study will meet Monday, Nov. 8 at 6:00 p.m. with salad and/or pizza and Bible study to begin at 7:00 p.m. All women of the church are welcome to join. We will continue in the book titled Disciplines of a Godly Woman with discussion on Chapter 3. If you need a book, see Amy.
Operation Christmas Child: brochures and boxes are available for those wishing to use this way to spread cheer and the Christian message of hope to needy children around the world this year.
Sermon Outline
"The Humility of True Reformation"
Psalm 34
Theme:
Throughout history, the true reformation of soul and society comes through humility.
1. Humility about humanity


2. Humility before God
The 5 Solas of the Reformation
The Reformers of the 16th Century risked their lives to restore the church to the true gospel. That gospel is that salvation is according to Scripture alone, by grace alone, through faith alone, in Christ alone, for the glory of God alone.
Sola Scriptura: The Scriptures alone are the supreme authority for our faith and our life. (2 Timothy 3:16)
"Your word of life has been, and still remains among us, faithfully collected in the sacred registers of the holy Scripture … the image of your glory, the law of your kingdom, the ladder of heaven, the gate of paradise, the trumpet of salvation." - Theodore Beza (1519-1605)
Sola Gratia: Because we are dead in our sin, the motive that causes God to save us is His grace alone. (John 3:16)
"Sin is not canceled by lawful living, for no person is able to live up to the Law. … Nothing can take away sin except the grace of God." – Martin Luther (1483-1546)
Sola Fide: The only way we get right in God's eyes is through faith in Christ. (Ephesians 2:8-9)
"When justification is attributed to faith, it is attributed to the mercy of God; it is taken out of the realm of human efforts, works, and merits." – Philip Melanchthon (1497-1560)
Solus Christus: Christ Jesus is the only Person Who is our Mediator and the One Who obeyed the law for us. (Acts 4:12)
"Through Christ alone we are given salvation, blessedness, grace, pardon, and all that makes us in any way worthy in the sight of a righteous God." – Ulrich Zwingli (1484-1531)
Soli Deo Gloria: Every part of our existence, from eternal salvation to the daily Christian life, is lived for God's glory. (Romans 11:36)
"Our being should be employed for [God's] glory: for how unreasonable would it be for creatures, whom He has formed and whom He sustains, to live for any other purpose than for making His glory known?" – John Calvin (1509-1564)
Let us get to know you!
Please take a moment to send us your information so that we may stay connected with you. Your information is carefully managed and protected.
How did you hear about us?