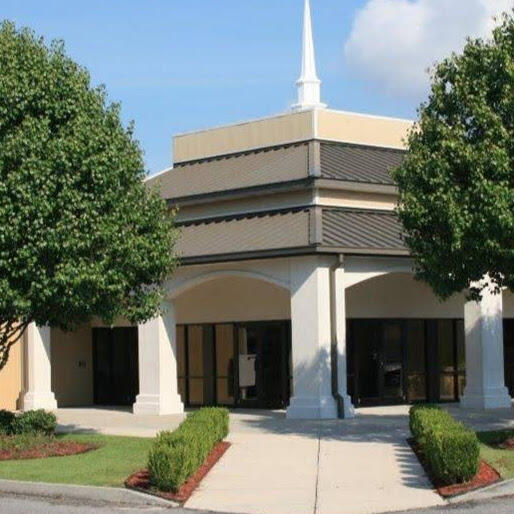 SHINING STAR NEWSLETTER
Volume 2~ Issue 6 June 2022
Vision Statement
​To be an excellent fellowship of worshippers that populate heaven with the souls of each generation; to be an impactful, transformative church that witnesses and testifies to the truth of God – The Father, The Son, and The Holy Spirit with love, integrity, and sincerity.
Our Mission
To do ministry in excellence by advancing the Gospel of Jesus in worship, Christian education, congregational care, evangelism, and community development.
Affirmation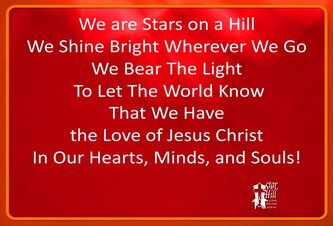 "Fathers, do not provoke your children to anger, but bring them up in the discipline and instruction of the Lord." Ephesians 6:4


From The Pastor's Desk...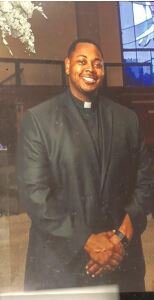 There was this story told about a fox that saw some grapes hanging high in a tree. The fox jumped to snatch the grapes, but he missed. He took several running starts, but he just couldn't reach the grapes. So, he told himself the grapes were probably sour and gave up trying to get the grapes.
I found this story interesting because I think people can behave a lot like the fox in the story. When, we can't have our way or get what we want, we bad-mouth what proved to be out of our reach. Unlike the fox, mature Christians ought know how to act when we can't get what we want. James 4:1-2
CALLING ALL FATHERS ....
At Star Hill, On Saturday, June 11, 2022, at noon, your presence is needed for the Father's Day video tribute. Come prepared to state in one word "What Fatherhood Means to Me".
For questions contact:
Sunday June 19, 2022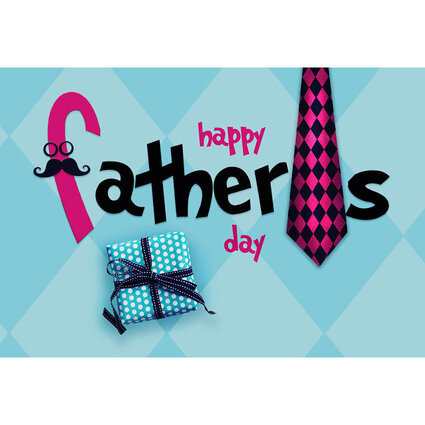 Father's Day is is a holiday of honoring fatherhood and paternal bonds, as well as the influence of fathers in society.


The role of the dad is one of the most powerful influences on a child's life. A dad has the amazing opportunity to "teach, encourage, instruct, mentor, praise, influence, guide and inspire" the next generation.
Silent, Strong Dad
He never looks for praises.
He's never one to boast.
He just goes on quietly working
For those he loves the most.
His dreams are seldom spoken.
His wants are very few,
And most of the time his worries
Will go unspoken, too.
He's there...a firm foundation
Through all our storms of life,
A sturdy hand to hold onto
In times of stress and strife.
A true friend we can turn to
When times are good or bad.
One of our greatest blessings,
The man that we call Dad.
Karen K. Boyer
Remembering Deceased Fathers
Though you are gone, your memory lives on. I thank God for the time we shared together.
Gone but not Forgotten
DEACON MINISTRY

Star Hill Baptist Church Deacon Board
welcomes our new board member
Lemanuel Turnipseed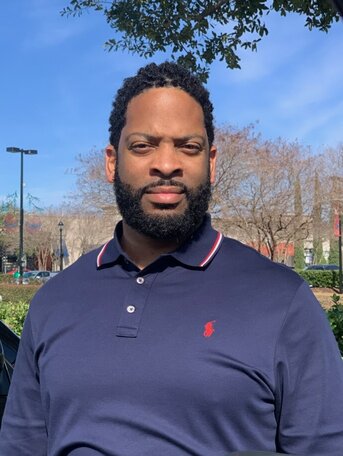 Telly Roper – President
Willie Matthews – Vice President
Clovis Williams – Secretary
Dwayne Carral – Member
Dwayne Stepter – Member
DEACONESS MINISTRY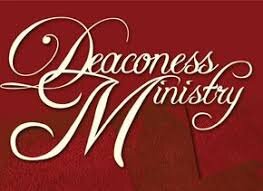 WHEN?
When will we start listening and doing what our God and Savior , Jesus Christ, has asked us to do?


LOVE ONE ANOTHER !


Do not allow hate in your hearts. LOVE will override hate if we all participate and do it! LOVE one another (John 13:34), was the request Jesus asked of us second only to loving God. He knew how much we would benefit by expressing and showing Love and caring to others.


Is it hard to do? Well, if you find it hard for you to love others, pray to God asking Him to help you to LOVE others. LOVE is a gift from God to us and we should be passing it on to others. Can you imagine how better the world could be if we obeyed God and showed LOVE to each other?


God LOVES us unconditionally. Say what? Need a reason to LOVE people you don't know? Well, first, get to know God and LOVE Him. Secondly, LOVE yourself. Once you can LOVE God and then LOVE yourself, the pathway is open to be able to LOVE others. Still need help? Pray to God for help and guidance. He wants to hear from you.


We, as children of God, should believe: the Affirmation that we say in services on Sundays, that God's Word is true, and that God is LOVE and He LOVES each one of us.


Deaconess Neoma Stepter
Believing, Trusting and Doing
Assimilation and Development (A&D)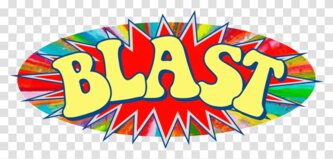 Building Lives Around Sound Truth
In pursuit of the WORD, we intend to have a BLAST in our WORSHIP SERVICE!
THE SWORD OF THE SPIRIT
"For the Word of God is alive and active. Sharper than any double edged sword, it penetrates even to dividing soul and spirit, joints and marrow; it judges the thoughts and attitudes of the heart." Hebrews 4:12
The Word of God, our Bible, is a book that is readily available and yet some of us don't truly realize its power. But, for others, we have seen the living and powerful tool work miracles in lives providing freedom and direction. It's a powerful weapon none of us should live without.
The Bible is living – not meant to sit on a shelf; it's active – moves to you, through you, and out of you into your life and the lives of others; it's powerful – sharper than any two edged sword piercing through to our soul and spirit freeing us from the things that have held us captive.
What a gift we have been given to use on our earthly journey! Take advantage of this gift by utilizing it every day. See how it transforms your life and the lives of those around you.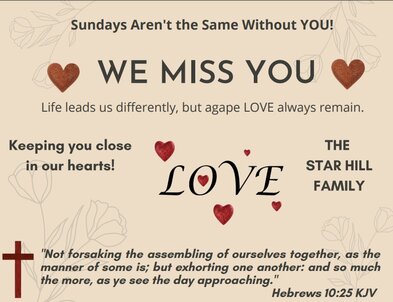 If you know of any member that is not attending worship service, please inform the A&D Ministry so we can reach out to them.
Mission Ministry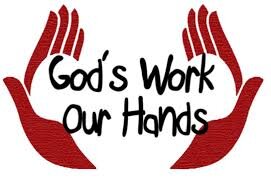 KEEP IN TOUCH WITH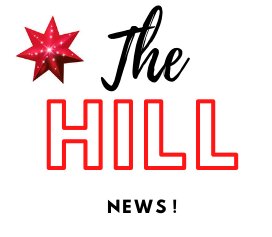 SHBC June Birthdays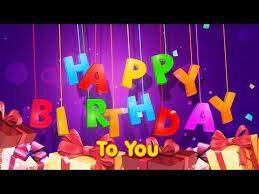 3 - Carmoleta Young Chapman
6 - Dwayne Stepter III
11 - Kelvin A. Cryer Sr.
12 - D'eja Stepter
13 - Telly M Roper
14 - Anthony Bankston
15 - Allen Stepter
15 - Dallas Stepter
19 - Clara James
22 - Shirley Williams
28 - Beverly Davis
30 - Geraldine Lundy
Janeen Hawkins


Calling all Graduates!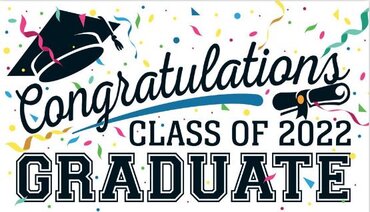 Calling all 2021-2022 High School and College Graduates!


Please submit a text with the following information: (full name, telephone number, school, picture and parent names) to Dorothy Hewlett @ 225-252-9535. Please complete by June 2, 2022.
Blight Ministry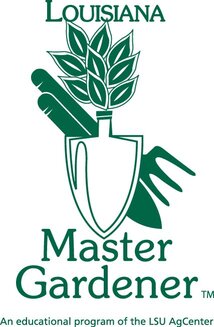 Council On Aging Annual Crawfish Boil
The Seasoned Saints of the Hill enjoyed a wonderful time together at the Council On Aging (COA) annual crawfish boil at the state fairgrounds in Prairieville. Featured are just a few of those who attended the May 5th activities. As always, we had lots of fun being together.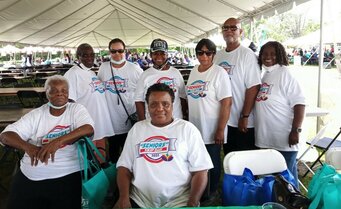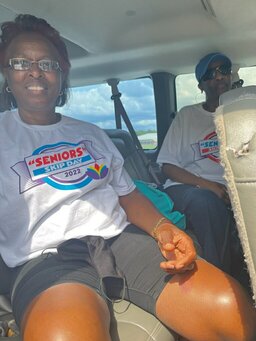 Trampoline Park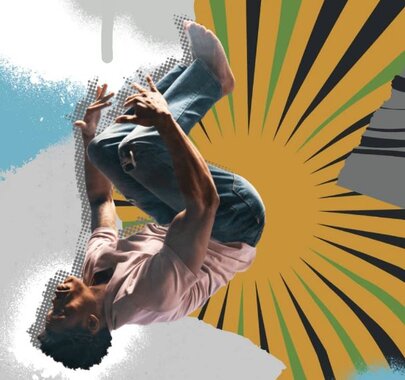 Parents if you are interested in your child/children go out for an evening of fun with the church. You can sign up in the Foyer today. The date of this event is June 22, 2022. More information to come. Sign up at the church.
Community

Food bank distribution is every 3rd Wednesday of the month. Lineup begins at 7am and distribution is from 8am to 9:30am. First come first serve. Please bring your ID and wear your mask.
Masks are Required in Worship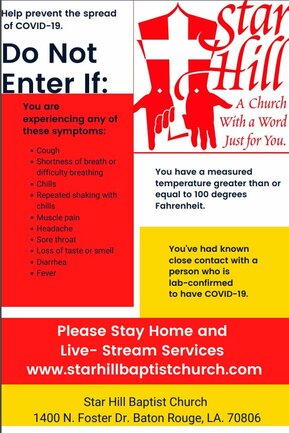 Please stay home if you are sick.
Star Hill Baptist Church with a word just for you.
Our address is: 1400 North Foster Drive, Baton Rouge, LA 70806, USA