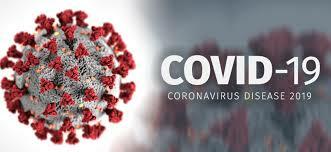 Coronavirus Update
How We're Protecting Our Members
Wednesday Night Dinner
5pm- Bible Study, NO Dinner
In the interest of protecting our members from the spread of the virus, we will forgo dinner tonight, but we WILL HAVE BIBLE STUDY and prayer at 5pm.
Likewise, on Sunday, April 5 we WILL have communion, but rather than have potluck following, we will have prayer and fasting.
What Measures Are We Taking?
In response to the concern regarding Covid-19 and our fellowship gatherings, I wanted to share the steps we are taking as a church and the reasoning behind these steps.
ABOUT THE CORONAVIRUS
According to the World Health Organization, COVID-19 (formally known as "2019 Novel Coronavirus") is a coronavirus that can cause illness which can range from something as simple as a common cold to severe diseases like SARS-CoV, or Severe Acute Respiratory Syndrome.
COVID-19, which was discovered in 2019, is a new strain for humans. This type of virus is zoonotic, meaning it is transmitted from animals to humans. SARS-CoV, which previously ran through two dozen countries, including North America in 2003, was transmitted from civet cats to humans. There are still more coronaviruses in the animal population which as of yet have not infected humans.
This is what makes the virus so challenging and dangerous, is that the human immune system has not yet developed any immunity for this virus. Those especially vulnerable are children, seniors 70+, along with those with compromised immune systems.
Signs of infection include: Respiratory symptoms, fever, cough, shortness of breath, and breathing difficulties. Severe cases can lead to pneumonia, severe respiratory syndrome, kidney failure, and even death.
Preventative measures include: Washing hands on a regular basis, avoiding touching face, close contact with others (One may be a carrier without exhibiting symptoms) and covering mouth and nose when coughing and sneezing (it is better to cough into a sleeve rather than hands).
What measures are we taking as a church right now and why?
Current Measures
We will temporarily avoid meals at church, like potluck and Wednesday Night Dinner.
Modify communion by using individually wrapped wafers and juice.
Encourage those who are more vulnerable—like seniors 70+ and those with a compromised immune system—to carefully consider avoiding contact with groups.
Avoid shaking hands and hugging.
Washing hands and utilizing hand sanitizer.
Wiping commonly touched items like door handles with a bleach and water mixture.
Staying home if sick.
Notifying church leadership if someone has been tested positive and in contact with church attendees.
Though the why seems obvious, I want to address faith and Christian responsibility.
We do not live in fear because God is in control and takes care of His own, even those who do not know Him yet. He does, however, expect us to act responsibly and take known precautions. In the old testament God gave His people instructions they needed to follow, which would help protect them from the spread of disease and illness related to poor sanitation. These included good housekeeping, like telling His people to bury their excrement outside the camp (Deuteronomy 23:12-13). He devoted an entire chapter in Leviticus to instructing them on how to deal with serious diseases like leprosy (Leviticus chapter 13). God spoke through Moses, the writer of those two books, to give His people practical instructions to keep them safe.
We can have faith that God still works through people today to give us practical instructions to help us make good decisions during times of crisis, such as we are currently facing with COVID-19. Though He could easily use supernatural means to protect us and keep us from disease, He also expects us to follow instructions, which He provides through the authorities that He establishes. Even the worldly practice the standards that God provided back in the Old Testament. God can also use the worldly to guide and protect us. Here are a couple of Scriptures to meditate on regarding those in positions of power who make decisions that effect us all:
Romans 13:1–7 (HCSB)
1Everyone must submit to the governing authorities, for there is no authority except from God, and those that exist are instituted by God. 2So then, the one who resists the authority is opposing God's command, and those who oppose it will bring judgment on themselves. 3For rulers are not a terror to good conduct, but to bad. Do you want to be unafraid of the authority? Do what is good, and you will have its approval. 4For government is God's servant for your good. But if you do wrong, be afraid, because it does not carry the sword for no reason. For government is God's servant, an avenger that brings wrath on the one who does wrong. 5Therefore, you must submit, not only because of wrath, but also because of your conscience. 6And for this reason you pay taxes, since the authorities are God's public servants, continually attending to these tasks. 7Pay your obligations to everyone: taxes to those you owe taxes, tolls to those you owe tolls, respect to those you owe respect, and honor to those you owe honor.
1 Peter 2:13–17 (NKJV)
13Therefore submit yourselves to every ordinance of man for the Lord's sake, whether to the king as supreme, 14or to governors, as to those who are sent by Him for the punishment of evildoers and for the praise of those who do good. 15For this is the will of God, that by doing good you may put to silence the ignorance of foolish men—16as free, yet not using liberty as a cloak for vice, but as bondservants of God. 17Honor all people. Love the brotherhood. Fear God. Honor the king.
*Please Note: A Christian is not to submit to anything that leads to sin. Unfortunately, submission demands humility and that is the true challenge when viewing the previous Scriptures. We are currently having governing officials making decisions which will require us to make choices. If you have not heard, the mayor of Tucson is telling restaurants and like-businesses to close. In California, residents are being mandated to stay home—except for getting essentials—with the threat of arrest if this mandate is violated.
Many larger churches are already complying with the large gathering caution and are only holding small group gatherings and are looking at live streaming options for Sunday messages. Following are the guidelines given by the White House:
15 Days to Slow the Spread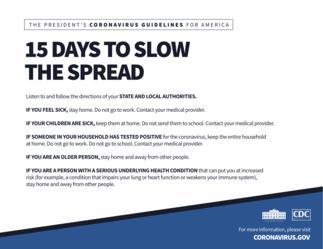 Find this article here: https://www.whitehouse.gov/wp-content/uploads/2020/03/03.16.20_coronavirus-guidance_8.5x11_315PM.pdf
Do Your Part To Slow the Spread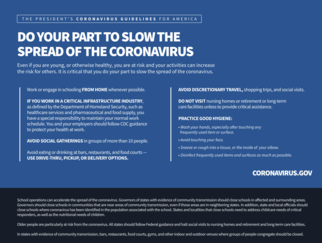 Sonoita Hills Community Church
Our address is: Elgin, AZ, USA