Sonoita Hills Community Church
March 26, 2020 • Weekly Encouragement
Benefitting From the Down Time
From Pastor Rick
I was recently speaking with a friend who has a ministry called Horses for Heroes, which keeps him extremely busy, traveling the country and hosting veterans at his ranch, ministering to them through his and his wife's program. He is also a law enforcement chaplain in Santa Fe, NM. I've been amazed at his schedule and almost inhuman pace in which he keeps caring for others. I was asking how he's doing during this pandemic and he said something which has been on my heart. He told me he and his wife cleared their schedule and he's spending time at home, seeking God. He and his wife are looking at this as a good thing rather than a bad thing, taking this time to build their prayer life with one another, catching up with people they've missed, and contacting people who are at home and lonely.
His chaplaincy work recently placed him in a home of a person who committed suicide, which created obvious turmoil within the family. It is sad to consider all that led to the person making the decision to take their own life. So many live in fear, anxiety, and depression. Fear, unfortunately, is a tool of the devil and he uses it to keep people from seeking God and to shipwreck a believer's faith. Fear is also a worldly tool used to control, suppress, and take advantage of people. Those who govern citizens utilize it quite effectively to drive their agendas, which we are seeing today.
As Believers, we do not live in fear or make decisions based upon fear: 2 Timothy 1:7 "7For God has not given us a spirit of fear, but of power and of love and of a sound mind." We know God is sovereign and in complete control and watches over us as a loving Father who watches over His children. He has a plan and a purpose for each of our lives and nothing can happen to us outside of His will. He does, however, allow us to have very unpleasant experiences, which challenge our faith and can be painful, but we can trust He will never forsake us and will always be faithful, even when we fail Him or fail our faith lessons.
Romans 8:27–28 (NKJV)
Now He who searches the hearts knows what the mind of the Spirit is, because He makes intercession for the saints according to the will of God. And we know that all things work together for good to those who love God, to those who are the called according to His purpose.
I see God working good through this pandemic, sweeping through the world in various ways. For Christians, this down time provides great opportunity to slow down our busy lives and earnestly seek Him ourselves and on behalf of others. People today have their minds on so many things, there is little room for seeking and hearing from our Lord. We operate at an incredible pace today and have constant distractions, including things like cell phones and internet, which keep our minds overly busy. We now have a kind of forced slow down time and if we choose wisely we can benefit from it by turning to God and loving Him with ALL our heart. We can seek Him by meditating on His Word with a willingness to do anything He asks and praying, speaking, and listening to Him as a friend. Jesus said in John 15:14 You are My friends if you do whatever I command you.
I would like to leave you with a couple great verses to memorize and meditate on when things get turbulent:
Psalm 46:1–3
God is our refuge and strength, A very present help in trouble. Therefore we will not fear, Even though the earth be removed, And though the mountains be carried into the midst of the sea; Though its waters roar and be troubled, Though the mountains shake with its swelling.
Jeremiah 29:11
For I know the plans I have for you," declares the Lord, "plans to prosper you and not to harm you, plans to give you hope and a future."
Meditation questions:
What does this verse say about God?
How does this apply to my life?
Ask the author about the verse: God what do you want me to understand?
What part of the verse is most meaningful to me?
What should I do in view of this verse?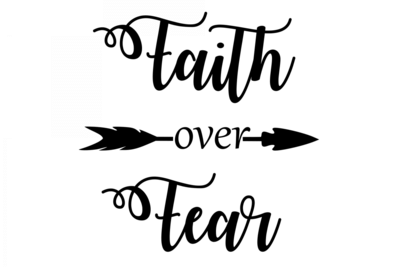 Faith in Uncertain Times
Some thoughts from Candee:
"About midnight Paul and Silas were praying and singing hymns to God, and the prisoners were listening to them."
— ‭‭Acts‬ ‭16:25‬‬ (I would encourage you to read the whole passage)
This is faith. For although they had been beaten and thrown into prison, they were weakened in their flesh and there seemed no way out, the disciples trusted God in their circumstances enough that they kept praying and praised Him and sang songs, knowing that despite what seemed like setbacks to human eyes, God was still at work in and around them. Their actions demonstrated an attitude that said "Never mind the circumstances. God is at work and we are thankful."
Whether it's this pandemic we're facing, or some other trial in our lives, we can always look for God's hand, since He says He "works all things to the greater good for those who love Him and are called according to His purpose" and also that He "knows the plans He has for you, plans to prosper you, and not to harm you, plans to give you a hope and a future." (Romans 8:28 & Jeremiah 29:11)
I pray that whatever you're facing, you'll look for God amid the storm, for it's in the storm that He reveals Himself to you. He assures us that we will "seek Him and we will find Him when we search with all our heart." (Jeremiah 29:13) Will you trust that He's there with you in the storm? He is waiting for you to find Him.

David Wilkerson (1931-2011) was the Founding Pastor of Times Square Church in New York City. His devotional letters have been a source of inspiration to Rick and Candee for many, many years. We hope you'll find his message below encouraging and uplifting. You can learn more about his ongoing ministry at the World Challenge website. His son, Gary, continues to lead his ministry.
Eyes Fixed on Jesus
David Wilkerson (1931-2011)
August 16, 2019
"Immediately Jesus made His disciples get into the boat and go before Him to the other side, while He sent the multitudes away. He went up on the mountain by Himself to pray. Now when evening came, He was alone there. But the boat was now in the middle of the sea, tossed by the waves, for the wind was contrary" (Matthew 14:24).
Following the miracle of feeding the five thousand, Jesus sent the people away and instructed the disciples to go away, also. It had been an exhausting day and the Master sought a little rest. But the disciples' boat got caught in a storm, and although they were seasoned sailors, the fierceness of the storm caused some alarm. They may have found some comfort in the fact that Jesus was nearby, but they did not expect what happened next.
"Jesus went to them, walking on the sea. And when the disciples saw Him walking on the sea, they were troubled, saying, 'It is a ghost!'" (Matthew 14:25-26). Actually, the disciples were terrified, but Peter took a bold step of faith and left the boat. One glimpse of his Savior was enough for him! "[Peter] said, 'Lord, if it is You, command me to come to You on the water'" (14:28). So, keeping his eyes firmly fixed on Jesus, Peter took that step out of the boat. He was not showing off his faith or trying to belittle anyone, he simply wanted to be nearer his Lord.
While it is true that Peter sank when he took his eyes off the Lord, he discovered a place in Christ above the stormy, raging sea. He was walking over what threatened him to get to Jesus. The faith that kept him above it all for a while could have kept him indefinitely. But he took his eyes off Christ and permitted the turmoil around him to cast down his confidence.
The story of Peter reminds us that the worse the crisis, the more diligently a Christian needs to pursue Christ. May you look into his face in the midst of your crisis and pray, "Draw me closer to you, Lord. Let everything in my life drive me to you!"
PDF version of this devotional
Sonoita Hills Community Church
Our address is: Elgin, AZ, USA