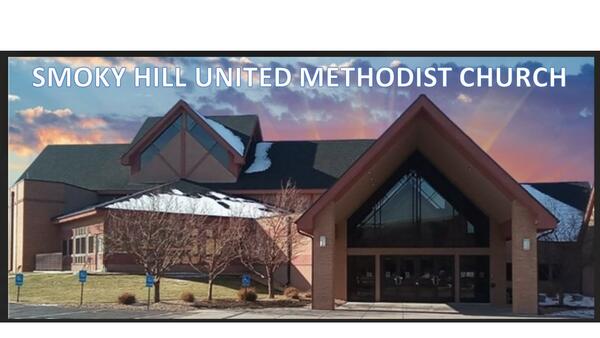 Midweek News & Ministries
August 31, 2022
Fall Worship Schedule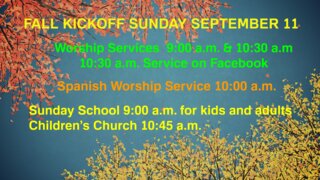 Get Ready for Kickoff Sunday!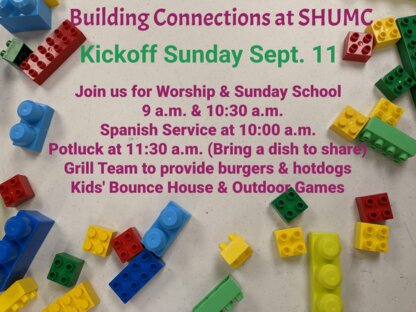 We are Rooted Together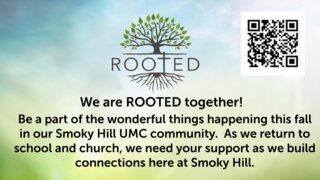 Outreach of Love - Sandwich Ministry
Sandwiches are needed this week but no cookies. Thank you for your faithful support!
Aurora Interfaith-cash donations
While we support Aurora Interfaith with our food donations, they also need money to keep their lights on and pay their staff. Once a year they hold a gala to raise funds. We have been asked to be a sponsor of the gala, so for the next few weeks we will be collecting cash donations to support them. If you would like to donate, just mark it Aurora Interfaith. Thank you for helping those in need in so many ways!
Aurora Interfaith Food Donations
The need continues to be great, and donations are down. We included a shopping list as a bulletin insert on Sunday with a few suggestions or they are always in need of cereal, crackers, refried beans, soups, chili, pasta, ready meals (hamburger or tuna helper), canned fruit and individual fruit cups, granola bars, canned meats, condiments, popcorn (microwave), toilet paper (highly needed), and small size shampoo, conditioner, chap stick, liquid and bar soaps, toothbrushes, toothpaste, floss or pics, deodorant, nail files, and paper towels.
Green Team Tip

Green Team Tip
Make your toothbrush kinder to the environment. Choose a bamboo toothbrush (earthhero.com) to avoid adding to the landfill plastic, which will never degrade. Or support a business that creates new toothbrushes (and razors) from plastic collected by coastlines and waterways to keep it from polluting the ocean. (Preserve Ocean Plastic Initiative).
COLORADO VILLAGE COLLABORATIVE
Items Needed Now:
Coffee, creamer, sugar
Cereal/Ooatmeal (individual packets)
Snacks (individual packets of nuts, dried fruit, crackers, granola bars, applesauce cups, pudding cups, etc.)
Microwaveable cups of soups, noodles, etc.
Disposable plates, bowls
Plastic cups
Feminine hygiene items
Personal wipes
Thank you for your support!
Sue Ricker
Missing Items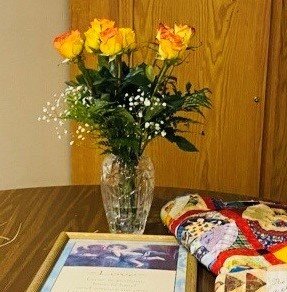 Candy Kingsbury's cut glass vase shown above at their 50th Anniversary party has gone missing. It was a gift from Marti Zimmerman. It had the yellow roses in it on the bare round table. Also John's cane is missing. It is silver with diamond shapes on the design. It had his name and phone # on it. If found, please bring to church office. Thank you!
Ribs for Labor Day!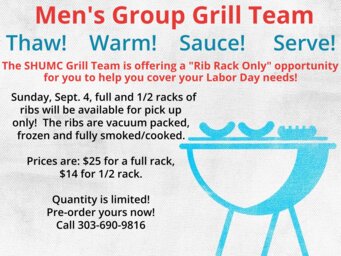 Help our Younger Disciples

Do you feel called to help guide the faith of our younger disciples? Then we need you!!!!!
We need teachers/helpers for our classes starting September 11th. This will be at the Sunday School hour at 9:00 a.m.
We need at least 1 adult (over 18) and second
person can be 6th grade and up.
Need:
2 teachers for Preschool
2 teachers for 1st & 2nd grade
1 helper for 3rd grade (Meg Pitts will lead)
1 helper for 4th & 5th grade (Susan Hora will lead)
Please help us teach this year. It is very rewarding.
Contact Crystal 303-690-9816, crystald@smokyhillumc.org
Church Clean Up Day!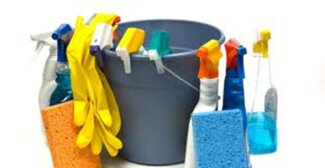 Trustees have designated Saturday, September 10 from 9 a.m. - 12 p.m. as our Church Clean Up Day. Let's get ready for our Fall Kick-Off Sunday by cleaning SHUMC inside and out! Many hands make light work - please come and help! Thank you!
Opportunities to Serve God at SHUMC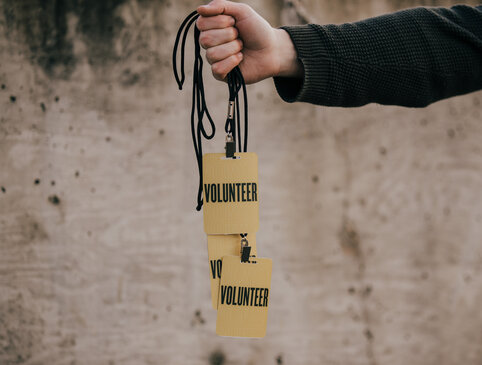 Counters are needed for Sunday mornings. Please contact Crystal Duncan if you can help, 303-690-9816, crystald@smokyhillumc.org
Funeral Reception Team
The Funeral Reception Team needs a few more people willing to provide food when a funeral reception is held at church. We generally are looking for cookies, veggie and fruit trays, and cheese and crackers or small sandwiches. Your name would be added to the list, and you would be called when there is a reception. You can always say no if the date doesn't work for you. If you would be willing to be part of our food team, please contact Sharon Davis at stdavis21@comcast.net. Thank you for being willing to walk alongside our families as they grieve the loss of a loved one.
Sunday School Teachers & Helpers are needed for Sunday mornings. Please contact Crystal Duncan if you can help, 303-690-9816, crystald@smokyhillumc.org
Support Ukraine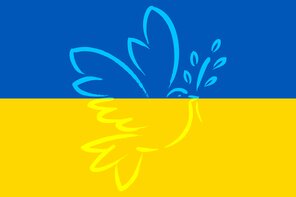 You can help the church in Ukraine provide for those in need.
Mel Mushinski, Global Ministries In Mission Together Coordinator, whose area includes Ukraine asks for continued prayers.
Click here for more information.
UMCOR will assist as possible United Methodists in Ukraine by responding to the needs of internally displaced persons through its International Disaster Response and Recovery (IDR) fund. Gifts to support the people of Ukraine can be made in the following ways:
TO HELP REFUGEES WITHIN UKRAINE: Advance # 14053A
https://umcmission.org/advance-project/14053a/
TO HELP UKRAINIANS OUTSIDE OF UKRAINE
UMCOR general giving Advance #982450
Keep SHUMC Informed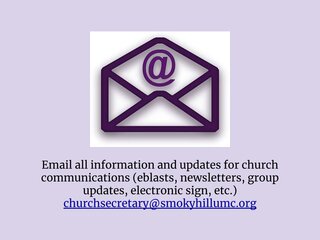 Our address is: 19491 E Smoky Hill Rd, Centennial, CO 80015, USA