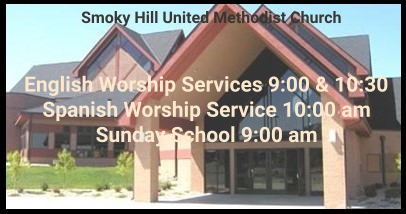 Midweek News & Ministries
September 7, 2022
Church Clean Up Day this Saturday!
Trustees have designated Saturday, September 10 from 9 a.m. - 12 p.m. as our Church Clean Up Day. Let's get ready for our Fall Kick-Off Sunday by cleaning SHUMC inside and out! Many hands make light work - please come and help! Thank you!
Fall Worship Schedule begins Sunday!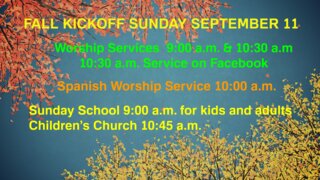 Let's Connect!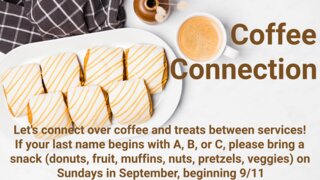 Kickoff Sunday is Almost Here!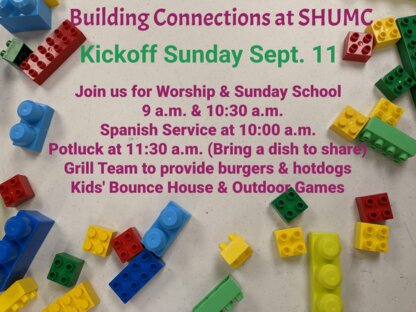 Outreach of Love - Sandwich Ministry
Sandwiches are needed this week but no cookies. Thank you for your faithful support!
Aurora Interfaith-cash donations
We would like to at least reach the lowest level of sponsorship for Aurora Interfaith which is $500. We are not there yet, but we could be if everyone gave just a little. Aurora Interfaith appreciates our food donations, but also needs cash to keep the lights on and pay their staff. Please consider giving a small cash donation (just indicate it is for Aurora Interfaith). Thank you for your support!
Aurora Interfaith Food Donations
We were not able to make a delivery this week as there were only four bags of food in the wagon. The need is great, donations are down. Please consider leaving a few items in the red wagons by the door. They are always in need of cereal, crackers, refried beans, soups, chili, pasta, ready meals (hamburger or tuna helper), canned fruit and individual fruit cups, granola bars, canned meats, condiments, popcorn (microwave), toilet paper (highly needed), and small size shampoo, conditioner, chap stick, liquid and bar soaps, toothbrushes, toothpaste, floss or pics, deodorant, nail files, and paper towels.

Colorado Feeding Kids
Our next pack is September 24th from 10-12. Please sign up with Sharon Davis at stdavis21@comcast.net.
Green Team Tip

Green Team Tip
The best way to deal with plastic packaging waste is to avoid it. For example, rather than buying individual servings of yogurt for lunches, purchase the largest size you can and at home parcel out portions into reusable containers. Consider not only dollar savings but also look for savings that help the earth.
COLORADO VILLAGE COLLABORATIVE
Items Needed Now:
Coffee, creamer, sugar
Cereal/Ooatmeal (individual packets)
Snacks (individual packets of nuts, dried fruit, crackers, granola bars, applesauce cups, pudding cups, etc.)
Microwaveable cups of soups, noodles, etc.
Disposable plates, bowls
Plastic cups
Feminine hygiene items
Personal wipes
Thank you for your support!
Sue Ricker
League of Women Voters Presentation
SOCIAL JUSTICE
On Sunday, Sept. 25, after the 10:30 service, a speaker from the League of Women Voters will present a nonpartisan explanation of the ballot issues that are scheduled to be on the ballot this November. This is always a popular event with valuable information. There will be a light lunch for those staying after the service. The ballot issues presentation will be approximately 90 minutes. Mark your calendars! Questions? Contact Sue Ricker
Serve God at SHUMC
Build connections while serving here at SHUMC!
Pick up a list of volunteer positions in the Gathering Space to see how you can use your gifts to help others.
If you can help, please fill out the form and place it in the Sunday offering plate.
Or click on the Volunteer Check-In graphic above and submit your form online.
Thank you!
Support Ukraine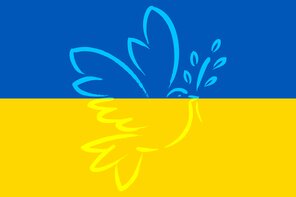 You can help the church in Ukraine provide for those in need.
Mel Mushinski, Global Ministries In Mission Together Coordinator, whose area includes Ukraine asks for continued prayers.
Click here for more information.
UMCOR will assist as possible United Methodists in Ukraine by responding to the needs of internally displaced persons through its International Disaster Response and Recovery (IDR) fund. Gifts to support the people of Ukraine can be made in the following ways:
TO HELP REFUGEES WITHIN UKRAINE: Advance # 14053A
https://umcmission.org/advance-project/14053a/
TO HELP UKRAINIANS OUTSIDE OF UKRAINE
UMCOR general giving Advance #982450
Keep SHUMC Informed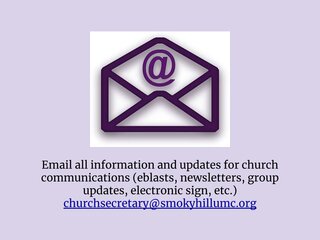 Our address is: 19491 E Smoky Hill Rd, Centennial, CO 80015, USA