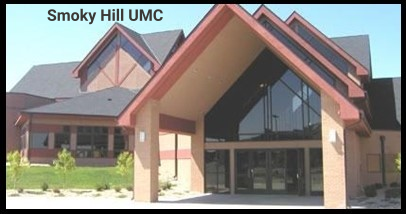 Midweek News & Ministries
October 26, 2022
Candy, Baked Goods, & Trunks!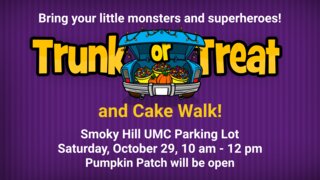 Trunk or Treat is happening at SHUMC on October 29th from 10:00 am to 12:00 pm.
Sign up to have a decorated car in the parking lot. This is a huge community event and we would love to have tons of cars!! Contact Crystal, Crystald@smokyhillumc.org or text/call 303-587-5667. Pumpkin patch will be open.
We need candy donations for Trunk or Treat!
Please bring individually wrapped candy to church.
Place them in the bucket by the front door on Sundays or
drop off Monday – Friday 9:00 a.m.- 2:00 p.m.
Thank you!
Calling all Bakers: Please help us with our Cake Walk event at Trunk or Treat by providing:
Cookies
Cakes
Cupcakes
Brownies
Pies, etc.
Please bring all baked goods to church on Friday, October 28th from 9:00 a.m. - 2:00 p.m. or drop off Saturday, October 29th. Crystal will be at the church starting at 8:00 a.m. If those time do not work, reach out to Crystal.
Thank you!
Pumpkin Patch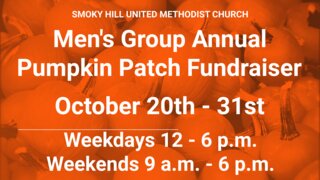 If you'd like to help sell pumpkins, please call the office to volunteer 303-690-9816.
Card Shower!

Charles Larsen is turning 93 on November 2nd! Elizabeth says he enjoys looking at cards so please consider sending a card for his birthday to: 1600 S Potomac St, Room 224, Aurora, CO 80012.
Corn Drive!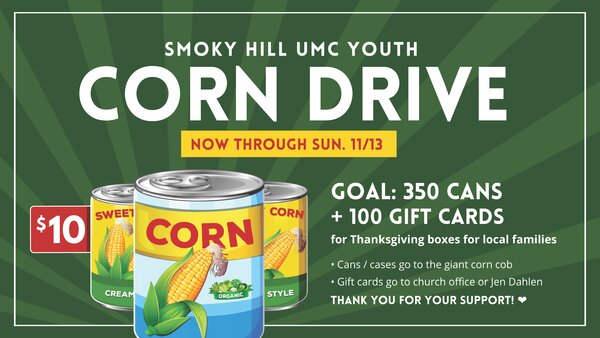 Please bring cans of corn and $10 grocery store gift cards to help make Thanksgiving boxes for local families.
Marti's Pantry
5th Sunday-Marti's Pantry
The Mission Team is starting a very small food pantry at the church that will be named Marti's Pantry in memory of Rev. Marti Zimmerman. There is a cabinet on the education wing level across from the elevator which will hold the food. We are using the 5th Sunday (October 30th) to collect food for the pantry. This pantry will be for church members and community members who may need extra help. Once it is stocked, feel free to leave items if you are able or take items if you are in need. We are collecting peanut butter, macaroni and cheese, pasta and sauce, rice, canned fruit, canned vegetables, soups, beans, and cereal. Please leave your items in the red wagons and the Mission Team will move it down to the pantry. Spread the word to those you know that the pantry will be available starting November 1st!

Colorado Feeding Kids
Thank you to our team for the October Pack. We were small in number, but mighty in production. There will be no packs in November or December. We hope to see you in January!

COLORADO VILLAGE COLLABORATIVE
Nights are getting colder and our friends at Colorado Village Collaborative are starting to feel it. Their tents are heated, but there are other things we can focus on for them. Remember. This is a "hand up" with the goal is to help them achieve self-sufficiency and an apartment instead of homelessness. Thank you for your support.
Donation Suggestions:
Coffee
Sugar
Coffee creamer
Snacks
New socks and underwear
Knit hats
Warm jackets
Plastic utensils, cups
Bottled water
Outreach of Love

Sandwiches are needed but no cookies.
Thank you for your faithful support!
Socktober!

Underwear and Socks Collection
October has become SOCKTOBER! Aurora Warms the Night and the Colorado Coalition are both in need of warm socks and new underwear to support the needs of the homeless population. The Mission Team is looking for donations of adult heavy socks, men's large and XL boxers, and women's underwear. There is also a need for gallon size plastic bags. The highest need is for men's items. Donations will be accepted through October 31. There is a marked box near the red wagons to drop donations. Thank you so much for helping those in need as the cold weather approaches.
Green Team Tip

Green Team Tip
Only 15% of all discarded electronic devices are recycled. Lead, mercury, cadmium, nickel, beryllium, and zinc from e-waste can leech into soil or into the water supply, harming plant and human life. Browse for "electronic recycling" or "e-waste disposal" to find options nearby and recycle your electronics responsibly.
Greeters
Could you help to welcome folks by greeting them in our parking lot, at our Welcome Desk, or at our sanctuary doors? It's an easy thing to do but makes such a difference if people can see that we genuinely want them at Smoky Hill.
With the holidays rapidly approaching, we want to be sure that everyone (including the visitors we hope we will have) feels comfortable and welcomed.
If you are interested or just want more information, please contact Susan Hora (cusaglass@gmail.com, 636-236-6549) or Ben Berges (benberges@comcast.net, 303-746-7301).
Gratitude & Generosity Team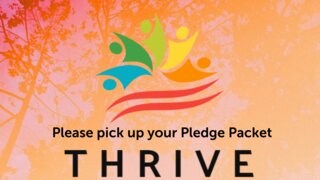 Please help SHUMC save postage by picking up your Pledge Packet during the week Monday - Friday 9:00 a.m. - 2:00 p.m. or on Sunday mornings in the Gathering Space.
Thank You!
Support Ukraine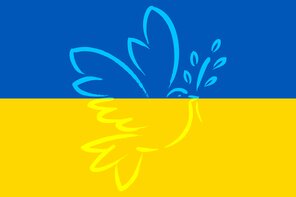 You can help the church in Ukraine provide for those in need.
Mel Mushinski, Global Ministries In Mission Together Coordinator, whose area includes Ukraine asks for continued prayers.
Click here for more information.
UMCOR will assist as possible United Methodists in Ukraine by responding to the needs of internally displaced persons through its International Disaster Response and Recovery (IDR) fund. Gifts to support the people of Ukraine can be made in the following ways:
TO HELP REFUGEES WITHIN UKRAINE: Advance # 14053A
https://umcmission.org/advance-project/14053a/
TO HELP UKRAINIANS OUTSIDE OF UKRAINE
UMCOR general giving Advance #982450
Keep SHUMC Informed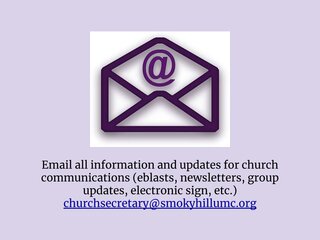 Our address is: 19491 E Smoky Hill Rd, Centennial, CO 80015, USA