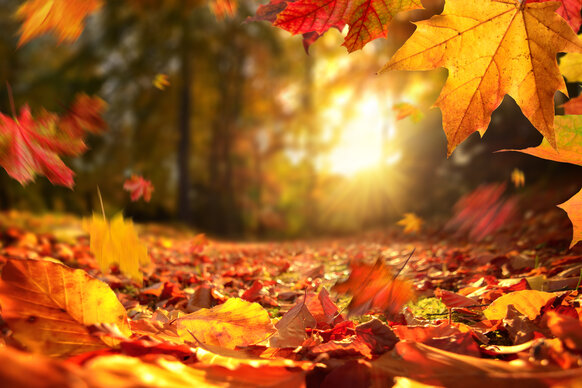 Patti's Ponderings
November has become a month linked with gratitude. We all have heard that a practice of gratitude is good for the soul, for our emotional well-being, even for our physical bodies. Many days gratitude comes easily for we have many blessings in our lives. But other days, other moments, it is hard to conjure up gratitude. Life has plenty of difficult moments and seasons. What are we to do then?
My concept of gratitude expanded as I read Diana Butler Bass's book called Grateful. She talks about the benefit of listing our blessings and offering gratitude but also sees that as a very limited idea of gratitude. As she explores that she writes, "Gratitude at its deepest and perhaps most transformative level, is not warm feelings about what we have. Instead, gratitude is the deep ability to embrace the gift of who we are, that we are, that in the multibillion-year history of the universe each one of us has been born, can love, grows in awareness, and has a story. Life is the gift." (p.42-43)
Perhaps part of loving our neighbor as ourselves, is being grateful for life. Being grateful for what makes us unique. Too often we get caught in a cycle of criticizing ourselves, not appreciating ourselves. Life is the gift. Let's celebrate that in ourselves and in one another. Life is the gift.
As we look forward to next month, the season of advent starts as we prepare for the coming of the Christ child. Our advent theme will be "Gritty Advent."
May the Lord bless you and keep you,
Pastor Patti

Join us!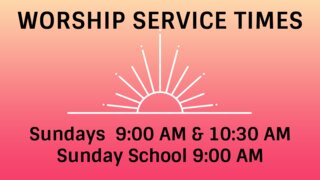 November Coffee Connection ~ G,H,I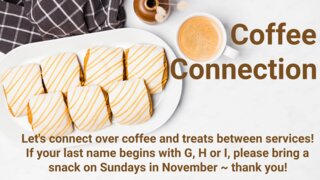 Healthy Refreshment Ideas for
Gathering Space on Sunday Mornings
Remember to consider those who are trying to maintain a healthy weight and also be a good example of healthy eating for our children! Also, provide sanitary (reduced handling) servings.
Fruit bites on toothpicks or colorful fruit kabobs
Vegi tray with bite size cherry tomatoes, baby carrots, etc.
Bowl of nuts with a spoon for self-serving
Small portion sweets such as donut holes or mini muffins, small cookies or bars, bite size wrapped candies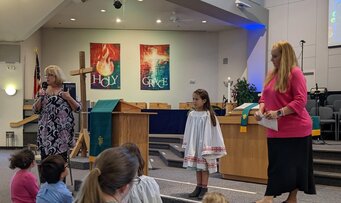 Congratulations, Kinley!
Congratulations to our newest Acolyte, Kinley!!!!
Thank you, Nancy Newman, for teaching our children.
We also re-commissioned our current acolytes. We are blessed to have wonderful children helping during Worship.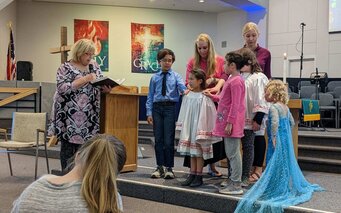 Trunk R Treat!
Trunk R Treat, what an amazing event!
We had 12 Trunks, one blessing table and beautiful weather!!!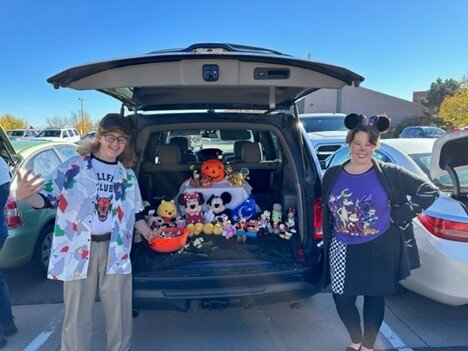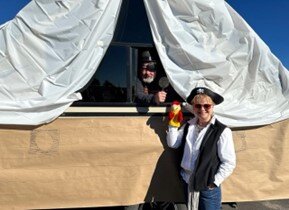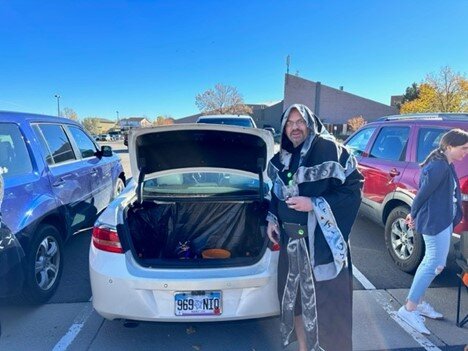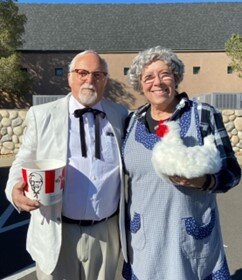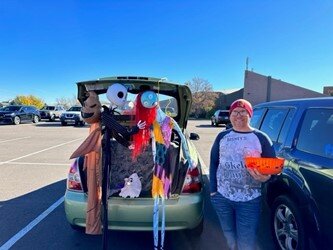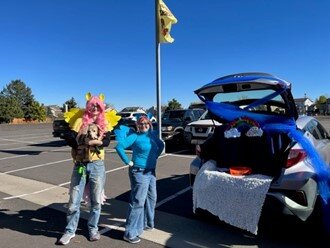 We handed out tons of candy and non-candy items. A total of over 200 in attendance, I could not keep count! They just kept coming and the pumpkin patch stayed very busy!!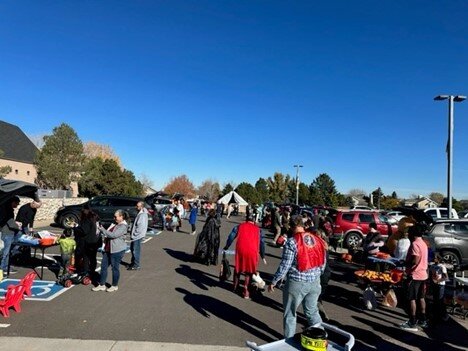 Thank you everyone who baked cookies, cakes, and treats. The Cake walk was a success, kids and adults all participated.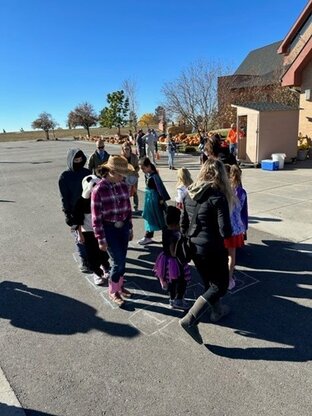 Thank you to the Men's Group for the donations of the pumpkins for our kids and families.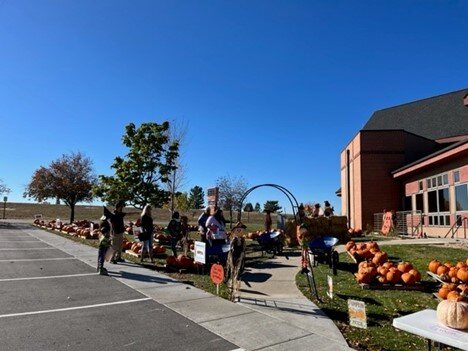 November Happenings
November Happenings:
November 6th: All Saints Sunday during Worship. No Children's Church, Worship as family.
November 12th: Saturday from 10 am to 12 pm join us and the Gallery team in making Happy Boxes.
November 13th: Sunday during 9:00 am Sunday School, kids will be making Happy Boxes for our shut-ins and/or themselves, if they did not attend on the 12th.
November 20th: Sacred and Holy for 2nd graders & God Talk for 1st graders. Both will happen during 9:00 am Sunday School.
Have a wonderful Thanksgiving!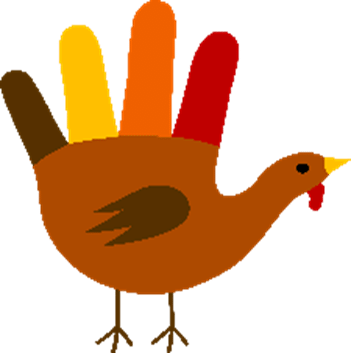 Save the Date:
Saturday, December 10th: Breakfast with Santa 9:00 -11:00 am in Celebration Hall.
Sunday, December 11th: We will have a Children's Christmas Program during 10:30 am Worship. More details to come out.
Free!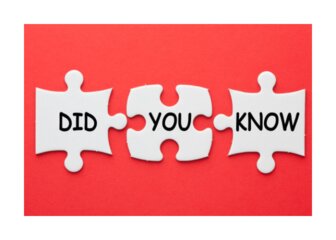 King Food Ministry
The King Food Ministry comes every Thursday morning at 9:15 a.m. outside at the Gazebo when the weather is nice and in the hallway outside Celebration Hall when the weather isn't nice. Safeway donates perishable items like eggs, yogurt, and lots of baked goods, the Olive Garden donates frozen soups and lasagna, and McDonalds donates frozen breakfast foods. There is always more than we can give away so please spread the word or come and pick up some food for yourself or someone you know that could use some! Be sure to get here early or on time!
Medical Equipment
We have various medical equipment such as crutches, walkers, canes, scooters, wheelchairs, and shower chairs downstairs in the church basement. These items are loaned out for as long as you need them! If you or someone you know needs this kind of equipment, you can come to the church, sign out what you need, and then return it when you're done.
Puzzles
During COVID lockdown we collected and shared a lot of jigsaw puzzles. We still have puzzles which now need a home. Please feel free to take any puzzle that is located in the book area of the Mission Corner.
Gratitude & Generosity Team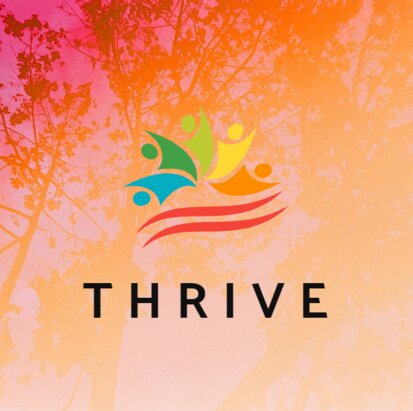 If you need a Pledge Packet, please stop by the office.
Please return your Commitment Card by Sunday, November 13.
Thank you!

Youth Group has been busy doing some awesome things this fall!
In Sept, 15 or so of us made a huge spaghetti dinner in the kitchen to feed 4 families in need, then delivered them downtown to Family Promise. (Tom and Will Dosch are stellar at making meat sauce – FYI!). We also said goodbye to Ashley, who has been the Youth Director for the past few years and moved onto her next stage. We will miss her, and we'll always be reminded of her when watching Napoleon Dynamite, and many other things!
We have a bunch of new awesome youth sponsors on board for this fall and beyond – some parents of youth, and some not. We are excited for new ideas, new faces, new energy and new relationships to be made! Thank you to Peggy, Jayson, Chad, Tom, Christy, Alan, Catherine, Leslie, Bob, Rebecca – and hopefully Josh – for your willingness to support our youth in all your different-sized ways!
October has been a mix of all kinds of good stuff. We talked about our pure God-gifted identities. We did some icebreakers, games where we throw balls at each other, etc. We had a spiritual night focused on prayer stations based on the "I Am" statements of Jesus. ("I am the resurrection and the life", etc.) We had fun making college care packages for last year's senior youth friends – Abbie, Hannah, Brandon, Caiden, Ella and Isaac. Each youth & sponsor wrote a note to every one of them, and we packed them in boxes with "Famous Wendy Cookies" (thank you, Wendy Hanson!), snacks, Jesus coloring books and other fun stuff.
This past week, our youth worked hard for the Men's Group unloading pumpkins! They got up early on a Fall Break morning and really committed to our church. Then 2 days later, 8 youth took shifts to help UWF with the Fall Craft Fair – helping vendors in and out, taking lunch orders and delivering to vendors and helping to set the sanctuary back up afterwards. (I won't mention names in case your every-Sunday row of chairs isn't perfectly straight.) Great to see our youth in the mix, showing up and helping at events!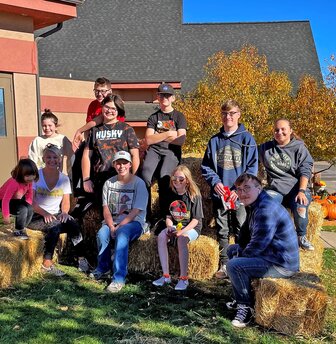 And this past Sunday we went to Chatfield Farms for our annual Corn Maze trip. Super fun – especially with some of their younger siblings in the mix. : )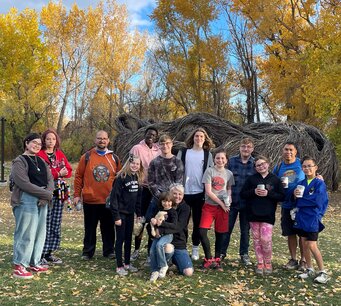 And last, but not least, we've kicked off our CORN DRIVE. Each youth has been given a goal of collecting 10+ cans of corn and one $10 grocery gift card. The 350 cans of corn and 100 gift cards will go with us to Highlands UMC on Sun, 11/13 where the local UMC youth groups gather for "Food For All" – an event where they pack Thanksgiving boxes for local families – 350 families this year. With your help, we got this! Thanks in advance for your corn, your gift cards and most of all, YOUR SUPPORT!
Food For All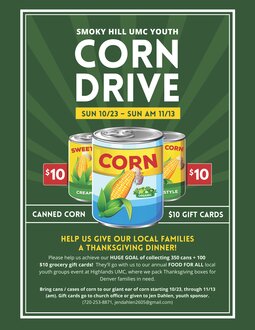 Thank You, Youth!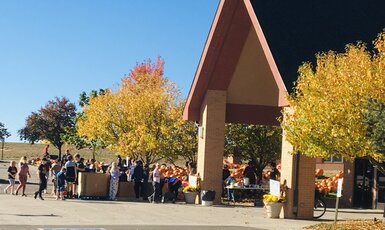 A HUGE Thank You to all the Youth that came out to help unload and set up for the Pumpkin Patch! The Men's Group says you all set a record for fastest set up! The Men's Group and the whole congregation thanks you for your service!!!
"Let's Talk About…" is a column in our monthly newsletter where we will learn one thing at a time about how we can love others the way they want to be loved. We will learn something each month that helps us understand and respect people who are different from us a little more deeply.
Let's Talk About Our Relationship to Politics
It's November! Maybe that means you're buying your squash of choice. Maybe that means you're remembering how good you feel when you practice gratitude regularly. Hopefully it also means you have either already voted or made plans to vote. And it means most of us cannot escape the relentless political ads. So today, because they're following us around anyway, let's talk about our relationship to politics.
Just to clarify, I am not writing to tell you which candidates you ought to support. I am not even writing specifically about the current elections. However, I want to address a deep misconception many people seem to hold about the separation of church and state. This separation is meant to exist in our legal system, not within our souls.
Historically, wealthy white landowning Christians in the United States have sought to protect their freedom to steal from Native Americans, enslave African Americans, refuse to hire Irish workers, pay Hispanic workers next to nothing, and much more. Somehow, we have found ways to separate the Jesus who cares for the poor from business regulations that frequently benefit the wealthy at the expense of the poor.
John Wesley encouraged Methodists to engage with politics, but with compassion. During a particularly contentious election season in 1774, he advised those who could vote:
1. "To vote, without fee or reward, for the person they judged most worthy;
2. To speak no evil of the person they voted against; and
3. To take care their spirits were not sharpened against those that voted on the other side."
The sentiment behind this advice is Wesley's sense of responsibility as both a citizen of England and a citizen of the kingdom of God. He does not cease to serve Christ while he serves his country, and when forced to choose (say, after the American Revolution, when the newly independent states no longer have church leaders unless Wesley does some creative interpretation of the rules of the Church of England), Christ is his first priority. So he encourages people to vote and participate in the governance of the country, but to do so without ever yielding in their commitment to love their neighbors as Christ taught and modeled.
I believe we can do that without messing up the separation of church and state. So, how can we be responsible citizens of our country and also committed disciples of Jesus?
1. As we make choices about how we vote and what legislation we support, our Christian values like loving our neighbors and caring for the most marginalized can be part of our consideration.
2. We can abstain from slandering politicians we dislike. We can certainly share factual information, but feeding the rumor mill and supporting smear campaigns is not a Jesus-like way to get involved in the community.
3. We can offer each other grace, choosing to focus on what is excellent and worthy of praise in our neighbors, even if we have differing political views on certain topics.
Our "Let's Talk About…" column is one place where we can help one another learn how to be better allies for all our neighbors. If you have a question you'd like answered, or if there are things you wish others in our congregation better understood about your own marginalized identities or those for whom you are already a strong ally, please submit suggestions to https://forms.gle/E9eRqZJGLgVagbDZ9 or email me directly at virginiag@smokyhillumc.org.

Aurora Interfaith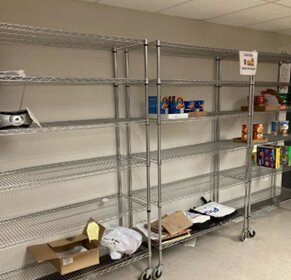 The shelves at Aurora Interfaith were bare the last time we delivered, and we only delivered 76 pounds of food. Every little bit helps. Please consider picking up a can or two the next time you go shopping and leave them in the red wagons. Together we can make a difference!
Marti's Pantry
Marti's Pantry
The Mission Team is starting a very small food pantry at the church that will be named Marti's Pantry in memory of Rev. Marti Zimmerman. There is a cabinet on the education wing level across from the elevator which will hold the food. We are using the 5th Sunday to collect food for the pantry, but you can also place items in the pantry at any time. This pantry will be for church members and community members who may need extra help. Once it is stocked, feel free to leave items if you are able or take items if you are in need. We are collecting peanut butter, macaroni and cheese, pasta and sauce, rice, canned fruit, canned vegetables, soups, beans, and cereal. If you know of someone in need let them know about the pantry or if you are in need, please visit the pantry downstairs.
Recycle at King Soopers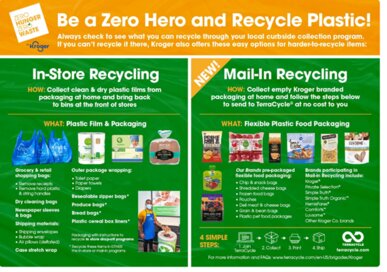 Did you know that you can recycle plastic film at King Soopers? The bins are usually located outside of the store. They have also started a new mail-in free recycling program for empty Kroger branded packaging. Check it out!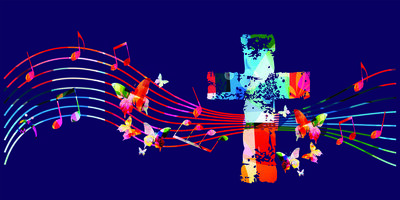 Abide with us, O God, through the beginning of our lives and in our death. The well-known hymn "Abide with Me" will be shared in worship on All Saints Sunday, Nov. 6, as an arrangement played by our SHUMC Orchestra. In addition, the Chancel Choir will be sharing the familiar and powerful hymn "How Great Thou Art" arranged by Craig Courtney as we worship together remembering those who passed on in the last year and prior years.
Do you like to know about the authors of songs/hymns and the history behind the writings of the lyrics? Here are two links from Godtube about the lyrics and history of the two hymns above:
https://www.godtube.com/popular-hymns/abide-with-me/
https://www.godtube.com/popular-hymns/how-great-thou-art/
Thanks Lily Legleiter and Nate Southerland! Lily had a solo section in the anthem "Amen is Where We Begin" sung at the 10:30 service on October, 16. Nate led our hymn singing and shared a beautiful medley arrangement of "Here We Are" by Dallas Holm and "Breathe" by Marie Bennett on October 23. Your talents are appreciated!
On October 23 our Chancel Choir enjoyed some fellowship and lunch followed by a rehearsal working on our Advent and Christmas music. Thank you, Chancel Choir and Gwen Jorgensen for spending extra time rehearsing and Gwen for accompanying us. Thank you, Diane Thompson for the yummy dessert!
There is still time for you to join us if you'd like to sing for the Christmas season! Choir rehearsals are Wednesday evenings from 6:45-8:30 in the Choir Room.
The beautifully colored leaves have mostly fallen. Our daylight is shorter and our darkness longer. May this changing season remind us that God is with us in each and every season. Blessings to each of you during this month of remembering those who have gone on before us and moving us toward our holiday of Thanksgiving and the beginning of Advent.
For each new morning with its light,
For rest and shelter of the night,
For health and food,
For love and friends,
For everything Thy goodness sends.
~Ralph Waldo Emerson~
Save the Dates!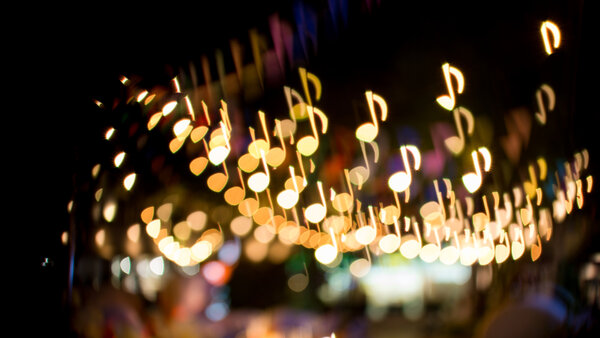 Mark your calendars:
Friday, Dec. 9, 7 p.m.: Christmas Handbells and Brass Concert – Invite your friends and family!
Sunday, Dec. 18, both worship services: SHUMC Christmas Cantata

Char and Dan Ray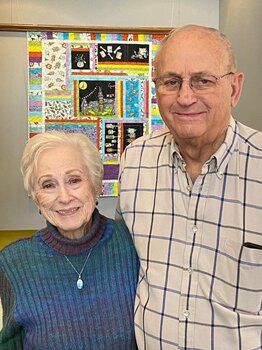 My husband Dan and I are members of Smoky Hill UMC for the second time around. We first joined in 1984. At that time Dan was active duty Air Force. We were just returning to the USA after four years in England. We had both been Methodist all our lives, and with two teenage boys, were eager to find a church. Living in what is now Centennial, we learned that a Methodist congregation was meeting at Loredo Middle School. We were graciously and enthusiastically welcomed there. So, we were members as the church building was being constructed, and remained at SHUMC until 1996, at which time (now just the two of us in our household) we moved to Evergreen, and joined a church up there.
After fifteen years in Evergreen, however, we realized that driving up and down the mountain roads was getting more difficult - and consequently more hazardous - and we moved back down to Aurora. There was no question whatsoever for us that time around - so here we are! And, very grateful to be back in "this fold."
Char Ray

First You Dream Financial Workshop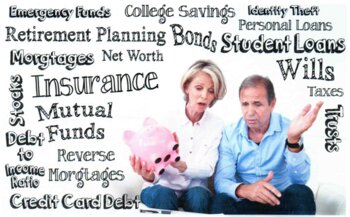 In the First You Dream Financial Workbook, we are reminded by Rev. Dr. Marti Zimmerman about the power of our dreams and our relationship to God. She writes:
"Dreams are the way we seek the invisible so that we can do the impossible. Dreams are one of the ways God speaks to us. God helped Abraham, an old man with an old wife , dream big enough to leave his home and people and all he knew, to travel down a spiritual path long enough to develop a deep relationship with God and imagine life with the long prayed for child."
What does dreaming have to do with finances? More than we might think. Scripture tells us "Where your treasure is, there your heart shall be."
Many of us are hindered in life by not having a path that leads to fulfillment of our dreams. By focusing first on our dreams, and developing a path leading to those dreams, getting our finances in order becomes the means to the end, rather than the end target. Our strength is in our dreams. Realizing them takes some analysis, a plan, and then action.
Smoky Hill UMC is hosting a First You Dream workshop on November 5th at 10am in Room 214. This is an introductory workshop, and we hope to offer more in the spring so that we can travel through the whole workbook together. Contact Pastor Virginia or Debra Hadsall for more information.
Preschool Update
The Smoky Hill UMC Preschool has been an outstanding program for decades and nurtured countless children and families. Currently, however, the preschool is not viable nor sustainable in its current state. Therefore, after hours of conversation and prayerful consideration the Ad Council has decided to close the preschool as of December 31, 2022.
Racial Justice Task Force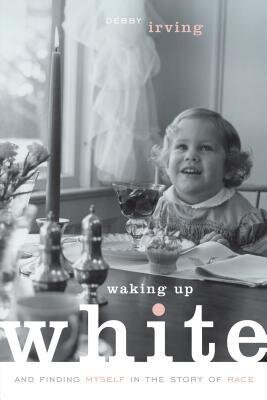 White Privilege
Debbie Irving, in her book Waking Up White, and Finding Myself in the Story of Race, suggests that "Privilege is a strange thing in that you notice it least when you have it most." She also lists several examples of White Privilege that she's discovered:
"I can go shopping alone most of the time, pretty well assured that I will not be followed or harassed.
I can be sure that my children will be given curricular materials that testify to the existence of their race.
I can swear, or dress in second-hand clothes, or not answer letters, without having people attribute those choices to the bad morals, the poverty or the illiteracy of my race.
Whether I use checks, credit cards or cash, I can count on my skin color not to work against the appearance of my financial reliability.
I am never asked to speak for all the people of my racial group.
I can criticize our government and talk about how much I fear its policies and behavior without being seen as a cultural outsider.
I can choose blemish color or bandages in 'flesh' color and have them more or less match my skin."
Can you think of other examples? Have you seen these in play in your daily life? Do you think White Privilege is real? Ms. Irving further defines this as "an advantage that both is born of and has fed into white dominance." Do you agree?
The Racial Justice Task Force would like to hear your thoughts about these questions and other topics.
Movie Night - Friday, November 11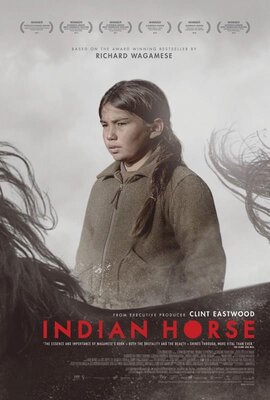 SHUMC RACIAL JUSTICE MOVIE NIGHT- INDIAN HORSE
Friday, November 11 at 6:30 PM MT
Smoky Hill United Methodist Church19491 E Smoky Hill Rd
Please RSVP: http://evite.me/XhwDfvE37D
Youth will be selling snacks to raise funds for future trips.
Please bring some cash for snacks!
Election Season Has Arrived!
We here at the Colorado Council of Churches pray that you're doing well in this season of community discernment and action. As you receive this update, mail-in ballots across the state have begun their journey to the homes of you and your neighbors. If you are planning to vote by mail, please keep in mind that the suggested date to return mail-in ballots is October 31st. After that point, you should bring your ballots to drop boxes or voting centers. In-person voting will take place on November 8th from 7 AM - 7 PM.
We're here to help you be informed and responsible voters, and in that spirit, we're sharing our official stances on select ballot measures that will lead to a better Colorado. Of these, the two we emphasize are Proposition FF and Proposition 123.
A YES vote for Proposition FF would support Colorado schools providing free and healthy meals to ALL students. Food insecurity is an ever-existent problem in the U.S. today and this measure would seek to eliminate that among youths in Colorado. Currently, free meals are only available to those whose families fall under a certain income threshold, this would simply expand that to all students. In addition to the evident link between nutrition and academic performance and health, this proposition would help to reduce shame that children or parents may feel for needing assistance. According to Margaret Tomcho, MD, a member of the American Academy of Pediatrics, this ballot measure "will help up to 40% more kids avoid going hungry."
Proposition 123 centers on the creating affordable housing and maintaining that level of affordability over time. More than 86% of Coloradans can no longer afford to live here. Prop 123 provides down-payment assistance for first-time homebuyers, lowers rent state-wide, and create affordable housing via setting aside a portion of state budget with the sole intent of addressing the current housing crisis. Affordable housing is a huge issue for those working in many vital professions, ranging from teachers to nurses. Please vote YES on Proposition 123!
Wesley Moncrief
CCC Social Justice Fellow 2022-23
Tuesday Theologians - Advent Study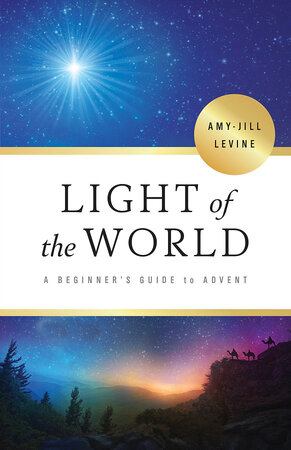 Our Advent study will be on Nov. 15 & 29, & Dec. 6 & 13.
We'll be reading "Light of the World" by Amy-Jill Levine.
All are invited to join us on Tuesdays at 9:00-11:00 a.m. in Classroom 214.
Dive deep into the history of the birth of Christ
In Light of the World: A Beginner's Guide to Advent, author, professor, and biblical scholar Amy-Jill Levine explores the biblical texts surrounding the story of the birth of Jesus. Join her as she traces the Christmas narrative through the stories of Zechariah and Elizabeth, Mary, the journey to Bethlehem, and the visit from the Magi. These stories open conversations around connections of the Gospel stories to the Old Testament, the role of women in first-century Jewish culture, the importance of Mary's visitation and the revolutionary implications of Mary's Magnificat, the census and the stable, and the star of Bethlehem and the flight to Egypt.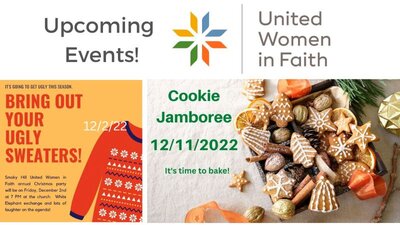 A HUGE thank you to all who helped set up, work and clean up at the Fall Craft Fair. It was a beautiful day, and the vendors, pumpkin patch, and grill team, all reported a successful event. United Women in Faith use the money raised to support national and international mission as well as a scholarship to a young woman in Sierra Leone earning a business degree, as well as other local missions. Special kudos to our Craft Fair chairperson, Nancy Friday for all her hard work!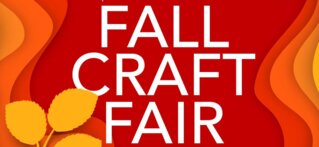 November 2022
"O Lord, by these things men live; and in all these things is the life of my spirit;
so you will restore me and make me live."
Isaiah 38:16 (NKJV)
Join our Smoky Hill Abundant Health Facebook page to share recipes, hikes, etc. Maybe you want to find others in our church interested in going golfing, bowling, or just walking. This is the place to connect.
MIND

New Nationwide Number: 988 is more than just an easy-to-remember number — it's a direct connection to compassionate, accessible care and support for anyone experiencing mental health-related distress – whether thoughts of suicide, mental health, substance use crisis, or any other kind of emotional distress. You can call or text 988 to access a crisis counselor for support. To learn more go to Lifeline (988lifeline.org)
BODY
Focus: Keeping Faith in Your Goals During Set-Backs
Heart disease, high blood pressure, stroke, diabetes, obesity, and cancer are leading causes of death in Americans. Setting goals to be physically active and eat healthy can help to prevent or help manage situations when a setback is these health conditions. However, setbacks can often get us off track. We all experience setbacks that make it difficult to keep up our exercise or healthy eating. Identifying most likely to occur can help you to stay on track. For example, holiday seasons can be challenging for keeping your healthy eating and physical activity goals but you can plan ahead. Plan which foods you will need to limit at dinner (like fried foods and dips) or plan a family walk after dinner to remain active. Keep faith in your goals during setbacks and remember if you get off track, one setback does not mean failure!
Health Resources: (Pdf links)
Tips for dealing with common high-risk situations
My plan for high risk situations
Top 10 ways to help kids build healthy habits
Exercise on Zoom!
Looking for exercise that requires no money, no travel, and fast access to your shower? Join the Zoom exercise community on Monday, Wednesday and Friday mornings at 9:30, as well as Wednesday evenings at 6:30. Contact Susan Hora at cusaglass@gmail.com
Abundant Health Hiking Group
Interested in a cycling group?
We are seeking to learn if we have some people interested in cycling together. If this is your "thing", email Jana at JL.jones@outlook.com.
YOGA
We are again looking for a Yoga instructor! The plan is for the person to work on a "pay as you attend" basis. If you know someone who fits the bill, contact Jana Jones at jl.jones@outlook.com.
SPIRIT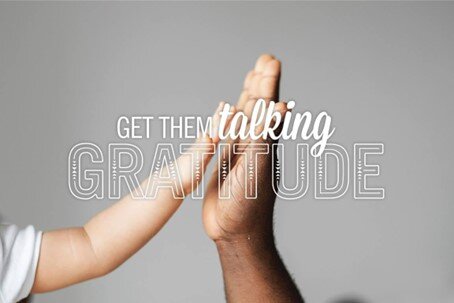 Parents often teach their children to say thank you at an early age. When the child receives something from a parent, grandparent, sibling or friend, mom or dad will ask, "What do you say?"
As we grow, we learn that gratitude is more than a polite response. It is a way of life. When we live with an attitude of gratitude, we remind ourselves that all that we have – time, faith, family, and more – is a gift from God to be cherished and cared for in the ways God would. Explore more at Get Them Talking: Gratitude (umc.org)
Keep Us Informed!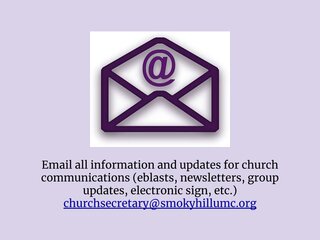 Our address is: 19491 E Smoky Hill Rd, Centennial, CO 80015, USA