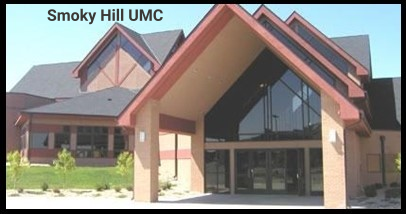 Midweek News & Ministries
November 2, 2022
Scam Alert!
Warning of Scam
Last weekend several church members received a text message that appeared to be from Pastor Patti, asking for help, specifically gift cards. This is a common scam that can also be in the form of an email. Be assured, Pastor Patti will NEVER contact you asking for financial help. If you receive such a text/email please report it as a scam. And never give any money or gifts cards, or engage the sender in any way. This is an unfortunate reality of our world today.
Coffee Connection - November G, H, I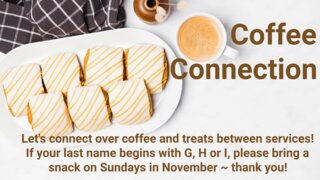 Healthy Refreshment Ideas for
Gathering Space on Sunday Mornings
Remember to consider those who are trying to maintain a healthy weight and also be a good example of healthy eating for our children! Also, provide sanitary (reduced handling) servings.
Fruit bites on toothpicks or colorful fruit kabobs
Vegi tray with bite size cherry tomatoes, baby carrots, etc.
Bowl of nuts with a spoon for self-serving
Small portion sweets such as donut holes or mini muffins, small cookies or bars, bite size wrapped candies
Corn Drive!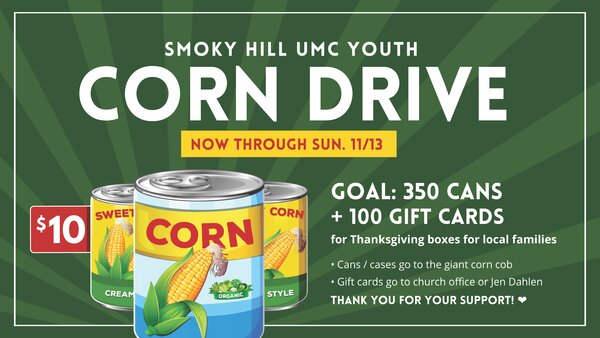 Please bring cans of corn and $10 grocery store gift cards to help make Thanksgiving boxes for local families.
Marti's Pantry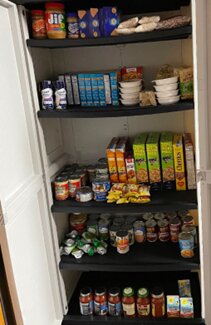 Thank You!
Wow! Thank you for the wonderful response to provide food for Marti's Pantry. We are fully stocked, and the pantry is open. If you need something, please, take what you need. If you know someone in the community who needs food, please have them stop by the church and take what they need. The pantry is located in the education wing across from the elevator.

One can, two can, who can? You can!
Aurora Interfaith has seen an increase of 95% in people needing food compared to last year. You don't have to bring a lot to make a difference. Pick up one or two cans and leave them in the red wagons. Together we can make a difference!

COLORADO VILLAGE COLLABORATIVE
During the month of October, the site at 38th Street and Steele had 2 outside groups helping out. Nursing students at Regis University brought items including winter coats and other personal items. Also a group of social work students visited with residents and generally helped out for a day. It was good to see groups connecting with the residents. SHUMC's donations are always welcome. Since they don't have refrigeration available, I take milk and ice which is greatly appreciated. A big thank you to those of you who donate. I wish you could see how enthusiastically items are received.
ALWAYS NEEDED
Feminine supplies
Snacks
Coffee
Sugar
Cups (think Solo type)
Plastic Utensils
Paper bowls
Bottled water
WINTER NEEDS
Warm Jackets
Warm Gloves
Warm Knit Hats (Gently used are OK)
New socks and underwear for men and women
Anything else you have seen on previous lists and want to donate
Outreach of Love

Sandwiches and cookies are needed this week.
Thank you for your faithful support!
Green Team Tip

Green Team Tip
Do you have more leaves than you know what to do with? Wompost is hosting their annual free leaf bag drop off event on November 12th from 10-4 at 1600 E. Centretech Pkway, Aurora, 8001. They will also take your leftover Halloween pumpkins. Make sure the leaves are in brown paper yard waste bags.
Greeters
Could you help to welcome folks by greeting them in our parking lot, at our Welcome Desk, or at our sanctuary doors? It's an easy thing to do but makes such a difference if people can see that we genuinely want them at Smoky Hill.
With the holidays rapidly approaching, we want to be sure that everyone (including the visitors we hope we will have) feels comfortable and welcomed.
If you are interested or just want more information, please contact Susan Hora (cusaglass@gmail.com, 636-236-6549) or Ben Berges (benberges@comcast.net, 303-746-7301).
Support Ukraine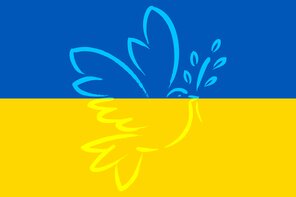 You can help the church in Ukraine provide for those in need.
Mel Mushinski, Global Ministries In Mission Together Coordinator, whose area includes Ukraine asks for continued prayers.
Click here for more information.
UMCOR will assist as possible United Methodists in Ukraine by responding to the needs of internally displaced persons through its International Disaster Response and Recovery (IDR) fund. Gifts to support the people of Ukraine can be made in the following ways:
TO HELP REFUGEES WITHIN UKRAINE: Advance # 14053A
https://umcmission.org/advance-project/14053a/
TO HELP UKRAINIANS OUTSIDE OF UKRAINE
UMCOR general giving Advance #982450
Keep SHUMC Informed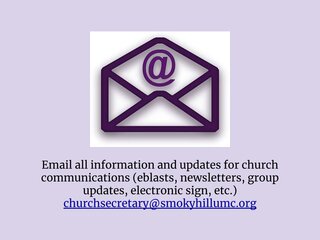 Our address is: 19491 E Smoky Hill Rd, Centennial, CO 80015, USA