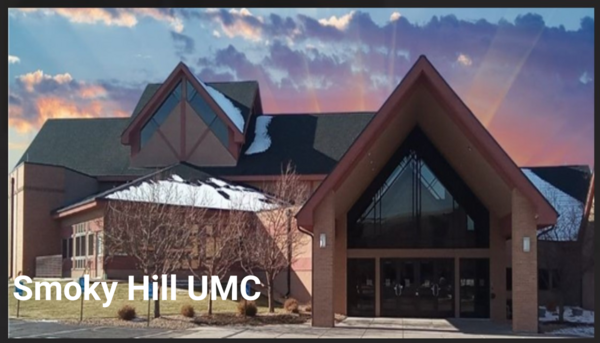 Midweek News & Ministries
January 18, 2023
Aurora Interfaith
We all know that the price of food is rising. The need at Aurora Interfaith is great and we can help. One item—we are asking each person to just bring one nonperishable food item and place it in the wagon. If each of us brings one item, we would provide over 100 items to Aurora Interfaith each week. Can you spare one item?
Colorado Feeding Kids
The next Family Meal Pack will be January 28th from 10-12. Contact Sharon Davis at stdavis21@comcast.net if you would like to help pack. This is a great family activity!
COLORADO VILLAGE COLLABORATIVE
A NEW OPPORTUNITY
You can now write a check for the CVC donations. You can write a check to SMUMC and put CVC on the memo line. You can claim the deduction and we can deliver perishables such as milk and fruit. As little as $40.00 will pay for a large bag of apples and oranges and 4 gallons of milk with ice. They don't have any refrigeration and rely on ice chests. Thank you for your continued support. They are so appreciative. Remember, the goal is self sufficiency and many have achieved this.
Current winter needs:
New long underwear, heavy socks, underwear
Coffee
Sugar
Creamer
Reusable plastic cups
Warm knit tops, coats and gloves
Contribution Statements for 2022

Contribution Statements for 2022 have been emailed.
If you do not see an email from Smoky Hill UMC at No-Reply, please check your Junk and Spam folders.
If you still do not see your emailed statement, please send an email to financesecretary@smokyhillumc.org.
Thank you for your generosity in 2022!
Katelyn's Birthday Project
Katelyn's Birthday Project
We will be supporting Katelyn's Birthday Project in January. Katelyn, the daughter of SHUMC members, Kari and Frank Moore, struggled daily with chronic respiratory and other health issues during her 22 ½ months of life. She touched many lives with her smile, laugh, and determination. Katelyn and her family spent many days and nights at Cook Children's Medical Center in Fort Worth and the Moore family continues to remember Katelyn by helping other families facing a similar situation. Each year on Katelyn's birthday, they donate backpacks filled with goodies to the families at the PICU at Cook Children's Hospital. We are asking our members to sponsor a care package for $20.00. A donation of any amount can be put towards the purchase of a backpack or contents to fill them. The Moore family will be speaking during a service in January.
King Food Ministry
King Food Ministry
The King Food Ministry comes to SHUMC every Thursday morning at 9:15 a.m. Safeway donates perishable items like eggs, yogurt, frozen foods, and lots of baked goods. Local restaurants donate, too. There is always more than we can give away, so please spread the word or come and pick up some food for yourself or someone you know that could use some! Be sure to get here early or on time!
Outreach of Love

Sandwiches are needed but no cookies. Thank you for your faithful support! Each week we purchase 84 bananas to include in the lunches and we also have to purchase the lunch bags. We are now out of funds. If you would like to contribute to Outreach of Love, please donate to the church and indicate "Outreach of Love" in the memo. Thank you for helping us continue with this mission!
Save the Date-February 5th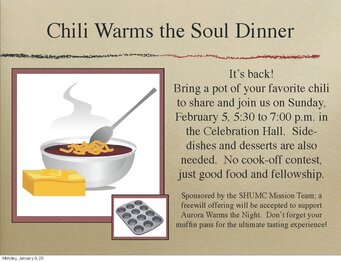 Save the Date-February 5th
After an absence of several years, Chili Warms the Soul is returning. Dust off your favorite chili recipe and your crock pot, and plan to attend Chili Warms the Soul on February 5th from 5:30 7:00.
If you don't have a favorite chili recipe, feel free to bring a salad or dessert. A free will offering will be taken to support Aurora Warms the Night. Don't forget to bring a muffin pan for the ultimate tasting experience! See you on the 5th.
February 12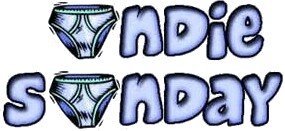 We are collecting new underwear and socks for local schools in need.
You can drop donations off on Sunday Mornings or during the week from 9:00-2:00.
Please place them in the wagon by the upper room.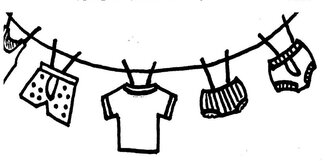 Time to Walk to Jerusalem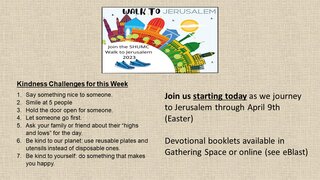 Time to Walk to Jerusalem
Our walk to Jerusalem started on Sunday. Keep track of the steps/miles you walk during the week and report them using the link below by noon on Sunday, January 22nd. If you forget, you can always report them late and they will be counted for the next week. There is also a box in the Gathering Space to report miles, or you can email them to Sharon Davis at stdavis21@comcast.net.
Happy Walking!
Coffee Connection -January M, N, O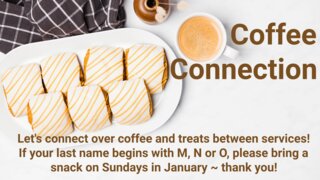 Healthy Refreshment Ideas for
Gathering Space on Sunday Mornings
Remember to consider those who are trying to maintain a healthy weight and also be a good example of healthy eating for our children! Also, provide sanitary (reduced handling) servings.
Fruit bites on toothpicks or colorful fruit kabobs
Vegi tray with bite size cherry tomatoes, baby carrots, etc.
Bowl of nuts with a spoon for self-serving
Small portion sweets such as donut holes or mini muffins, small cookies or bars, bite size wrapped candies
Keep SHUMC Informed!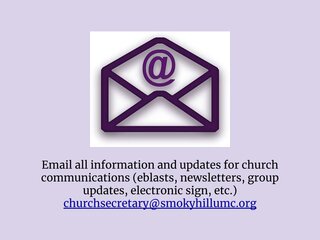 Our address is: 19491 E Smoky Hill Rd, Centennial, CO 80015, USA