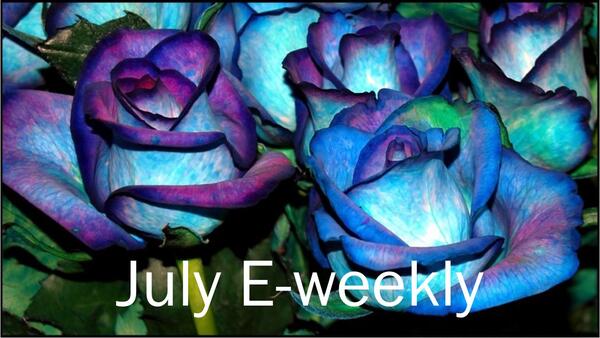 St. James UMC E-Weekly 07.20.22
"Love Is An Open Door"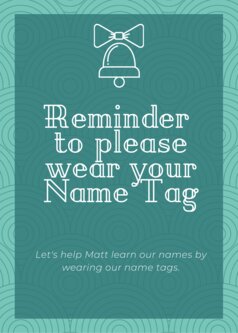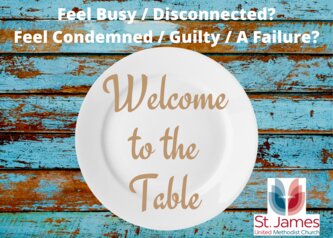 WHEN GOD SAYS GRACE
Feel Busy/ Disconnected?
Feel Condemned/Guilty/A Failure?
Come Join St. James UMC as we sit around God's table.
All are welcome/fed/forgiven and given peace.
Join us to hear God's Grace spoken into our lives Which tells us we are wonderfully made and God DOES have a plan for your life.
Sermon Series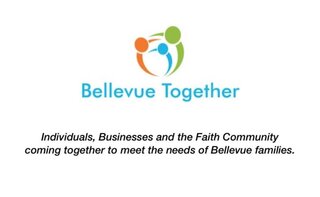 Bellevue Together is hosting a Back to School Event for less fortunate kids that attend Bellevue Public Schools starting Monday, July 25th. They still need volunteers to help the kids shop for their back-to-school clothes and school supplies. Go to BellevueTogether.com for more info, or call 402-639-5079 to sign up for a 2-hour time slot.
Also, Bellevue Together is looking for hair stylists to help with this event if you are or know of someone that is willing to help!

Little Pantry Now Open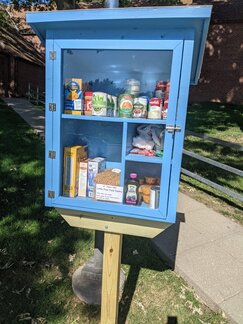 Our Little Pantry is now open. You can find it behind the Franklin Campus in the parking lot. Take what you need; leave some if you have extra non-expired food you wish to share.

We have received a call from a local school that is in dire need of school supplies. They are asking for 50 backpacks full of supplies needed for the school year. I know everyone here at St. James with our open arms and warm heart will step up to help these children have a great year. Below is a list of the items needed that can be purchased and dropped off at either campus. Also, for your convenience, here is a link to our Amazon wish list that you can purchase and have shipped straight to the Franklin Campus. https://a.co/hruDddj If you wish to donate monetarily to the backpack drive, you can send one of three ways.
#1-Text to give by:
texting "Give $ BPD" to 402.204.0073
#2-Check in the mail to:
St. James UMC
1501 Franklin St.
Bellevue, NE 68005.
#3-Drop it in the offering plate on Sunday
The school supplies that have already been collected were used for a program called Bellevue Together which will be divided evenly between all of the schools here in Bellevue. Because there is a greater need at one of our neighboring schools, we want to make sure those children's needs will be met.
Supplies Needed
Blue, Black, Red Ball Point pens
Wild Rules Loose Leaf Paper
Rulers
Pointed and Rounded Safety Scissors
2 Pocketed Folders
24 Count Colored Pencils
Plastic Water Bottle
Earbuds
Dry Erase Markers
Facial Tissues
Plastic Pencil Boxes
Spiral Notebooks Wide Rule
Pink Pearl Erasers
Pre Sharpened #2 Pencils
8 Count Markers
24 Count Crayons
Glue Sticks
White School Glue

Youth Mission Trip In Full Swing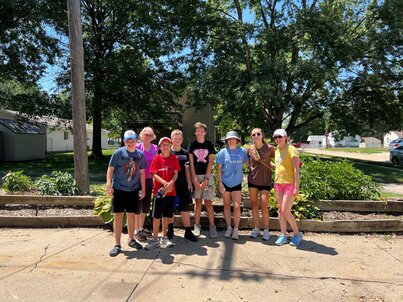 Monday started our annual mission trip for our youth. This year they began by helping congregants with yard work. Abide Omaha, Foodbank for the Heartland, Blessing Bags & Open Door Mission are also on their list of places they have been blessed to help. The youth will then head to Camp Fontanelle this Friday to work on team building and enjoy the beauty of the wilderness. Please keep them in your prayers as they learn what a blessing it is to give back to the community.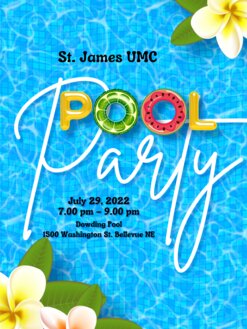 Putting Limits On God

Behold, I am the Lord, the God of all flesh; is anything too hard for me? --Jeremiah 32:27
Is anything too hard for God? Now honestly, how would you answer this question? We all know that nothing is too difficult for God, but our thoughts and actions rarely reflect that belief. By its very nature, worrying expresses doubt in God's power and goodness. For some reason, our belief in an all-powerful God doesn't carry over to the concerns of daily life. We accept the fact that he created the entire universe out of nothing but struggle to believe that he can find us a job or cure our chronic pain. what gives?
Much of the difficulty arises when we view the Lord in an impersonal manner. Rather than seeing him as someone who wants to be involved in our lives, we view him as some sort of CEO who is in the creation and miracle business. In other words, he's too big to be concerned with our little problems. Not only is this untrue, it's also damaging to our relationship. In order for you to approach him confidently in prayer, you need to believe that God is just as concerned with your need to find a parking spot as he is with bringing peace to the world. Obviously, the problems are not of equal importance, but his concern is. He cares about you as if you were the only person alive.
How can you learn to truly believe this? It takes time, but it can be done. I recommend that you start by focusing on the fact God loves you so much that he sent his only Son into the world so that you could have eternal life (see John 3:16). Even though it involved tremendous suffering, Jesus died on the Cross so that you could go to heaven He gave up his life for you. And in his own words, "Greater love has no man than this, that a man lay down his life for his friends" (John 15:13).
He cares about you, and nothing is too difficult for him. Are you ready to give him a chance?
Once again, I encourage you to answer the Lord's question with a simple yes or no. Is anything too hard for him? Now, let's take it a step further. Think of the single most impossible problem in your life. You may have many problems, but let's start with one for now. Present it to the Lord and ask him to fix it. Do it even if you don't feel that it is fixable. Ignore any feelings of uncertainty or skepticism and ask him to handle it. Sometimes we are afraid to ask because we don't want to be disappointed. Your faith will never grow if you use that approach. Give the Lord the chance to perform a miracle in your life. Do it today!
Pray
Dear Jesus, it's often easier to worry about my problems than to ask you for help. Today, I will give you a chance to show your power in my life by asking you to fix (mention your problem). Thank you!
~Gary Zimak~
Our address is: 1501 Franklin St, Bellevue, NE 68005, USA