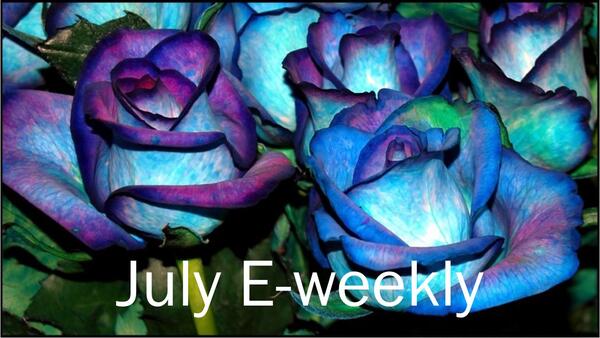 St. James UMC E-Weekly 07.27.22
"Let It Go"


Fifth Sunday Hymn Sing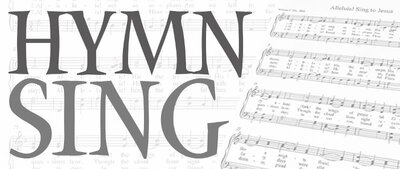 At our 8:00 am and 11:00 am services, we will be doing our hymn sing this week. Please take a few minutes to note down what your favorite hymn is. During the services, we will ask for hymn requests, and Mamie will accompany us while we sing a couple of the verses picked by Matt.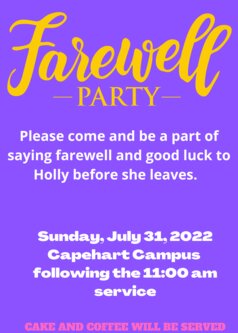 There is still time to give
We have received a call from a local school that is in dire need of school supplies. They are asking for 50 backpacks full of supplies needed for the school year. I know everyone here at St. James with our open arms and warm heart will step up to help these children have a great year. Below is a list of the items needed that can be purchased and dropped off at either campus. Also, for your convenience, here is a link to our Amazon wish list that you can purchase and have shipped straight to the Franklin Campus. https://a.co/hruDddj If you wish to donate monetarily to the backpack drive, you can send one of three ways.
#1-Text to give by:
texting "Give $ BPD" to 402.204.0073
#2-Check in the mail to:
St. James UMC
1501 Franklin St.
Bellevue, NE 68005.
#3-Drop it in the offering plate on Sunday
The school supplies that have already been collected were used for a program called Bellevue Together which will be divided evenly between all of the schools here in Bellevue. Because there is a greater need at one of our neighboring schools, we want to make sure those children's needs will be met.
Supplies Needed
Blue, Black, Red Ball Point pens
Wild Rules Loose Leaf Paper
Rulers
Pointed and Rounded Safety Scissors
2 Pocketed Folders
24 Count Colored Pencils
Earbuds
Dry Erase Markers
Facial Tissues
Plastic Pencil Boxes
Spiral Notebooks Wide Rule
Pink Pearl Erasers
Pre Sharpened #2 Pencils
8 Count Markers
24 Count Crayons
Glue Sticks
White School Glue

This Friday 07.29.2022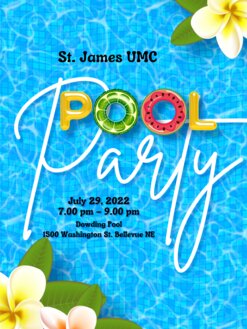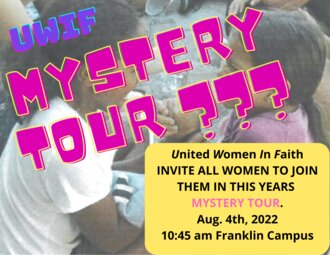 All ladies are invited to come join in a Mystery Tour on August 4; meet at our Franklin Campus back parking lot at 10:45! We will carpool to our destination. We will stop for lunch after our tour. Please bring money for lunch, and if you'd like to make a monetary donation to the Organization, we will visit. Questions, please call June @ 402-292-1279 or Marilyn @ 402-319-7138. Please make plans to have a wonderful time!!

Assembling Backpack 08.07.2022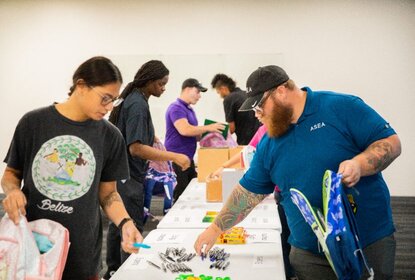 Sunday, August 7th, 2022, we will be assembling the donated backpacks from 9:00 am to 12:30 am or until they are finished. Please join us for church and assemble a backpack during our fellowship time. We know the warm hearts of St. James will continue to shine with every bag we put together.


Open Your Door For Jesus

Lift up your heads, O gates! and be lifted up, O ancient doors! that the King of glory may come in. Psalm 24:7
One of my favorite paintings is Christ at Heart's Door by Warner Sallman. It depicts Jesus knocking on the front door of the house. What makes the image particularly striking is the fact that there is no doorknob on the outside of the door. As a result, it can only be opened from the inside. As unusual as this is, it accurately represents how Jesus approaches us. Instead of forcing his way into our lives, he gently knocks on the door of our hearts and waits for us to open it and invite him inside.
The decision to open the door is one that only you can make. Although he wants to be a part of your life, Jesus will not force open the door. Make no mistake about it, however; he will knock and knock again. Before you wonder why he never seems to knock on your door, let me pass along one other piece of information. It is especially important if you're a worrier. Every time you are afraid, Jesus is knocking on your door.
What are the things that are frightening you at this time? Sickness? Job loss? An uncertain future? All of these things (and many more) are ways in which Jesus knocks on your door. When this happens, you have two choices; you can turn inward and worry, or you can open the door and let him.
Can it really be that simple? Absolutely. But just because it's simple doesn't mean that it's easy. We are so used to worrying about our problems that this thought seems downright unrealistic. That's what I used to think until I tried it. when you invite Jesus Christ to enter your life and help you with your problems, he will not refuse. Are you ready to open the door?
What occupies more time in your life -- worrying or praying? It has been my experience that the vast majority of Christians often forget about the Lord when problems arise. Sure, we remember to send up some prayers, but then we lapse into the useless practice of worrying. That will change for you today when you pray the following prayer. It's not a magic formula, a trite expression, or a self-help mantra. Rather, it is a very real invitation to a very real person who will change your life if you let him.
Pray:
Dear Jesus, I hear you knocking on my door and I am ready to let you into my life. Please be patient with me, as this is all very new. I'm not used to trusting you with my problems, but I'm ready to give it a try. I turn my worries over to you and ask you to handle them for me. Thank you. Amen.
~Gary Zimak~
Our address is: 1501 Franklin St, Bellevue, NE 68005, USA