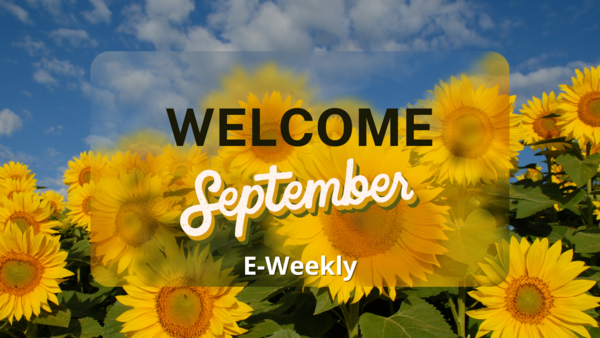 St. James UMC E-Weekly 09.17.22
"Not A Fan" Sermon Series

Location Changes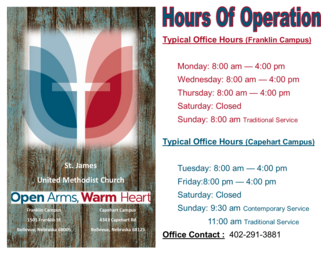 Please take a minute to note that the staff will be working at both Franklin and Capehart Campuses throughout the week. If you have any questions, please contact the office.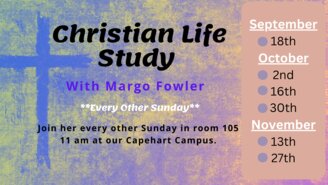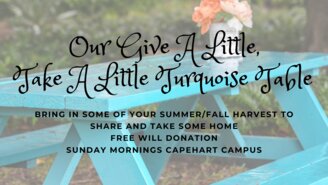 Join Us Tonight!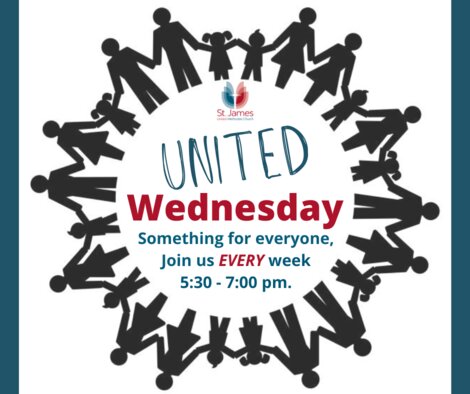 Dinner will start at 5:30 followed by a pastor lead bible study. At that time the children and youth will break off into a group to worship and learn more about God's word.
The Church will be providing the dinners.
Tonight we will be having Sloppy Joe's, chips and cookies for dessert. If you wish to bring a dessert to share there is always room for more.

Blood Drive
The need for blood doesn't take a summer break! Make your appointment for our Red Cross blood drive 9/17/22 from 7am to 12pm at St. James UMC Capehart Campus. Sign up to give at https://rcblood.org/3vDd6Jm. All blood types needed!

Come and see! Bring a friend!
Our St. James monthly 3rd Saturday Men's Fellowship Breakfast is this Saturday, September 17th. You are cordially invited to join us for some great food (Glen Stinn is cooking!), a devotional and some friendly discussion. We'll also learn a little about the newly unfolding UNITED men's ministry coming to each congregation over the coming months (see the new logo above). Yes, friends are cordially invited too! 8:30am at WEST campus (we alternate locations each month). Contact Craig Nordaker at (402) 453-6666 if any questions.

New Study in Sonrise Class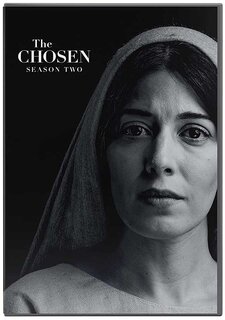 Sonrise Class (at St. James West) is finishing up the first season of The Chosen. On the September 25th, we will begin the second season. The first season of The Chosen regarded the calling of Jesus' disciples. This second season will be about the beginning of his public ministry. These moving videos bring to life the earliest Christians and the humanity of Christ. Typically, we watch an episode one week, then spend a week or two with the accompanying study guide. If you have been thinking about joining an adult Sunday School at West, this might be a good time to join the Sonrise class. We meet at 9:30 a.m. for an hour in room 105 of our Capehart Campus.

It's that time again!
Time to start cleaning out closets and packing up all your treasures to donate to our fall rummage sale. All items can be dropped off at our Franklin Campus on Thursday, September 29th from 1-6 pm. If you have any questions please contact Marilyn Mikula at 402.319.7138 or June Ethridge at 402.292.1279
Shopping hours:
Friday, September 30th, 9:00 am - 6:00 pm
Saturday, October 1st, 8:00 am - 12:00pm

Bellevue Food Pantry September Needs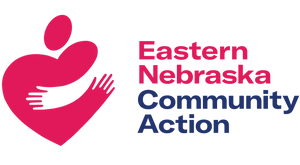 Ready-to-eat soup
Peanut butter & jelly
Pasta sauce
Canned fruits, applesauce, & fruit cups
Rice, pasta, & potato side dishes
Canned chicken
Crackers & snacks
Gravy & broth
Shelf-stable milk
Diapers & pull-ups (all sizes)
Personal care items (toilet paper, soap, shampoo/ conditioner, toothbrushes, feminine hygiene)
Household products (dish soap, laundry supplies, paper towels, cleaning supplies)
Paper grocery bags

In Praise Of Get-togethers!

For you have been called to live in freedom. But don't use your freedom to satisfy your sinful nature. Instead, use your freedom to serve one another in love.
~Galatians 5:13~
Lord, I love those friendly get-togethers with people who share the blessings of living in your name.
I pray today that You would continue to gather Your flocks together, so they might encourage each other. I pray for those who feel isolated or shut-in, who do not have the choice or the chance to get together with like-minded souls. Be there to comfort them and remind them of Your glorious presence. Bless those who are willing to extend the hand of fellowship. Remind us of the incredible luxury and freedom we have to come together any time we want to worship You. Amen.
And you shall gather yourselves together frequently, seeking what is fitting for your souls.
~Didache~
~Karen Moore~
Our address is: 1501 Franklin St, Bellevue, NE 68005, USA