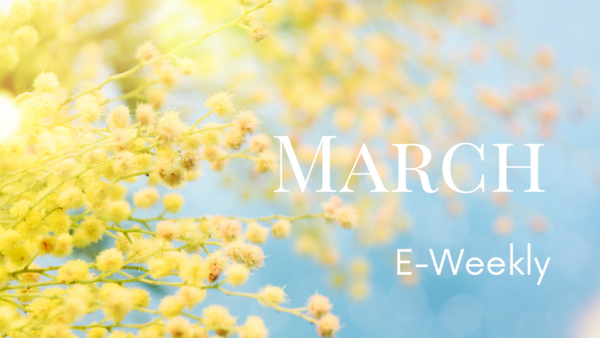 St. James UMC E-Weekly 03.01.2023
"Everyone Knows Your Name"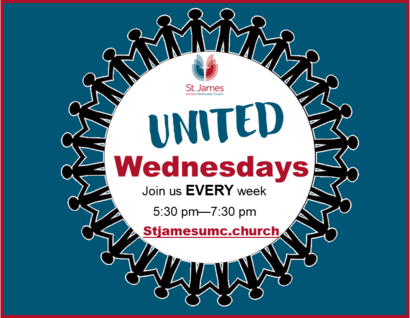 Dinner will start at 5:30, followed by a pastor-led bible study. At that time, the children and youth will break off into a group to worship and learn more about God's word.
Tonight:
The Church will be providing the dinners.
Beef Stroganoff
If you wish to bring a dessert to share, there is always room for more.
Next Week:
The Church will be providing the dinners.
Pizza
If you wish to bring a dessert to share, there is always room for more.
Are you enjoying the dinners on Wednesday nights? Please consider bringing a free-will donation to help offset the cost of the meal.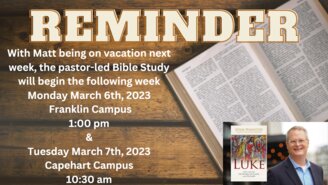 It's Time to Register for Summer Camp!

Registration is now open for over 22 unique camping experiences at Camp Fontanelle. Check out the new, fun and enriching choices available on-line at www.campfontanelle.com or pick up a brochure from the bulletin board at church.
Some partial scholarships are available from our St. James United Methodist Men and United Women of Faith groups. Camp Fontanelle also has some scholarships available. There are also several 'special offers, including: Early Bird Discount, Bring a First Time Friend Special, Sibling Saver Discount and Hope & Promise Special. See the bulletin board brochure for details, or contact Craig Nordaker (402) 453-6666 cnordaker@cox.net.
Camp Fontanelle has always been "A Place To Grow With God In Any Season."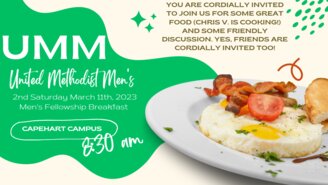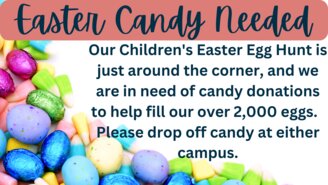 The Principle of Sowing and Reaping

Satan wants us to believe the lie that our actions have no natural results or consequences. But the truth is that you can't rebel against God without reaping the fruit of that choice later. You also can't obey God without eventually receiving His blessing. The choices you make are the seeds you plant, and they determine the kind of crop you're going to harvest in the future.
The heart of this principle is that all our choices are important. How we think and act matters. At some point, we all have made choices we've regretted. Since consequences never simply evaporate, you may find yourself harassed or even governed by things you've seen, said, or participated in. Yet God will forgive everything you genuinely repent of, and He will work with you to redeem those past choices. The road to redemption often includes obstacles, but His Spirit can enable you to overcome. If consequences from your past are weighing on you, lay those burdens down before the Lord, and request that He cleanse and shape you into the person you were created to be.
Ask yourself the following three questions: What kind of life do I want to live? What do I want my character to be like? Who do I want to become years from now? Let the Holy Spirit speak to you about your choices—past, present, and future—and His plans for you.
~intouch.org~
Our address is: 1501 Franklin St, Bellevue, NE 68005, USA