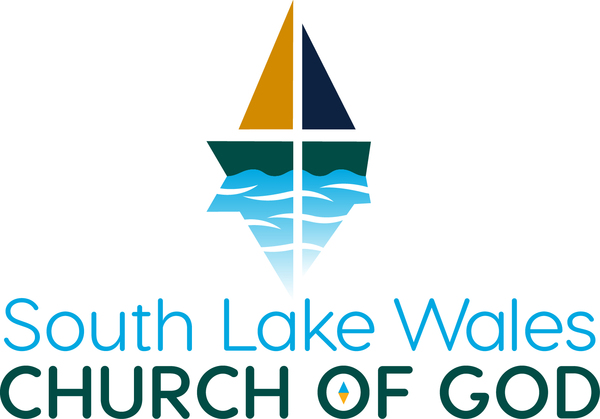 The Compass Newsletter
October 21, 2022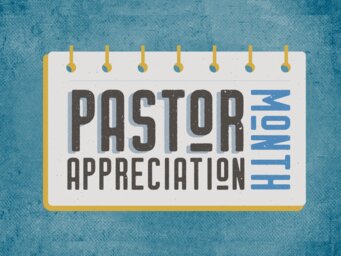 This month we want to show our appreciation to our three (3) pastors -- Pastor Chad, Dr. Darr, and Mr. Austin. We have baskets displayed in the dock/café so you can leave a note card or a gift card or a gift to show your appreciation for their ministry.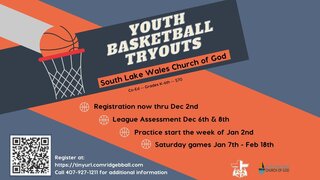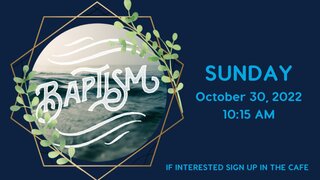 We will have our baptism service on Sunday, October 30th in the 10:15 AM service. Come celebrate with those making this decision!
If you are interested in being baptized or have questions, please contact us at office@slwcog.com and call 863-638-1019.
~Fall Treats~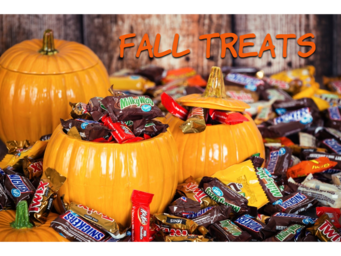 This year we will be handing out Fall Treat bags to all of our children and their friends on Sunday, October 30th, following the 10:15 AM worship service. We encourage our children, of all ages, to come dressed-up in appropriate costumes. The treat bags will be full of small toys, some candy, and something salty.
This will take the place of the Trunk-n-Treat we have held in the past.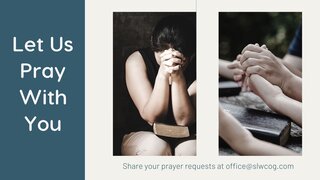 Contact the church office at 863.638.1019 or office@slwcog.com to update your prayer requests.
- Applewhite, Morris – recovering from knee replacement surgery
- Caregivers for loved ones
- Curtis, Darrel – stage 4 kidney disease
- Educators
- Fasel, Jeremy – cancer
- First Responders
- Fischer, Leslie – stage 5 kidney failure (Sherry Cristini's sister-in-law)
- Front Line Health Care Workers
- Hamilton, Gary – health issues (Sara Bogart's nephew)
- Hickey, Raymond – cancer and broken leg (son of Jim & Susan Black)
- Holeton, Al – recovering from COVID
- Horn, Ron – congestive heart failure
- Hunt, Dolly – liver & kidney issues
- Huntsman, Tony – health issues
- Linamen, Larry – cancer (Shirley Fair's brother)
- Mann, Reece – cancer (Joyce Collins' nephew)
- Presutt, Phyllis – health issues (wife of Steve Gallimore)
- Sellwood, Mark – cancer (Alice Neill's neighbor)
- Sikora, Kaci – pancreatitis – (Dewey & Kathy Westerburg's granddaughter)
- Sophia – financial assistance for parents (Diane Peace's niece)
- Singer, David – stage 4 kidney failure
- Stoddard, Dick – stage 4 lung cancer and COPD (Bob Bogart's friend)
- Storer, Betty – health issues (Linda Marino's sister)
- Thomas, Dave – recovering from COVID
- Thompson, Chad – pancreatic cancer (Marilyn Thompson's son)
- Valarie – Loss of home during Hurricane Ian (Susan Black's niece)
- Victims of Hurricane Ian
- Warner University Faculty, Staff and Students
- Westerburg, Dewey – health issues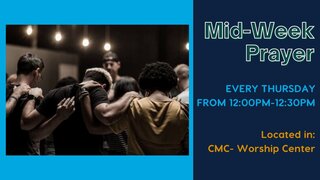 We believe in the power of prayer! Stop and pray with us every Thursday at noon right were you are or in the sanctuary/CMC. Just Pray!
House of Blessing Christmas gifts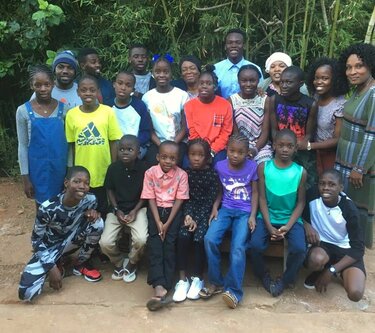 The House of Blessing staff have forwarded their Christmas wish list...please sign up in the dock/café by the item(s) you would like to purchase for these servants that are living in Haiti surrounded by disaster and hatred. Please consider including a Christmas card with encouragement and a prayerful message.
Label the gift but do not wrap. Gift wrapping paper, tape, and labels are needed.
All items must be returned by Sunday, November 6th.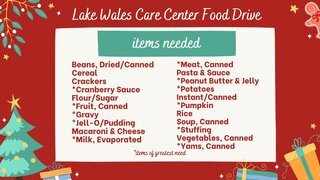 Place all items in the barrels located in the dock/café. Thanks!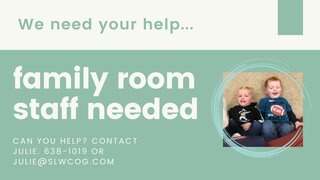 We need your help to staff our family room during the 10:15 AM worship service on Sundays and Wednesday evenings 6-7 PM. We need volunteers -- just like you -- to play with and hold our newborns through 3 years of age.
Contact Julie for additional information at 863-638-1019 or julie@slwcog.com.
Wednesday Evening Opportunities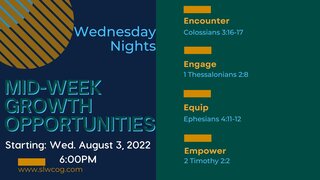 Wednesday evening growth opportunities are back! We are excited to offer something for everyone in the family: adult Bible studies with Pastor Chad; South Youth (grades 6-12); South Kids (grades K-5); Family Room (ages birth-4); and pickleball.
We have a place for you!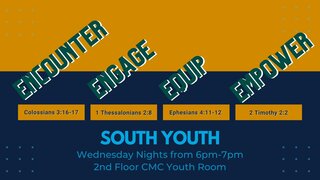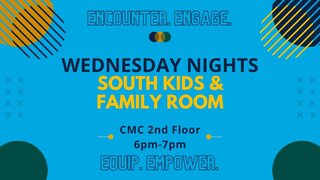 Elder Nomination
We are now excepting Elder Nominations for next year. Prayerfully consider and recommend individuals who meet elder profile characteristics. The forms can be found in the dock/café. Please place completed forms (in a sealed envelope) in the offering boxes. If you have questions, contact Dr. Terry Fasel.
Quarterly Financial Summary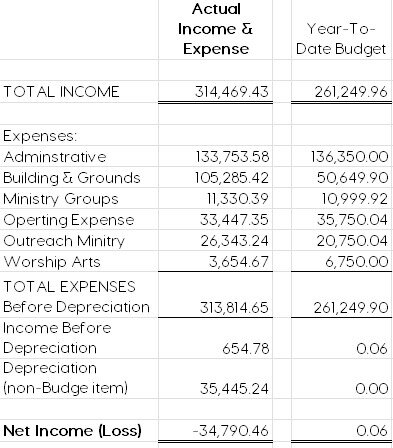 Be with Jesus. Become Like Jesus. Do what Jesus Did.
Our address is: 210 Presidents Dr, Lake Wales, FL, 33859